May's Jobs Report: Very Disappointing
Economists were expecting the U.S. to add a modest 158,000 jobs last month. It only added 38,000.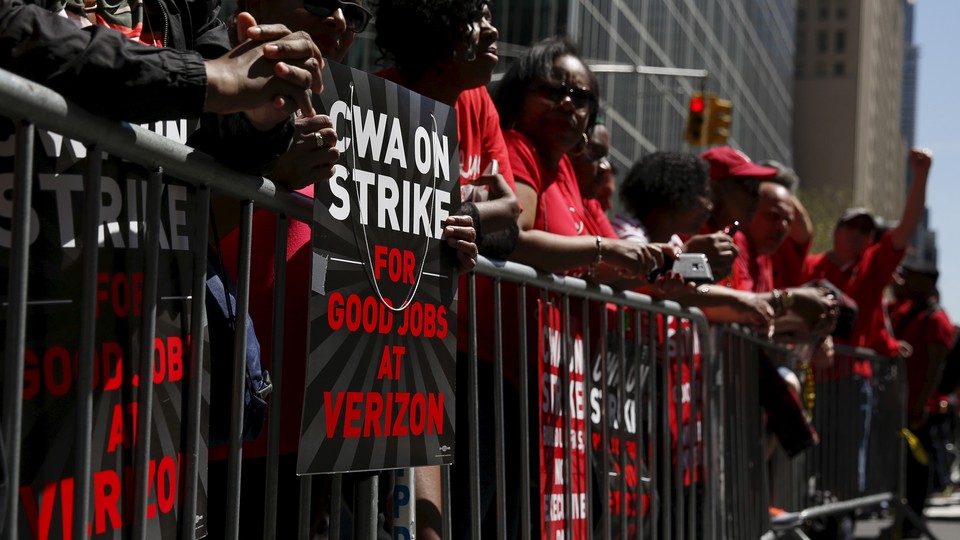 The May jobs report is out, and it is a huge miss. On Friday morning, the Labor Department reported that the U.S. economy added just 38,000 jobs, while the unemployment rate dropped to 4.7 percent.
Monthly employment growth averaged 192,000 jobs added for the first four months of 2016, which was already a slowdown compared to 2015. Economists were expecting a modest 158,000 jobs to be added last month, meaning that May's disappointing jobs report will almost surely be read as a sign of a slowing economy. It is the smallest number of jobs added in a monthly jobs report since 2010.
---
---
One thing economists were already anticipating is that this particular jobs report would be slightly distorted by the recent strike at Verizon. Roughly 35,000 Verizon workers were on strike in the month of May, but they returned to work this week after an agreement between Verizon and its union was reached. While on strike, these workers were counted as unemployed.
Still, the May jobs report is very disappointing on a few fronts. In it, both March and April's numbers were revised down. Combined, these revisions mean that March and April added 59,000 fewer jobs than originally estimated, bringing the three-month average down to 116,000 jobs added per month.
Also, the labor-force participation rate dropped again, falling to 62.6 percent. In March, that number reached its highest point in two years, which many economists took as an indication that Americans who lost their jobs during the recession were finally coming back to the labor force. But April and May have wiped out those gains, which means that the drop in the unemployment rate is likely due to Americans dropping out of the workforce rather than being hired.
---
---
The only good news in the May jobs report has to do with wages. Average hourly earnings rose by five cents, to $25.59, following an eight-cent increase in April. In the past year, average hourly earnings have risen by 2.5 percent. Many are taking this as a sign that rather than hiring new employees, maybe companies are now focusing on raising wages for the employees they already have.
Jobs reports reveal key economic indicators, and thus this one will likely influence the Federal Reserve's decision making  at the next Federal Open Market Committee meeting on June 14. Last week, Fed Chairwoman Janet Yellen said that the FOMC was on track to raise interest rates "in coming months." Speculation will surely continue until then, but a rate hike in June now looks unlikely, as the May jobs report seems to point to a slowdown.