The Best Business Reads of May
The month's most interesting stories about money and business from around the web.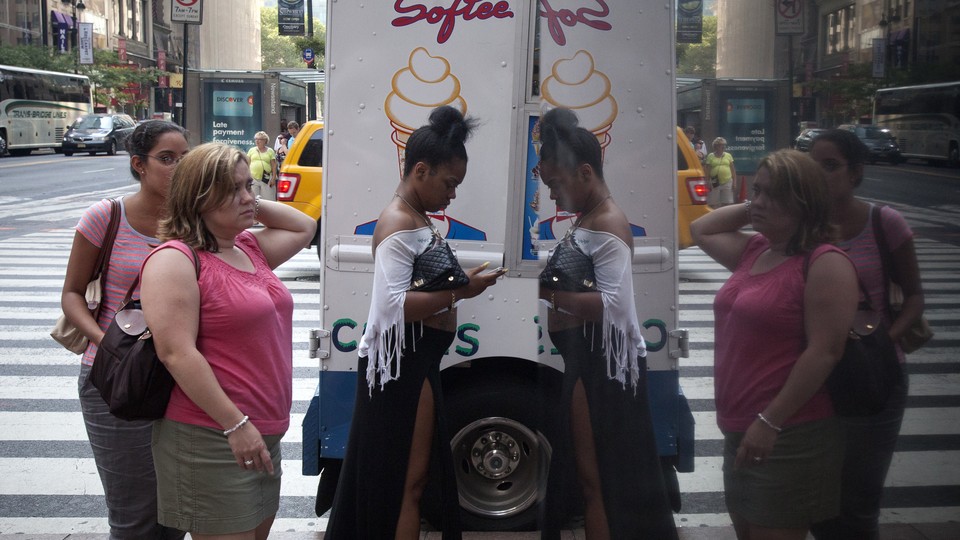 At the end of every month, The Atlantic's Business section editors compile a list of the best things they've read (or listened to). This edition includes stories about everything from the rapid growth of rental prices in San Francisco, to the rise of third-party investments in litigation, to what the future holds for Bitcoin. And because it's almost summer, there's also a piece on the surprising drama surrounding ice-cream trucks in New York.
If you're interested in other stories our team has deemed too good to miss, you can check out some of our previous round-ups here and here.
* * *
"'This Can't Happen by Accident'"
Emily Badger | The Washington Post
When the new subdivisions were rising everywhere here in the 1990s and early 2000s, with hundreds and hundreds of fine homes on one-acre lots carved out of the Georgia forest, the price divide between this part of De­Kalb County and the northern part wasn't so vast.

Now, a house that looks otherwise identical in South DeKalb, on the edge of Atlanta, might sell for half what it would in North DeKalb. The difference has widened over the years of the housing boom, bust and recovery, and Wayne Early can't explain it.

The people here make good money, he says. They have good jobs. Their homes are built of the same sturdy brick. Early, an economic development consultant and real estate agent, can identify only one obvious difference that makes property here worth so much less.
* * *
John Lanchester | London Review of Books
In time, even the US joined the system of state-backed money dispensed through a central bank. This is the system we still have everywhere in the developed world today. The reason a lot of people are excited about bitcoin and its associated technologies is that for the first time there is a genuine possibility of real change in this area. Money has evolved in jumps, from the invention of writing to the invention of the balance sheet and the bank to the creation of the central bank, with all of these changes being variations on the theme of money as a register of credits and debits. And we're now at a point when another jump is possible.
* * *
Shankar Vedantam | Hidden Brain
Uber is built on the scourge of surge. When demand is high, the company charges two, three, even 9.9 times as much as normal for a ride. Riders hate it... but not so much that they stop riding. "Dynamic pricing" has helped the company to grow into one of the largest ride-booking services in the world. What's the psychology behind it?
* * *
"A Guy Just Transcribed 30 years of For-Rent Ads"
Michael Andersen | Medium
I don't know anything about Eric Fischer except that he's a freaking hero.

Much like everyone else who has recently attempted to live in San Francisco, Fischer is very interested in housing costs. However, unlike every other such person, Fischer decided to contribute to this conversation by doubling the depth of modern historical data about them.

. . .

There are some ups and downs, but for the most part there is a very simple trend: 6.6 percent.

That's the amount the rent has gone up every year, on average, since 1956.
* * *
"A Renegade Muscles In on Mister Softee's Turf"
Andy Newman and Emily S. Rueb | The New York Times
But behind those cheery facades simmer turf wars—long-running, occasionally bloody feuds between ice cream vendors for control of the city's prime selling spots.
* * *
"Understanding Peter Thiel's Anti-Gawker Crusade"
Pascal-Emmanuel Gobry | The Week
In 2007, the Gawker-owned Valleywag outed Peter Thiel, the Silicon Valley billionaire who founded PayPal and invested early in Facebook, as gay. Unrelatedly, Gawker later published a video of the wrestler Hulk Hogan having sex with a friend's wife (he was also married at the time). Hogan sued Gawker, and won a massive $140 million in damages. (Gawker is appealing.)

This week it came to light that Thiel has been funding Hogan's lawsuit, probably with the goal of bankrupting Gawker, and certainly with the avowed goal of "deterrence"—i.e. making sure media outlets think twice about engaging in the kind of outrageously salacious reporting Gawker is famous for.
* * *
Bonus (and newly relevant)  archival read:
"Should You Be Allowed to Invest in a Lawsuit?"
Mattathias Schwartz | The New York Times
This new form of lawsuit funding is called litigation finance. It lies at the crossroads of two Anglo-American tendencies. The first is our litigious side, in which we celebrate our equality before the law by dragging those who have wronged us before a judge. The second is our ingenious mercantilism, as demonstrated by our penchant for turning everything from church raffles to mortgages into marketable securities to be chopped up, bundled and resold. Like the celebrity bonds backed by royalties and popularized by David Bowie during the 1990s, litigation finance represents the expansion of securitization into hitherto virgin territory. Those involved in the practice argue that it allows smaller companies like Miller to afford a day in court. Detractors worry that it could give rise to a litigation arms race, with speculative money aggravating the already high costs of the American legal system.
* * *
"Women in Elite Jobs Face Stubborn Pay Gap"
Janet Adamy and Paul Overberg | Wall Street Journal
On average, American women earn less than their male peers. Highly educated women fare worst of all.
* * *
"Obama Rushes Out Rules to Guarantee Legacy"
Timothy Noah | Politico
Perhaps the most significant action undertaken by Obama's Labor Department, the overtime rule will double (to $47,500) the threshold under which virtually all employees qualify automatically for time-and-a-half pay whenever they work more than 40 hours in any given week.

The regulation is expected to increase the number of workers eligible for overtime pay by more than 4 million by the Labor Department's reckoning; the left-leaning Economic Policy Institute calculates the number affected at more than 12 million. These workers will receive either wage hikes or reduced hours (itself a kind of raise when wages remain constant).
* * *
"The Disturbing Decline of Sumner Redstone"
Peter Elkind and Marty Jones | Fortune
At 8:30 a.m. this Friday, in a windowless, sixth-floor courtroom in downtown Los Angeles, testimony will begin to resolve what would normally remain an exquisitely private matter: Who should make health care decisions for an old man when he's unable to make them for himself? Redstone is a man who, for decades, dominated those around him. Now diminished, by some accounts a wraith, he is not expected even to be in the courtroom at a trial that centers on what condition he's in. He will be questioned by each side for 15 minutes at home (the videotaped deposition will be shown only to the judge). Even that small amount of testimony might be too much for him.

. . .

An already bitter conflict born of the maneuvers inside Redstone's household, it seems, could reshape $40 billion worth of corporations and the lives of thousands of employees.
* * *
"For Many Somali Refugees, This Industry Offers Hope — Then Takes it Away"
Chico Harlan | The Washington Post
His journey to America had been nearly two decades in the making, and now he was coming to its heartland — as were thousands of other Somali refugees — to take a grisly job that few others in his new country wanted to take.

Ahmed had heard from a relative that the job was hard; some workers showed up and lasted a year. Others bailed within weeks. But Ahmed figured, at least at the time, that not even the United States' bleakest economic realities could stifle his hopes for the future: He wanted to save money and, eventually, earn a high school diploma and a college degree. So after a two-day bus ride from Mobile, Ala., the city where he'd initially been settled as a refugee, Ahmed arrived in Liberal and headed straight to National Beef, the slaughterhouse on the edge of town. That week, he became the plant's newest Somali employee.