A New, Slower Stock Exchange
Last week, the SEC granted official approval to the platform created by the traders in Michael Lewis's Flash Boys.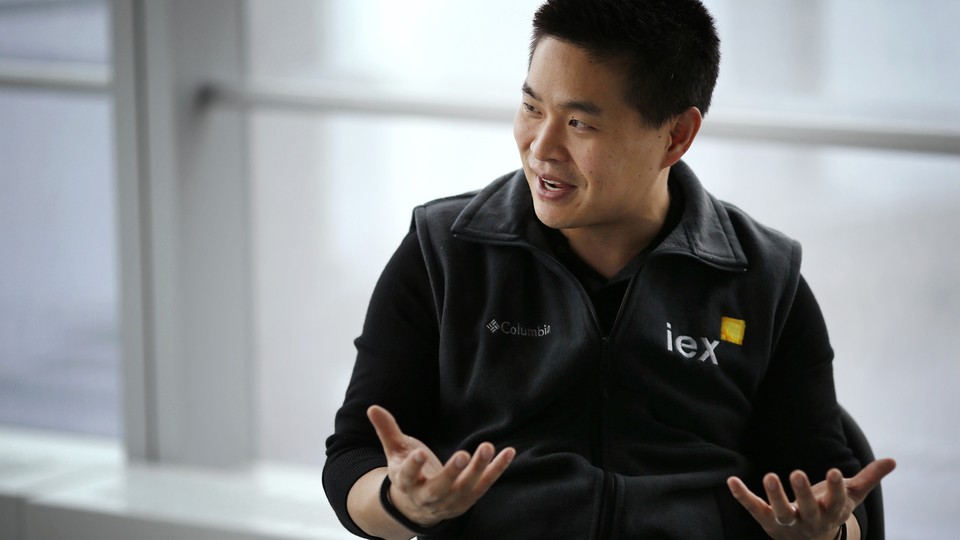 Last Friday, the Securities and Exchange Commission was scheduled to rule on whether it would certify Investor's Exchange—better known as IEX—as a national securities exchange. The backstory and aspirations of IEX were captured by Michael Lewis in his 2014 book Flash Boys. In it, Brad Katsuyama, a Canadian trader at the Royal Bank of Canada, came to believe that America's stock market was rigged after watching high-frequency traders front-run other orders, using technology provided to them by stock exchanges. He went on to lead a team that developed a trading platform that thwarted high-frequency trading, which eventually turned into IEX—a new exchange that uses a 350-microsecond "speed bump" (which consists of 38 miles of coiled fiber-optic cable) so that all trades arrive in roughly the same amount of time.
Since IEX's initial filing in September of last year, the SEC's decision had already been delayed twice, in December and then again in March. There was a time when the decision would have been controversial either way, but as of last week, it was widely expected to be approved after The Wall Street Journal reported on Thursday that SEC staff recommended regulatory approval.
The SEC finally did announce its decision Friday evening, after markets closed, making IEX the first new standalone equities exchange to be approved since 2010. This means that IEX will no longer be a "dark pool"—a private exchange for securities trading—placing it in direct competition with the 12 other national public stock exchanges in the U.S. All three SEC commissioners voted to approve IEX's bid, but Commissioner Michael Piwowar, a Republican, dissented on the decision to give IEX what's known as a "protected quote"—which means brokers have to send their orders to IEX if it has the best price.
"We're very happy with the decision," said Katsuyama on Monday morning. "We're parts happy, parts grateful, and parts relieved that we'll get the chance to let the market prove itself out instead of being denied entry." The exchange, which goes live in August, will become the first to publicly offer a platform that slows down the speed of trading—making the point that speed doesn't benefit everyone.
"We have been ready to be an exchange for quite some time," says Katsuyama. "We're a fair-access market, so I think what we've done is knowingly taken away certain advantages that [high-frequency traders] have on other exchanges. People will always look to try to find ways to get an edge, but I think very distinctly on IEX you can't buy that edge like you can on other exchanges."
Currently, IEX is small, currently handling just 1.6 percent of trades made through all U.S. exchanges. Previously, the exchange had aspired to reach a market share of 8 percent within two years of launching. Following the SEC decision, Katsuyama did not give an updated target but said that IEX is hoping to increase its volume in the coming months by convincing investors that the exchange is better suited to long-term investors. "There are hedge funds, mutual funds, pension funds, so we've seen a wide variety of investor types using IEX. We have a very good following but there are thousands of participants we haven't met with," says Katsuyama.
During the public-comments period of IEX's filing, many parties lodged complaints.* Several exchanges and firms, most notably the New York Stock Exchange and the hedge fund Citadel, came out strongly against the proposal. The Nasdaq had openly threatened a lawsuit against the SEC  if IEX got its approval. The exchange Bats Global Markets argued that it wouldn't be long until high-frequency traders found a way to take advantage of IEX's intentional order delay. Others argued that approving IEX alone won't fix a broken system.
If IEX is successful in taking market share from other exchanges, other exchanges might try to copy its model. In the coming months, high-frequency traders, employees of other exchanges, and market-structure geeks will be following these developments closely.
---
*This article originally overstated the amount of criticism IEX received. We regret the error.