Hollywood Has a Huge Millennial Problem
2016 is on pace to be the worst year for movies—by tickets bought per U.S. adult—since before the 1920s. What's going on?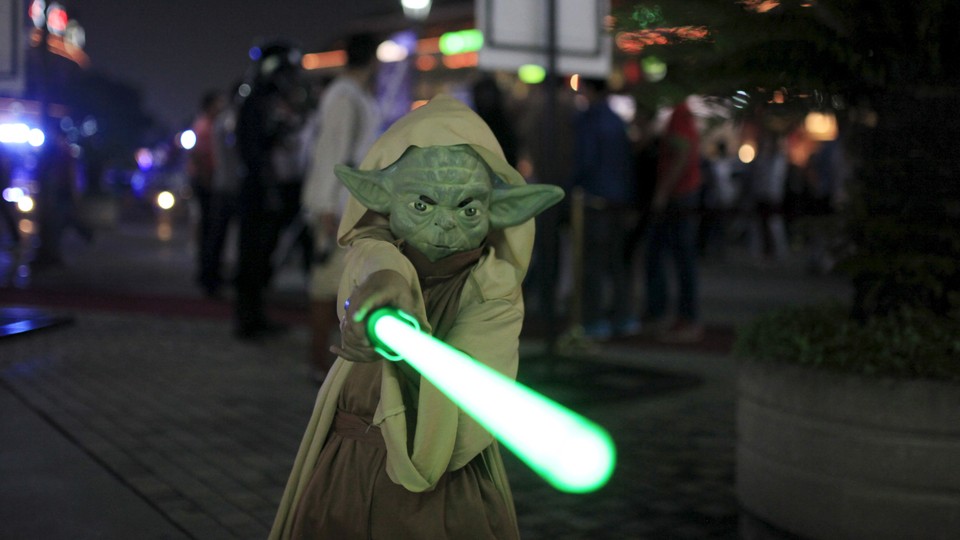 Sequels have been the lifeblood of the movie business for more than a decade. In 2011, the seven top films were all sequels, including Fast 5 and the final Harry Potter installment. Last year, the eight biggest opening weekends were all sequels, including Furious 7 and the latest Star Wars installment.
But in the last six months, the sequel strategy seems to be deflating. Several follow-ups—including Teenage Mutant Ninja Turtles: Out of the Shadows, Zoolander 2, The Huntsman: Winter's War, Neighbors 2: Sorority Rising, The Divergent Series: Allegiant, Barbershop: The Next Cut, and Alice Through the Looking Glass—have "disappointed or flopped outright," The New York Times reported.
Perhaps Hollywood's funk is even worse than a sequel slump. In 2016, the film industry is on pace to sell the fewest U.S. tickets per person of any year since perhaps before the 1920s and the fewest total tickets in two decades. This is an extrapolation based on previous years' sales progressions, and a strong summer or fall could boost the final figures. But this year might even weaker than it looks. The sixth and seventh highest-grossing films of 2016—Star Wars Ep. VII and The Revenant—were actually released in 2015. Box office analysts are grim. "Hollywood is in a creative funk," Jeff Bock, an analyst, told The Hollywood Reporter.
What's really happening? How did Hollywood become overrun with sequels, and why does it suddenly seems as if nobody wants to see them? The short answer is that the movie industry has over-learned the lesson that sequels perform well at the box office and has tried to sequelize every marginally successful movie. The deeper answer is that, on top of long-term structural declines in movie attendance, Hollywood is losing its grip on young people.
The construction of the "Sequel Machine," as my colleague David Sims called it, has been a deliberate Hollywood strategy to control the risk inherent in making an expensive product for tens of millions of people whom studios don't know and will never meet. Film used to be the dominant visual medium in the U.S. In the first half of the twentieth century, going to the movies was like going to church: Americans did it almost every week. Today, buying a movie ticket is more like going to the doctor—something many Americans never do and most Americans do only four or five times a year for routine cultural check-ups. (Domestic box office is growing mostly because average ticket prices are rising.)
In this environment, where Americans buy only four movie tickets a year, it's more expensive to create an audience for a film. In 1980, Hollywood spent less than 20 cents on advertising for every $1 it earned at the box office. Now it spends 60 cents to get that buck. In a market where it costs $60 million just to earn $100 million, movie makers are spending an enormous amount of money on fewer blockbusters and advertising the bejesus out of them. (This strategy will also inevitably yield historic flops, since the cost of getting the American moviegoers' attention is just so high.)
At the same time that movies' domestic audience flatlined, its worldwide audience bloomed. In the last five years, the Eastern Asian and Latin American markets have grown by $6 billion, while the U.S. and Canadian markets have grown by less than $1 billion. The necessity to create a single product for a global crowd encourages studios to produce the artistic equivalent of Rosetta Stones, interpretable for many tongues. There is no language in the world more universal than heroes destroying bad guys with explosions.
When the market for sequels was sparser, a film could draw attention to itself by the mere fact that it was a sequel. But now every major studio has come to understand that the centerpiece of the movie business is to produce several iterations of fantasy and hero franchises. But the commercial appeal of sequels is so obvious to so many people that movie studios are pumping out sibling after sibling for films that, 10 years ago, would have remained only children. A Neighbors sequel? A Ride Along sequel? Snow White II: The One Where We Sorta Kinda Fired Snow White?
The sequel machine has, in the last few years, merged with another strategy to deliberately roll out new episodes of comic and fantasy universes, like Marvel, Star Wars, and X-Men. Twenty years ago, in 1996, none of the 10 biggest films were sequels or superhero movies. Films based on comics accounted for just 0.69 percent of the box office. The top-grossing movies included original stories like Twister, The Rock, Ransom, and The First Wives Club. The top-grossing film in 1996 was Independence Day, an original screenplay by director Roland Emmerich and Dean Devlin. (One of the most highly anticipated movies of 2016 is Independence Day: Resurgence, its sequel.) This year, out of the 371 movies released, 4 superhero films—Captain America: Civil War, Deadpool, Batman vs. Superman, and X-Men: Apocalypse—accounted for 29 percent of the total box office. In the biggest picture, Hollywood is in the business of telling stories that people want to see, and when people go to the movies, by and large they want to see sequels of their favorite heroes.
It's easy to cherry-pick the sequels that have flopped in the last six months. It's far harder to argue that sequels, as a strategy, are finished. In 2015, six of the top 10 (and 11 of the top 20) films were sequels. In 2016 so far, it's the exact same story: Six of the top 10 (and 11 of the top 20) films are sequels.
The problem for Hollywood isn't that audiences are ignoring sequels. The problem for Hollywood is that audiences are ignoring everything that isn't a sequel, adaptation, or reboot. The market for films based on stories that aren't already famous is threadbare. These sort of stories exist in entertainment, but consumers, and particularly young consumers, are looking for them outside of darkened theaters.
Every year, the MPAA produces a detailed report on the North American moviegoing audience. There are two data points in the latest survey that should scare Hollywood.
First, Hollywood, like every media industry, relies on its power users. Ten percent of monthly filmgoers buy half of all movie tickets. The celluloid loyalists are young, heavily concentrated among people between 18 and 39. (This group is especially valuable because they're more likely to buy expensive tickets to 3-D and large-screen-format films.)
---
---
But Hollywood's young fanatics are getting less fanatical by the year. The good news is that Americans younger than 18 and older than 40 are actually watching more movies than they were five years ago. But the most important demographic to Hollywood, 18-to-24-year-olds, is also abandoning movies faster than any other group.
---
---
What are these young people watching if they're not going to the movies? Well, they're not watching more pay-TV television. They're not reading more newspapers. Their attention is pouring into mobile devices and apps, like Netflix and premium cable apps (where many Hollywood auteurs have decamped), YouTube, Facebook, and Snapchat. In the last five years, as young people have trickled away from movies, mobile has taken attention share from every other major category.
---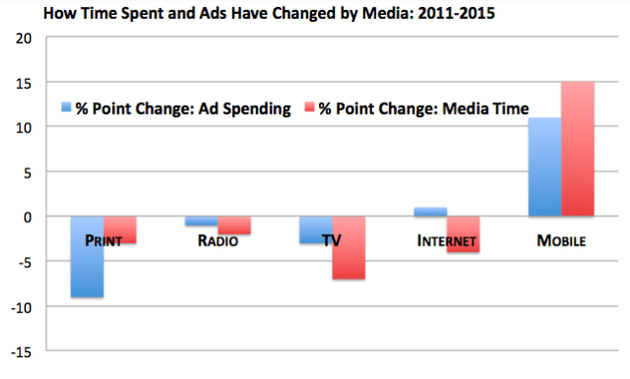 ---
Everything in the attention economy is connected: The rise of mobile and the fragmentation of young audiences will continue to drive a blockbuster strategy in Hollywood where the movies get bigger and the franchises get longer. The more young people's attention is fragmented, the more expensive it is to create an audience for each film, the more desperate studios are to find franchises that birth many fruitful sequels, the more it makes sense to create fewer films and conserve production and advertising budgets for a handful of them.
Let's strike a final note of optimism. It is customary for writers to conclude that a product category is "dead" or "dying" once it stops growing. But if Hollywood is dying, it is an enviable death. Americans and Canadians buy 1.3 billion tickets to the movies each year. That is ten times more than the number of tickets purchased to attend sports games to all four of the major sports—MLB (74 million), NBA (22 million), NHL, (22 million), and NFL (17 million)—combined. And that's the stagnant domestic market.
Movies are not dead in any meaningful sense of the word, particularly now that they can be richly monetized through television deals, theme parks, and merchandise. But they are caught in an increasingly expensive arms race to mint new franchises for a domestic audience that is seeking out original stuff beyond the cineplex.