Most For-Profit Students Wind Up Worse Off Than If They Had Never Enrolled in the First Place
A new analysis of attendees' earnings is in, and it doesn't look good.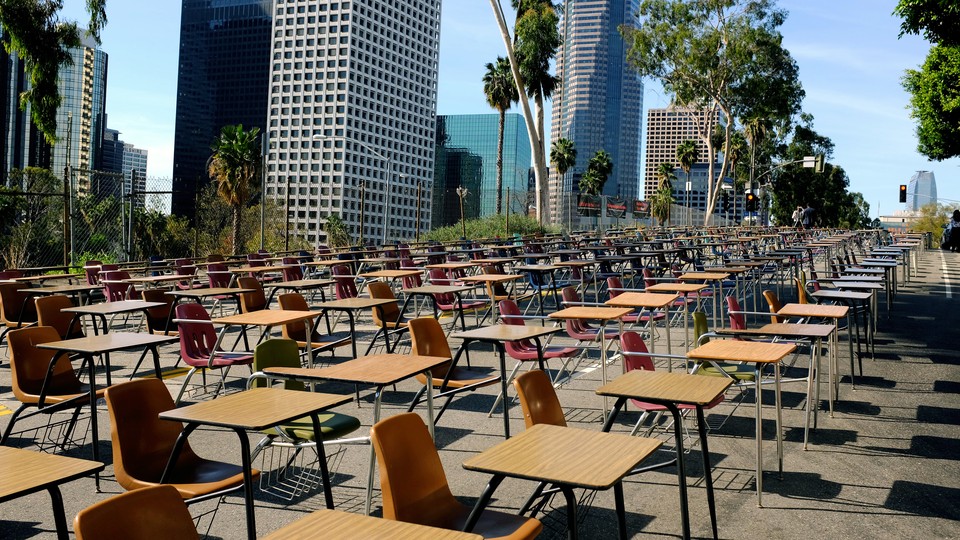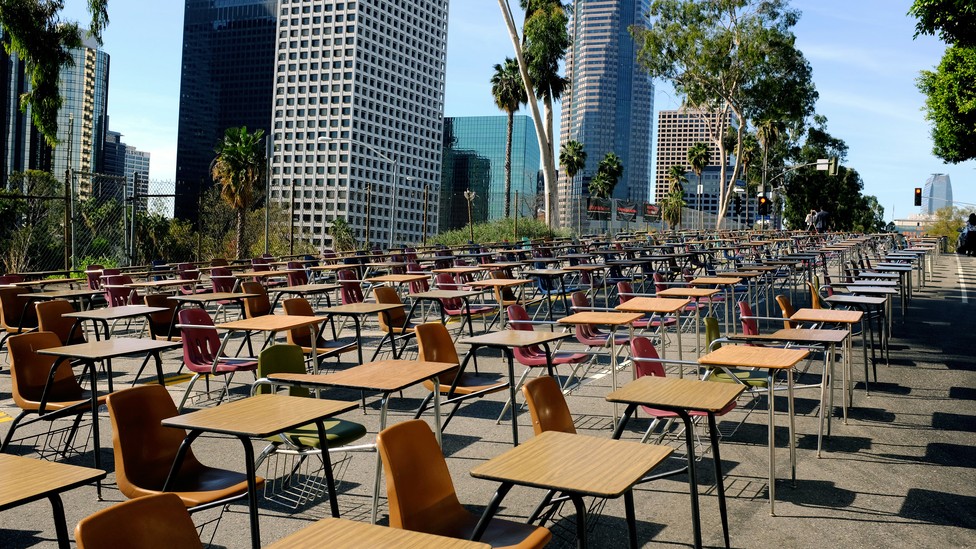 The for-profit-college industry appears to be facing its moment of reckoning. The closing of Corinthian Colleges in April of last year, once a big player in the industry, left thousands of students in debt and without degrees. In the months since, the Department of Education has forgiven more than $27 million in debt for nearly 3,500 students—many of them former Corinthian students—on the grounds that they were deceived. The Department of Education has also set up an initiative to take action against for-profit colleges engaged in deceptive marketing and recruitment practices.
According to statistics from the National Center for Education Statistics, for-profit-college enrollment surged between 2000 and 2010. The initial boom has been attributed to the growing number of students—particularly non-traditional students seeking college credentials—as well as the availability of federal student aid and the low cost, on the business side, of providing degrees through a website.
The bust that followed—between 2010 and 2014, enrollment decreased by 26 percent—can fairly be chalked up to the hard-to-ignore failings of these institutions: There are countless stories of debt, default, and the empty promises of a better financial future. And worse, for-profit schools are failing the students who can least afford it—students who attend for-profit colleges are disproportionately older, female, and black, with 51 percent of students coming from low-income families.
The for-profit college boom is one that Vauhini Vara at The New Yorker calls a "sorry legacy," born from the misguided belief that everyone should go to college. What that belief didn't account for are the people who either obtain degrees that aren't worth much in the labor market or those who drop out. For those who don't complete their degrees at for-profit colleges—and over 60 percent of the students who attend for-profit colleges don't—the financial consequences are dire.
Good numbers about the eventual earnings of for-profit college attendees have been hard to come by, as self-reported surveys of employment and earnings are often not comprehensive. A new National Bureau of Economic Research paper has finally put some solid numbers on these outcomes, and the authors believe that it is "the most comprehensive picture of for-profit student outcomes in the literature."
The researchers, Stephanie Riegg Cellini, an associate professor of public policy and economics at George Washington University, and Nicholas Turner, a financial economist at the U.S. Treasury Department's Office of Tax Analysis, looked at administrative data from the U.S. Department of Education and the IRS for 1.4 million students who left for-profit colleges between 2006 and 2008 to assess their labor-market outcomes.
The study found that, on average, students pursuing bachelor's and associate's degrees at for-profit colleges saw their earnings drop, compared to before they started the program. The overwhelming number of students who don't complete their degrees account for most of this pattern. Six years after attending these programs, for-profit college attendees were not only earning less, but were often saddled with debt and often without new credentials. Cellini and Turner theorize that dropping out might have been a negative signal to employers about a person's productivity, essentially leading employers to assume that this wasn't a person who "got things done," which in turn led to lower pay. The outcomes were far more positive for students who completed their degrees, for whom the researchers found a slight increase in earnings—about $3,500 to $4,000 more per year.
Since there are so many dropouts at for-profit colleges, the negative earnings effect was enough to wipe out the slightly positive gains for those who did complete their degrees for the group, bringing the average net earnings of enrollees to a negative number—roughly $600 less per year. According to government data, only 32 percent of students attending for-profit colleges graduate in six years, and Cellini and Turner's data set yielded a similar number. That's half the rate of public or private institutions.
There are two small pieces of good news: First, for-profit students out-earn students who attended public community colleges in one field: cosmetology. Secondly, those who obtained their master's degrees from for-profit colleges fared much better than those earning a bachelor's or associate's degree, seeing an earnings gain of about $6,000. Even master's program dropouts saw a slight increase in earnings, but the researchers suggested that this result might be due to the fact that master's program enrollees might be more like traditional college students, so their earnings potential before the program was less evident.
There's also one big caveat to the study: The researchers were looking at students who left for-profit college from 2006 to 2008, at the start of the recession. They acknowledge that this means that their findings can be partially explained by weak labor market conditions, with for-profit students faring worse during the economic downturn. Nevertheless, this study has managed to provide some answers to some lingering questions regarding the outcomes of for-profit students. If anything, these numbers serve as a sign—perhaps overdue—that buyers should beware.