Why Is Chick-fil-A's App Number One in the App Store?
Free sandwiches and shorter lines aren't the only keys to a fast-food lover's heart.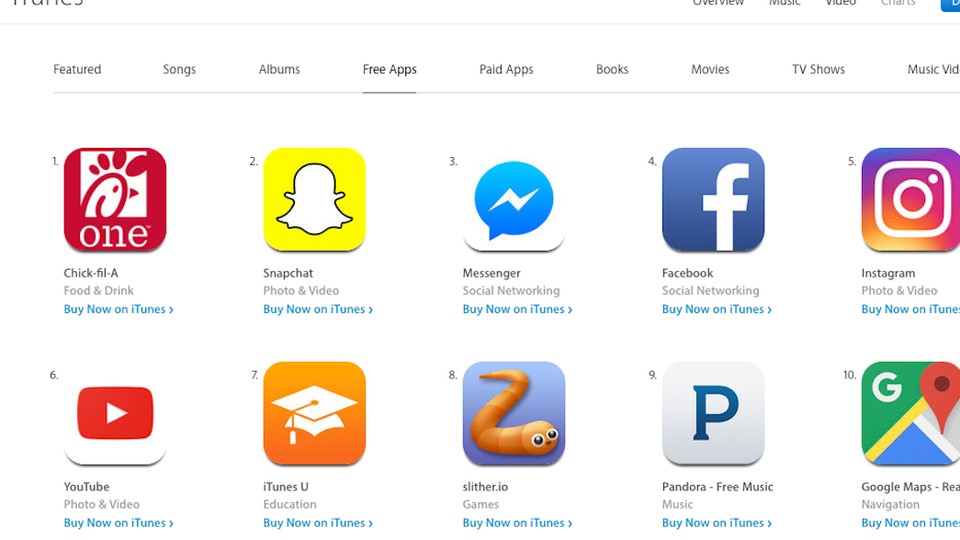 In late 2014, Taco Bell became the first major fast-food chain to roll out an order-ahead app. Finally, a Fourth Meal habitué could pay ahead, skip the line, join a rewards program, and creatively customize their Nachos Bell Grande without enraging a line of people behind them. Shortly after a very involved launch, Taco Bell even threw free Doritos Locos Tacos at mobile-app users. Despite all the fanfare, the Live Más app, while popular, was never the No. 1 free app in the Apple universe. Because, really, what fast-food ordering app would be?
Earlier this week, Chick-fil-A, the sometimes maligned and beloved chicken chain, introduced its One app, which offered all of the things that Taco Bell's app does, plus the immediate promise of a free chicken sandwich just for downloading the app. In just three days, the app has been downloaded over a million times and has led the most downloaded free app iTunes tally board since Wednesday, muscling out the likes of Facebook, Snapchat, Instagram, and the (frankly, weird-sounding) multiplayer snake-battle game slither.io.
So how did a (relatively small) chicken chain conquer narcissism and reptilian infatuation in the digital realm? In part, by courting families, a demographic that it pursues more vigorously and more successfully than most other chains. "82 percent of millennial parents say they would do almost anything to avoid long lines at fast food restaurants when they are with their children," the company noted in a press release announcing the launch of the app. "In fact, nearly half (48 percent) said they would rather not eat at all than stand in a line." For a company that does more sales-per-store than other quick-service restaurants by a long shot, this is particularly meaningful.
But securing the loyalty of families isn't necessarily just about convenience. It can also be a matter of ideology. Bear in mind that the family-owned chain, whose founder was a devout Baptist, stays closed on Sundays. In 2012, facing a boycott over controversial comments and since-discontinued donations to anti-LGBT causes, the company enjoyed a massive sales surge by those who felt loyal to the brand. Also, earlier this year, a number of Chick-fil-A operators joined in the company's Cell Phone Coop challenge, where stores would dish out free ice cream to families that could make it through an entire meal with their phones locked up in little boxes set up on each table.
And for those for whom taste trumps all, the cult of Chick-fil-A is difficult to overstate. Days before a new store opens, the faithful line up for a chance to become one of "The First 100," an honorific that comes with the bounty of free Chick-fil-A for a year. Also, the company, which generally keeps franchisees from owning multiple stores, topped the 2015 American Customer Satisfaction Index in its first year as an entrant with the highest score ever registered by a quick-service restaurant.
Then, of course, there's America's bottomless fascination with technology. Last year, Chick-fil-A, which is based in Atlanta, made its first foray into New York City, where it joined a short list of city institutions with nearly permanent, out-the-door lines. To counter that location's lack of a drive-thru window, the company eventually introduced an ordering system in which staff members head "upstream" through a line, taking orders with tablets, with the goal of getting a meal to a customer almost immediately after they've reached the cashier. In discussing the development of its app, Chick-fil-A noted a 2015 Pew study, which estimated that nearly two-thirds of Americans now wield smartphones. With the company planning to open 100 new stores in 2016, the only surprise is that this all didn't happen sooner.