A World Without Uber
After Uber and Lyft shut down operations in Austin, a number of imaginative ridesharing alternatives have been filling the vacuum they left.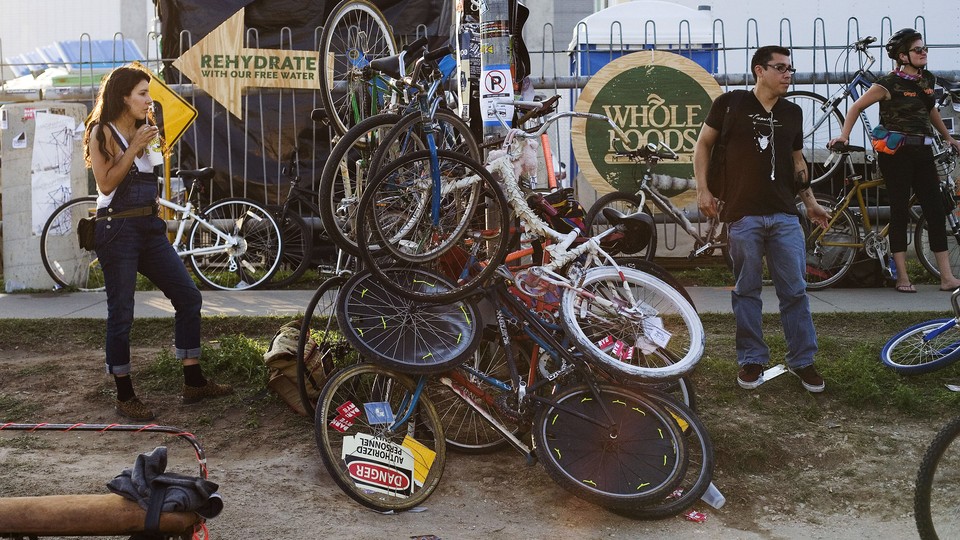 Uber faces legal and regulatory battles around the world, the latest of which took place in Austin, Texas, where residents recently voted against a proposition that would have lifted regulations requiring background checks and fingerprinting for drivers. After sinking $8 million into a public campaign and losing, Uber and Lyft chose not to comply with the city's regulations in favor of immediately pausing operations in Austin (though Uber is continuing to operate its meal-delivery service, UberEATS, in the city).
Uber and Lyft obviously weren't pleased with that outcome, and many of their drivers were upset by their abrupt decision to leave. Michelle Panas was frustrated: She had driven for Uber in Dallas for two years, even buying a vehicle that met the specifications of the company's higher-end Uber Select option. She didn't like Uber's cross-dispatch policy in Dallas (which requires many drivers with Select vehicles to accept requests from lower-fare riders) so she relocated to Austin, only to have Uber and Lyft leave the city shortly afterward. Meanwhile, Dina Sledge, a mother of two, liked that the flexibility of Uber and Lyft allowed her to tailor her schedule to her energy level, which fluctuates because of a disability she has. When she heard the services were leaving town, she considered driving every weekend to San Antonio, roughly 80 miles southwest, so that she could pick up fares there.
Despite these frustrations, the departure of Uber and Lyft could actually produce better options for the roughly 10,000 drivers in Austin, as well as their passengers. Uber and Lyft dominate the ridesharing market in many cities, and what's called the network effect—the idea that a platform or service becomes more useful as its number of users increases—makes it hard for smaller players to compete with them. For that reason, Uber and Lyft's disappearance from Austin's market is opening up opportunities for alternative ridesharing arrangements that might not otherwise have a shot.
Uber and Lyft's duopoly in most markets means they can (and do) act more or less as they please. The companies drop fares, impose driver-unfriendly rules like cross-dispatching, and change policies with little fear of losing drivers or riders. (In some smaller ways, their rivalry has actually helped drivers, according to Harry Campbell, the creator of The Rideshare Guy, a blog that provides information to the industry's drivers. For instance, Uber handles a much higher volume of rides than Lyft, but it has adopted some of Lyft's more driver-friendly policies, like its Express Pay option, which allows drivers to cash out whenever they want, as long as they've earned at least $50.)
In just over a month since the election in Austin, smaller rideshare startups, including Fare, Fasten, Get Me, and Wingz, have attempted to fill the void left by Uber and Lyft. "Competition in the market helps drivers," says Daniel Hamermesh, a professor emeritus of economics at University of Texas at Austin. For instance, when Uber and Lyft were still operating, Wingz initially carved out a niche by offering pre-scheduled airport rides, whose predictability benefits riders and drivers alike. (Uber and Lyft are now rolling out pre-scheduled rides and Wingz has branched out beyond airport rides in Austin). The predictability of pre-scheduled rides benefits riders and drivers alike. "If you [as a driver] can get a couple of pre-scheduled rides, you're able to schedule your day around that," Campbell says. When drivers know they're guaranteed a certain amount of money that day from pre-scheduled, fixed-price rides, they're less susceptible to the volatility of surge pricing and rider demand. "Logistically and mentally it's better for drivers," Campbell says.
One new entrant to the Austin market, Arcade City, has particularly piqued some drivers' interest. Panas gushes about driving for Arcade City, which started as a Facebook group and now has over 32,000 members, who can offer or request rides and exchange contact details via Facebook. "We're so busy, we barely have time to sleep and shower because it never stops," Panas says. "Your previous riders are calling and texting you [for rides]." Arcade City drivers self-organize into teams (or pods, as they're called), so that drivers can refer passengers to team members when they're busy.
Arcade City doesn't require fingerprinting, but Panas likes that the services gives her the ability to check out a potential passenger's Facebook profile and mutual friends before agreeing to pick him or her up. "Uber and Lyft never vetted the passengers. They never know who the passengers were who were getting into our cars," she says.
Arcade City recently released its mobile app to a group of 100 riders and 50 drivers. At a soft-launch event, drivers and passengers crammed into Brave New Books, a local activist bookstore, where they heralded the app's decentralized model and discussed how to handle possible run-ins with police. Unlike other ridesharing apps operating as transportation network companies (or TNCs), Arcade City considers itself a decentralized autonomous organization, explains its regional director, Eric Green. "The whole thing for the rider is they can choose who they want to drive," he says, referring to Arcade City's system of optional fingerprinting and background checks. "It's about freedom of choice."
Austin's mayor, Steve Adler, has said he's not sure Arcade City is legal, and several publications have called it Austin's "black market for ridesharing." So far, the city has allowed Arcade City to operate as long as fares don't exceed 54 cents per mile, the federal reimbursement limit for the purposes of making tax deductions. The service has developed a workaround to allow drivers to earn more than that: Instead of setting fares, they accept "donations" offered by passengers. Panas says the donation model works well for her. "Riders are becoming a lot more informed that the Uber and Lyft rates were not sustainable for drivers," she explains.
Arcade City's lack of structure isn't for everyone, and RideAustin—an upstart that is centralized, like Uber, but is a nonprofit—is more organized. RideAustin is currently testing its service in downtown Austin and plans to scale up after incorporating feedback from its drivers, says Joe Deshotel, the organization's director of community engagement. "We're taking the time to do it right," he says. So far, RideAustin has onboarded 800 drivers, all of whom will be fingerprinted.
RideAustin's website boasts that its nonprofit status will offer lower fares for passengers and higher pay for drivers, a model that Deshotel says he hasn't seen in other cities. "We don't really see anything innovative operating [in other] cities because of the nature of the duopoly of Uber and Lyft," he says. "From our perspective, it has stifled creativity and innovation by having these two companies essentially dominate the market."
In the race to capture market share, these recent entrants have revealed themselves to be less than perfect—drivers complain about navigational glitches and long waits to get onboarded. Balancing supply and demand has proven problematic on both sides: Drivers don't want to waste time signing up for an app that doesn't have enough passengers, while passengers don't want to waste storage on their phone with an app that doesn't have enough drivers.
Because Austin's market is now so competitive, it is likely that not all of the current rideshare players in Austin will survive. Hamermesh predicts that the survivors will be the ones that treat drivers well and give them a relatively high percentage of each fare; drivers who feel supported tend to provide a better customer experience.
If Uber and Lyft return to Austin in the future, it won't be the first time they exited a city only to come back later. Both services returned to Florida's Broward County after a county commission eased up some of its regulations. But what makes Austin different from Broward County is that "there weren't nine companies lining up to fill that market," Campbell says. With some other services willing to comply with Austin's regulations and fill passenger demand, the city will feel less pressure to back down. But even if Uber and Lyft don't return to Austin, they'll likely pay attention to what happens there—not just for the sake of their business interests, but, perhaps, for inspiration.