A Space for Black Voices
In an increasingly diverse country, the media industry is still fairly homogenous. Why can't brands like Jet and Ebony seem to capitalize on that disparity?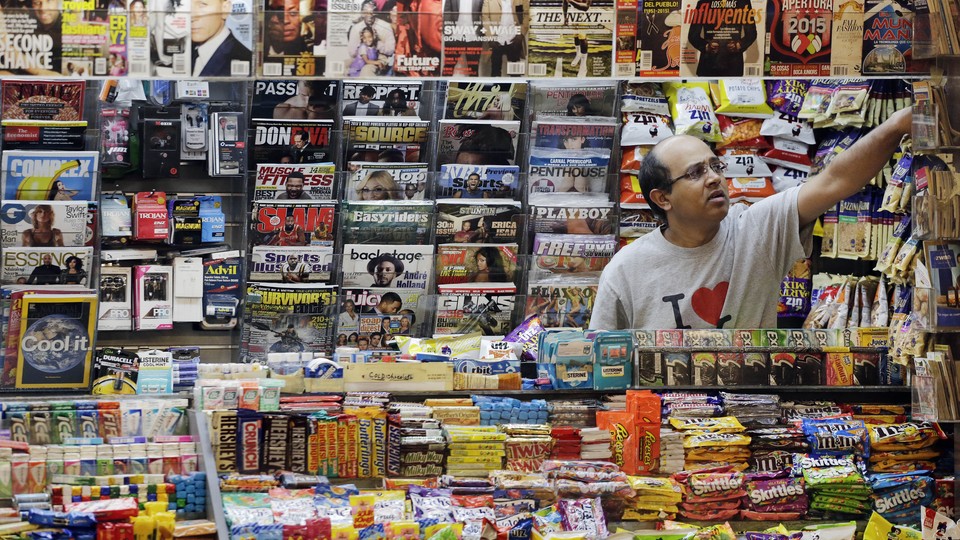 When John J. Johnson set out to create magazines by, for, and about black Americans, he was taking on a model that might not have seemed viable, culturally or financially. But he succeeded. For nearly three-quarters of a century Johnson Publishing—a Chicago-based, black-family-owned company—produced Jet and Ebony, two of the most widely recognized names in minority-focused media. Last week, Johnson Publishing sold off the two iconic brands, effectively exiting the publishing industry.
In its obituary of Johnson, The New York Times quotes him as saying that his hope in creating Ebony was, to "show not only the Negroes but also white people that Negroes got married, had beauty contests, gave parties, ran successful businesses, and did all the other normal things of life." He succeeded in that and more. It was Jet magazine, for instance, that in 1955 published the gruesome photos of a murdered Emmett Till, forcing Americans to reckon with the reality of racial brutality. The success of these magazines over many decades was proof that they were filling an important role, providing long-absent representation of black Americans in glossy publications. And that stories that were important to black Americans, and perhaps uncomfortable for white ones, had a place on newsstands too. That was important not just symbolically or culturally, but also economically. The success of Johnson Publishing's magazines showed that black American audiences were made up of valuable consumers, who advertisers, businesses, and publishers would be wise to pay attention to.
Jet and Ebony have been important not only to readers but also to writers of color, publishing works by Langston Hughes and Gwendolyn Brooks, and providing spaces where writers could develop talent and tell their stories in an industry that struggles and often fails to promote diverse voices and viewpoints. According to the most recent report on the state of the media from the Pew Research Center, black journalists, editors, anchors, and managers still make up a disproportionately tiny share of many newsrooms, with not much improvement between 2014 and 2015. And conversations about how mainstream media organizations recruit and retain black talent can be messy and complicated. For many black journalists magazines such as Ebony and Jet have proved critical in launching their careers by allowing them to tell stories about their own lives and communities, stories that other publications would've brushed off as unimportant or unrelatable.
The historical importance of these publications in an industry that often overlooks the very issues and community they were designed to serve makes the new ownership of Ebony and Jet all the more notable. The magazines' buyer, Clear View Group, is also a black-owned firm, an anomaly in the private-equity industry. The group has said that they'll keep both magazines running, at least presently. And that's in part because the significance of the publications resonates with the owners of Clear View too. In an increasingly diverse country, calls for media coverage that is more representative of what America looks like are loud. And publications of all kinds are trying—to varying degrees of success—to answer those calls, recognizing that the buying power of black and brown Americans will only grow in the coming decades. If that's true, then why sell such iconic brands?
Despite the decades-long success of the publishing group, the sale of the magazines isn't exactly a surprise.  Ebony and Jet have fallen prey to the same plagues of decreased circulation and ad revenues that most print publications have faced over the past decade or so (Jet moved to a digital-only platform in 2014). According to a report from Pew Research circulation for Ebony has declined by about 20 percent in the past decade to 1.2 million. Jet saw a decline of 21 percent between 2006 and 2013. To mitigate these challenges, Ebony attempted to sell its staggering photo archive—which chronicled everything from day-to-day black life to historic figures and events—in 2015. The company hoped to sell for $40 million, but the collection hasn't found a buyer thus far.
In a market where publications of all kinds are having trouble making ends meet, journalists of color still struggle to find work, and minority audiences often feel overlooked or homogenized, publications like Ebony and Jet occupy a complex and unique space, explicitly focused on the representation of black America. But if they can't sustain, what could—or should—fill the void?
There have, of course, been newer brands that have popped up—The Root, The Grio, The Undefeated—as important digital spaces for both black readers and black journalists. But succeeding in such a specific space can be difficult, especially at a time when all brands face the challenges of monetizing digital products, which typically means reaching the largest audience possible. Additionally, some critics question whether or not brands targeted at minority audiences further goals of equal representation or create further stratification. For these reasons, it's all the more critical that traditional media (which is to say, traditionally white media) diversifies, both in hiring and in the stories it tells. Because even in this so-called Information Age, the threat  that inspired Johnson in the first place—that of a black America without a voice—remains.