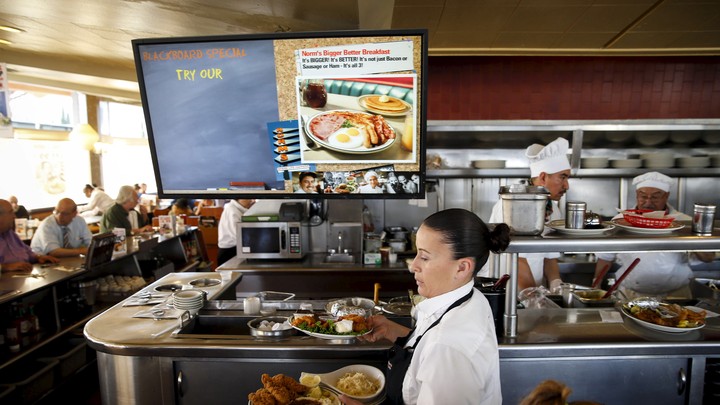 The movement to eliminate tipping in American restaurants may be showing its first signs of wear. On Monday, Gabe Stulman, a New York City restaurateur who joined the growing no-gratuities campaign in December, announced that he would be reinstating the gratuity system at Fedora, his clamorous West Village haunt. Fedora was Stulman's first venue to test out a service-included model, which required higher menu prices.
Meanwhile, last week, far from the island of Manhattan, the casual-dining chain Joe's Crab Shack also reduced its commitment to a gratuity-free model, cutting the number of outlets participating in the tip-free experiment from 18 to 4.
Both developments are worthy of note, but it's this latter one that seems particularly significant. Joe's Crab Shack was the first major restaurant chain to tinker with its model. The seafood chain, which has 130 locations, tested out a service-included model months before the New York restaurateur Danny Meyer created a media furor with the announcement that he would eventually banish tipping at all of his 13 restaurants and raise menu prices to cover the cost of service.
"The system has to change at some point, but our customers and staff spoke very loudly," said Bob Merritt, CEO of Joe's Crab Shack parent company Ignite Restaurant Group, during an analyst call last week. "And a lot of them voted with their feet."
According to Merritt, the company's research revealed that nearly 60 percent of customers expressed displeasure at the no-tipping policy, which led to an "8 percent to 10 percent" drop in customer counts. "We tried it for quite a while, tried communicating it different ways," Merritt added.
Like Merritt, Stulman was similarly supportive of the long-term aspirations for the no-tipping movement. "While we made the determination that a gratuity-free system does not work for our business at this time, we continue to believe that it has the potential to change hospitality for the better." He added, in comments to Eater, that customers were spending less, and explained that maintaining the gratuity-free system would have forced him to either raise menu prices further or cut worker wages, neither of which were "comfortable" courses of action.
The service-included model has existed for years in a handful of American restaurants. Its recent coalescence into a bona fide dining trend last year, however, has dovetailed with efforts to raise the minimum wage and improve working conditions.
For restaurants, moving away from gratuities is meant to offer a pay boost for back-of-house workers such as cooks, chefs, and dishwashers, some of whom are legally prohibited from receiving shares of tips. Installing service-included models also tends to produce steadier pay for servers and bartenders—a predominantly female workforce that almost always relies on tips.
Nevertheless, the service-included model is not universally popular among workers. In other evidence of growing pains, some discontent was reported in March among servers at Roman's, a popular property in the mini-empire of the Brooklyn restaurant owner Andrew Tarlow, who followed Meyer's lead in December by announcing that he would seek to go gratuity-free by the end of 2016. And, in San Francisco, Thad Vogler reverted back to accepting gratuity in January after experiencing high staff turnover among the formerly-tipped when he eliminated gratuity the previous year. "We couldn't compete in the market," he told CNN. "We were faced with the options of raising prices more or bailing out."
We want to hear what you think about this article. Submit a letter to the editor or write to letters@theatlantic.com.
Adam Chandler
is a former staff writer at
The Atlantic
. He is the author of
Drive-Thru Dreams: A Journey Through the Heart of America's Fast-Food Kingdom
.