Your Weird Dress Codes in the Workplace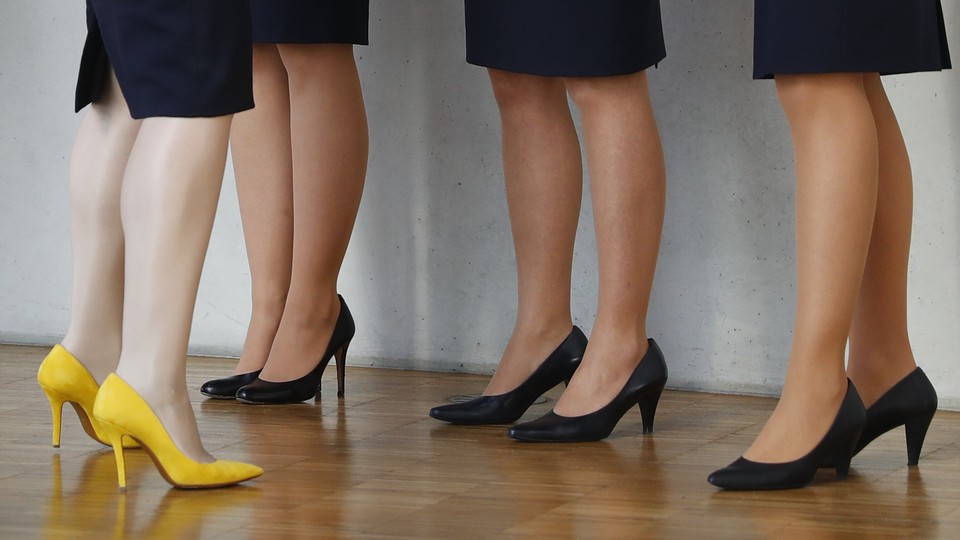 Editor's Note:
This article previously appeared in a different format as part of The Atlantic's Notes section, retired in 2021.
In response to my previous note on weird school rules related to undergarments, reader Kat Steele shares her story:
Asinine dress codes don't disappear after graduation. During a stint at a Christian coffee shop in Virginia in 2006, I made recreational reading out of our comically restrictive staff code of conduct. The strangest? Employees were only permitted to wear "simple, white" underclothes. Lacey bras and panties were explicitly prohibited. I never mustered the courage to ask my boss how often he did inspections …
More readers shared their workplace rules, including this woman who apparently once worked with the Peep Toe Police (🚨):
Working for a large (50,000+) company in the late '90s, we had to wear closed-toe shoes and "foot coverings." That meant, even in summer, women had to wear nylons or socks, even with pants and pumps. One day, my boss actually pulled up my pant leg to check that I was wearing them. We all hated the term "foot coverings!"
Another '90s horror tale:
I worked in a Fortune 50 internationally known company, and I was based at the world headquarters in NYC. Women were not allowed to wear pants. I witnessed an executive woman sent home in a blizzard because she wore pants that day—a day when about 50% of the people didn't make it to work because of the blizzard. I guess she couldn't make decisions that impacted a multi-national, billion-dollar company with her legs covered.
Maybe, this next reader suggests, all of these weird dress codes in high school are just training for a lifetime of weird workplace dress codes:
There are workplaces that tell you what kind of earrings you can wear. They tell you what the color of your suit can be. Where I work, half the people come in to work in their pajamas, but one particular group isn't allowed to wear jeans on Friday because screw you.

Arbitrary, nonsensical dress codes are part of the adult world, so the kids should get used to it.