Solomon's Search
He arrived in Washington, D.C., in 1981. In the decades that followed, the strain of transposing a life from one continent to another grew more and more painful.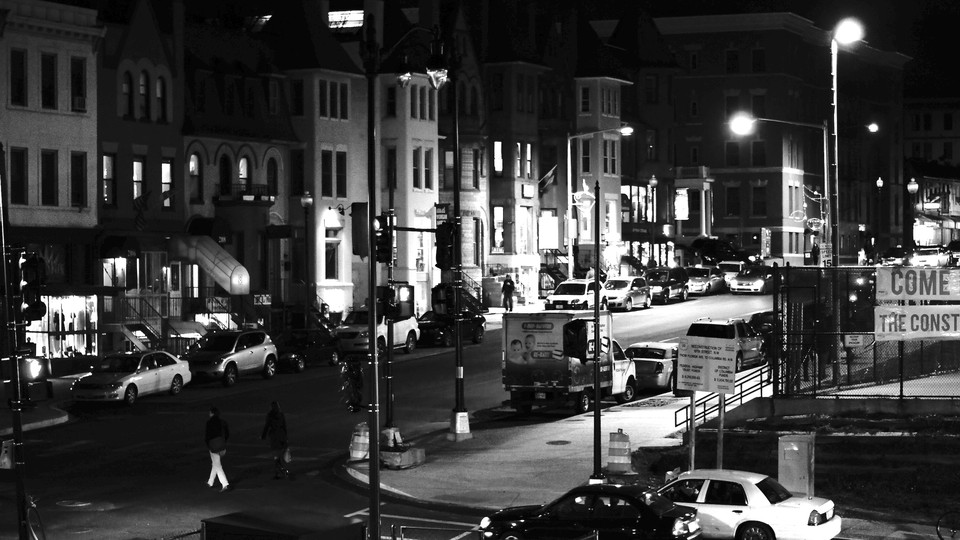 Solomon met his future wife, Elsa, in 1987 while she was having dinner at Meskerem, a now-shuttered Ethiopian restaurant in Washington, D.C.'s Adams Morgan neighborhood. Meskerem had opened two years earlier, the first Ethiopian restaurant on a stretch of 18th Street already crowded with "ethnic" restaurants and bars. At least three other Ethiopian restaurants quickly followed, and it must have seemed as if overnight, the newly arrived immigrants had all but taken over the neighborhood.
Elsa was with her sister when Solomon walked into the restaurant. He was with a friend that she knew from classes she had taken at the University of the District of Columbia (UDC). They didn't immediately speak to each other, even though Elsa remembers feeling something as soon as she saw Solomon. She already had her heart broken once since coming to America five years earlier, and according to Elsa, Solomon, especially in those days, was "too handsome" to trust. And besides, what was the rush? This was D.C.; it wasn't difficult to find another Ethiopian.
After dinner, Elsa and her sister walked across the street to the recently opened Fasika's, where they planned to have a drink and listen to music before continuing on with their evening. As soon as Elsa sat down, however, she saw Solomon and his friend enter the restaurant, and in her description of that moment almost 30 years later, it's obvious that Solomon—tall, almost too thin, with the obligatory mustache, and an elegant, aquiline nose—made no attempt to hide the fact he was following her. Elsa and her sister left before he could even offer to buy them a drink, but again, this was D.C. in the late 1980s, roughly a decade since the first trickle of political exiles fleeing the communist revolution in Ethiopia had begun to arrive in America. There were only so many places to listen to Ethiopian music and dance skista, and all of those places were huddled together near the top of 18th Street. Elsa and her sister had to walk only a few minutes before they arrived at Awash, where a large crowd of what I imagine to be neatly-afroed young men and women were waiting outside, hoping in vain to get in. Fortunately for her, Solomon had beat her to the restaurant, and as she would soon learn, he was a man who knew people. He was part of that initial wave to arrive in America in the late 1970s, and more importantly, he was the kind of man who made friends, who couldn't help but seduce everyone he met with his arms, eyes, and if need be, his entire body.
"He came. He took us from all those people," Elsa told me while we sat in her living room, with, directly behind her, at least a half-dozen photographs of Solomon taken throughout the decades he had spent in America.
"He found a place, then he pulled us inside through all those people."
* * *
In 1981, when Solomon arrived in Washington D.C., there were approximately 10,000 Ethiopians living in America. Over the next 10 years, roughly a thousand more were resettled each year, making the total Ethiopian-born population of America at the end of the decade roughly 20,000, or one-fifth of a professional football stadium's capacity. Growing up in the suburbs of Chicago, I would have guessed that at least 90 percent of that population was in D.C., among them my uncle Fekada, who arrived in D.C. never expecting to make it back home. Fekada fled Ethiopia while he was a teenager, and like nearly all Ethiopian immigrants of his generation, he found his way slowly to a refugee camp in Sudan. Four years after leaving his parents' home in Addis Ababa, my uncle joined my parents, sister, and me in Peoria, Illinois. My only memory of him at that time is of him standing behind my sister while she learned to ride a bike.
Among his memories—the one that stands out the clearest—was when, after months of job-hunting, a well-intentioned employment officer sent him to an interview at a country club. "Everyone looked at me like, what was I doing there," he told me recently. Several people told him that he must have made a mistake coming there, and when the manager my uncle had been sent to see finally did come out, he was so surprised to see my uncle that he took him into his office. He called the man at the employment agency to ask, without asking, what the hell he was thinking sending a black man to his office. The well-intentioned employment officer tried to explain that this young man was Ethiopian—a political refugee fleeing the evil empire of communism, which made him different. Different, of course, didn't make my uncle any less black, and so he was politely told there was no job for him. My uncle gave up on the Midwest at that point, and like a true American, decided he would head west, to friends in California; but first he decided to stop in D.C., where an old friend from Ethiopia had recently landed. After two days in the capital, he was completely out of money, but this was D.C., and not Peoria, and before the day was over, my uncle's friend had found him his first job in America as a busboy at a Holiday Inn.
My uncle moved into an apartment building in Adams Morgan one year later, and it was there he met Solomon. (Throughout this essay, I've omitted people's last names to protect their privacy.) The building was on a narrow, tree-lined street just behind the National Zoo in a residential pocket of Adams Morgan that feels miles away from 18th Street. Solomon was living there, on the same floor, with his older brother, and he met my uncle by the simple fact that they were neighbors, who, by chance, were only a few years apart, and whose lives had followed distinctly similar paths. In Ethiopia, Solomon, just out high school, had fought in the armed faction of a political party opposed to the military dictatorship; my uncle, also just out high school, left in order not to be conscripted into any of the warring parties. Both men eventually ended up as refugees in Sudan, and in a detail that seems almost scripted to fit their story, Solomon, when they met, was working at a country club in Chevy Chase, Maryland.
Of all the varied, multiple, and competing interests driving Ethiopian migration to D.C., none perhaps is as important or as hard to measure as the strength that comes with numbers. When Solomon lost his job at the country club, my uncle, in a gesture that must have now been repeated countless times, helped him find a new one at the Holiday Inn, and when my uncle's roommate moved in with his girlfriend, it was Solomon who filled the empty room.
Together, the two did what nearly all the newly arrived Ethiopian immigrants believed was demanded of them. They worked one, often two jobs, and in the evenings, when they could afford to, they took classes. My uncle, and Solomon in particular, did so with a singular intent, one completely divorced from any version of the American dream.
"We started taking classes at UDC," my uncle said. "Most of us wanted to study engineering. Solomon was pursuing the same thing. Most of our friends were doing engineering. Everyone was going to school at that time. Everyone has this mentality, 'I'm going to educate myself and go back to my country.' Ninety percent of our friends were in school. Everybody plans, everybody thinks: When this regime goes, we go back to our country.
"Nobody was ever thinking of buying a house. Nobody was interested in making money."
America was only supposed to be a temporary thing, and for as long as possible, my uncle and Solomon lived as if that were a certainty. For the next four years, their lives orbited around home, friends in Adams Morgan, evening classes at UDC, and the hotels, cabs, and parking lots that had become the dominant trade among Ethiopian immigrants. When D.C.—and Adams Morgan in particular—became too expensive, it was as if an alarm bell had been rung signaling the start of a second migration, this one out into the cheaper, more practical Maryland and Virginia suburbs.
"Almost all the people we knew moved there," my uncle told me, the "there" being a block-long, 12-story tower on New Hampshire Avenue in Takoma Park, Maryland. Dozens, and eventually hundreds of Ethiopians lived in that building, which was referred to simply as New Hampshire Avenue, and while the dream of returning home hadn't yet died, every year more of that lost "home" was being replicated in America. By the late 1980s, a person could have spent days living on New Hampshire Avenue without ever speaking a word of English. I asked my uncle to describe what he and Solomon's lives were like once they moved into the suburbs.
"We get together every weekend. We were like 15 of us. Most of us lived in the same building. We're not married. We cook and eat. We don't go out. We don't move around. When we get a break—we found this place where we could buy and slaughter a lamb, and we'd eat it the whole day."
In Ethiopia, one of the organizing principles of civil society is the formation of loose social networks among friends and family to help bear the particular costs that come with life: death, marriage, the purchase of a home, car. There weren't enough friends and family in America to recreate a version of each one of those support systems, but after almost a decade away from home, my uncle and Solomon, along with their friends on New Hampshire Avenue, created a Mahaber that, with time, would help pay for each of their weddings, their children's graduations, and 20 years later, Solomon's funeral.
The dream of returning to Ethiopia must have begun to seem less urgent, less tenable for both my uncle and Solomon, and to some degree the Mahaber was proof of that.  My uncle met his future wife, and shortly after, they moved in together. Solomon returned to Adams Morgan, where he was living the bachelor life in a small studio on 16th Street. He and my uncle were like brothers by then. They spoke to each other every day, and saw each other as often as possible, and in hindsight, it seems inevitable that Solomon met Elsa almost immediately after he moved out on his own. His first date with Elsa happened to be on his birthday, a fact he kept hidden from her until the cake arrived after dinner and he told her, "You are my gift." Later that evening, Elsa visited his studio on 16th street, and she returned the next day with the backseat of her car crowded with pillows and blankets because she wanted him to be comfortable, to be at home.
"We were getting older," my uncle told me. "So everyone starts thinking about getting married, buying a house."
Any purchase on those dreams, however, meant inevitably relinquishing or trading in others. Solomon left his job at the Holiday Inn and joined the growing ranks of Ethiopian cabdrivers. In Ethiopia, he had been a student and then a soldier, and in the decade that followed, he had certainly dreamt of doing far more for his country, for himself. With his own car, his name etched in white on the side, there was at least the extra compensation of knowing that he didn't have to take orders from anyone. Like so many American immigrants, he wanted to be his own boss, which is perhaps the simplest explanation for the overrepresentation of Ethiopian cabdrivers in D.C. By 2000, following the second and largest wave of Ethiopian immigrants, 11 percent of Ethiopian-American men were employed as cabdrivers, compared to 0.2 percent of U.S.-born men.
Solomon and Elsa were married one year after they met. Elsa wanted a large, Ethiopian wedding, which Solomon refused because of the inordinate costs that came with it.
"We didn't have any money when we started," Elsa said. "I talked to my family, and then to his Mahaber … I don't know. Everyone gave to us. I went to buy meat for the wedding. When I went to pay, it was already paid. Everywhere I go, it's already paid off."
They had their reception at the Holiday Inn where Solomon had once worked and where my uncle was still employed. My uncle would have his own belated wedding at the same hotel two years later, with Solomon as his best man. Before his wedding, however, my uncle, almost 10 years after coming to America, became a U.S. citizen.
"I remember at that time I was arguing with [Solomon], and he was saying, 'What's wrong with you? You don't want to go back to Ethiopia. How can you do that?' And I said, 'Well, I can benefit more by being a U.S. citizen.'"
Solomon, my uncle recalls, still believed, perhaps with less conviction, that he was still going back.
* * *
I doubt Solomon ever fully gave up on that possibility, even as he became a citizen himself. He and Elsa had their second daughter, and then a few years later, a son. Elsa took on a second job, while Solomon continued to drive his cab, whose only real pleasure seemed to be the autonomy it gave him to be available for his children. According to Elsa, "After the pregnancy was over, he was the one who raised the kids."
Shortly after their son was born, they were told their apartment wasn't large enough for three children."Solomon wanted to go back to that building," Elsa told me. That building, of course, was the one on New Hampshire Avenue, where the lambs were slaughtered and eaten in a day, and where so much was still possible. But Elsa, who continued to work at the same restaurant since she first arrived, wanted more, and more, of course, was a home that they could own, and that no landlord could force them out of. With a loan against her retirement savings, she began to go house hunting. Solomon, out of pride, and what I imagine to be a fierce reluctance to make that final claim on America, wanted nothing to do with it. He held that position until he went to his first open house.
"He was the one who loved this home," Elsa told me. The house, a two-story brick bungalow with a neatly tended front yard, reminded me of my uncle's home a half-hour drive away in Maryland. Both homes were a part of larger housing complexes built near main roads, close to schools and grocery stores, all that a family supposedly needed. I don't know if either of them have Ethiopian neighbors, but I doubt they would know them if they did. Solomon, certainly, had enough friends. The Mahaber, two generations strong, had grown to more than 60. In the memorial book at his funeral, there was a series of photos taken of the group over the past two decades. In one of the older ones, he's sprawled out on the grass, no longer quite as skinny as he used to be, but smiling as hard as ever. And in the most recent, taken six months before his death, the bodies are crowded in, four rows deep, with the third generation being held front and center, with Solomon nowhere to be seen.
"I didn't know anyone when I came," my uncle told. "Solomon, except for his brother, knew no one." And even when they did know more people, and their lives grew full with with family and children, he and Solomon still spoke twice a day, every day. My uncle would call him on his way to his office at Holiday Inn's corporate headquarters, and again on his way back home. I asked him what he and Solomon used to talk about, if they talked explicitly about what they had both experienced before leaving Ethiopia.
"Yeah, we talked about what happened. We were basically the same age. We talked about everything if it was just the two of us. When we're not in a group, then we talk more about Ethiopia. How we lost our youth. How we lost all these years, rather than enjoying our childhood and stuff like that. When we are in a group, we remember the past and joke about it."
* * *
The two had built their lives in tandem in America, and so it was only fitting that in 2004, they returned to Ethiopia together. It had been 25 years since my uncle had left, and my grandmother had asked him pointedly how could he stay away for so long. Solomon, who I imagine never stopped missing the Ethiopia he had known, had another reason for finally going back. Six months earlier, doctors had found a tumor on his brain that had triggered a long bout of depression. They were able to remove it, and shortly after, the excessively generous and at times stubborn Solomon his family and friends knew came back. Returning to Ethiopia had, unexpectedly, become the prize for surviving.
The last time I saw Solomon was after a reading I did in 2013 at a bookstore in D.C. I knew he had been recently diagnosed with cancer, and I had asked my uncle to pass along my best wishes until there was a time I could do so in person. After the reading, a man in a surgical mask, knees slightly bent as if ready to pounce, reached his arm out toward me, and I should have known right then that it was him. I couldn't see Solomon's face, but I knew how big the smile under the mask was. He had beat the leukemia, he told me, but his immune system was compromised, which was why he wore the mask. It was no big deal, he suggested, and as proof, here he was. And even if Solomon wasn't fine, he was certainly going to do his best to hide it. He excelled at tending to others, or as Elsa puts it, "He only wants to do something for you."
In Amharic there's a philosophy that masquerades as a saying: minnum cheggar yellum, which means, "there's no problem" or "nothing's wrong." Those words are said both in the face and in the absence of tragedy. I had heard them often, from Solomon, from family and friends like him. You drove a cab 12 hours a day; you worked multiple shifts at a hotel; you lived and worked thousands of miles away from home; you survived a brain tumor, and then cancer, and if, after all that, there were wounds that were impossible to see, or heal, you closed your eyes and soldiered on: minnium cheggar yellum.
At some point soldiering on was no longer an option for Solomon. When I heard of his death, I was back in D.C. for Christmas. Meskerem, after 30 years in the same location, had closed down earlier that spring while "Little Ethiopia," one mile away on U Street, continued to thrive. The first image of Solomon that came to mind was of him dancing at my uncle's wedding. I had heard that no one could skista better than him, and it was true. On 18th Street, as an Aster song played over the loudspeakers, Solomon had compelled Elsa to dance with him, and decades later, as she repeatedly tugged on the Coptic cross around her neck, she would remember: "We danced together. He had a nice skista." When Solomon danced, his shoulders, neck, hips, popped; he shuttered his eyes and threw himself into the music, which in retrospect seems like an affirmation that sometimes, in order to survive, you did have to close your eyes and pretend, however briefly, for as long as possible, that nothing was wrong with the world.
Following his death, hundreds of people gathered at a community center in suburban Maryland. For three days, in a white-tiled, windowless room, he was mourned just as he would have been in Ethiopia.