The Quiet Worker Recovery
Just a few years ago, several measures of the labor market's strength had sunk to historic lows. Today they are all resurgent.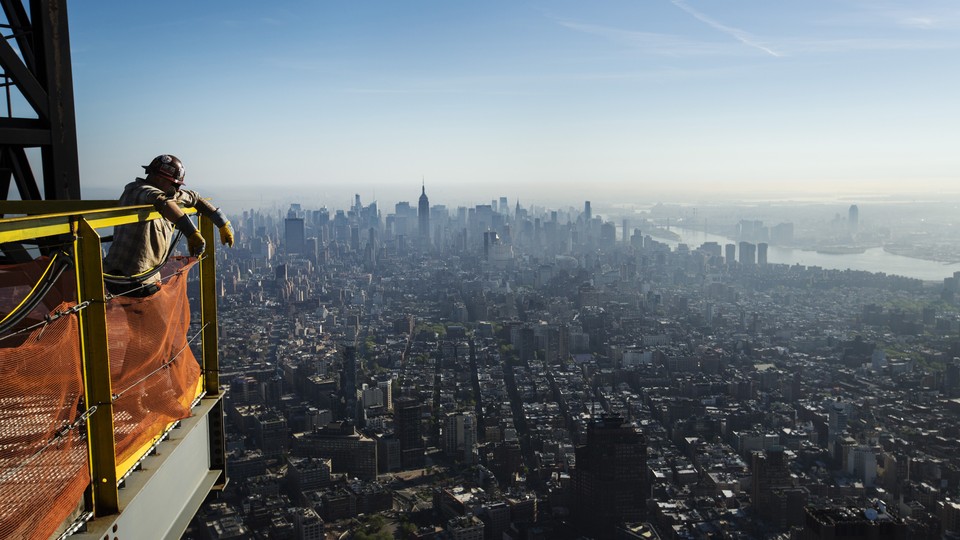 Economic pessimism is en vogue in America today, a point not lost on many politicians. "You are going to be so proud of your country, because we're gonna turn it around, and we're gonna start winning again," Donald Trump has promised crowds.
There are, however, reasons to be proud already of the economy's performance in the last few years. While the U.S. clearly faces some thorny problems with inequality, geographic sorting, and intergenerational mobility, it is nonetheless true that this recovery has been a machine of unshakable consistency, despite being overshadowed by not only the lurid circus of the presidential election, but also by several global eruptions, from the collapse of oil to the vertigo of Venezuelan inflation.
Just a few years ago, several measures of the labor market's strength had sunk to historic lows. The share of the economy going to workers' wages fell to its lowest level in half a century in 2012. The labor-force participation rate had fallen to its lowest rate since the 1970s. The inflation-adjusted minimum wage was 30 percent lower than its 1968 peak.
But today, all three measures of labor power are resurgent. Wages as a share of the economy are rising at their second-highest rate since the 1990s and the fourth highest rate since the 1960s. Wages for consistently employed workers are now rising at the highest rate since the recession, according to the Atlanta Fed. For men, wages are actually rising at a higher rate than they were in the middle of the last decade. The minimum wage, too, is staging a comeback. The governors of California and New York signed laws that will raise the statewide pay floor to $15 by early next decade.
In the early years of the recovery, young people were rocked with high unemployment and awful wage growth. But between 2015 and 2016, real average hourly wages of both high school and college graduates has increased by 3 percent, more than their entire change between 2000 and 2007. Even recent college graduates, the tragic protagonists of countless media portrayals, have reversed some of their losses in the last few years. Researchers for the Economic Policy Institute calculated that real wages for recent college graduates have increased by 10 percent since the end of 2012.
---
---
Statistical averages sometimes conceal the actual experience of individuals, and several measures of economic strength, like labor participation and wages for less educated men, are still below their 2000 levels. But it seems that more Americans are feeling the warm winds of a worker recovery. In a recently published "Report on the Economic Well-Being of U.S. Households in 2015", the Federal Reserve found that the number of adults who say they are "living comfortably" or "doing okay" rose to 69 percent last year, four points higher than in 2014. Individuals were "9 percentage points more likely to say that their financial well-being improved" than declined in the prior year.
These gains are fragile and not evenly distributed. Economic growth has been disappointingly slow for the last few quarters, and productivity growth has fallen so much that it's dangerously close to going negative. But the labor market recovery has carried on in the shadow of lugubrious demagoguery. It deserves, if not a raucous cheer, at least a sincere and polite applause.