The NBA Lets in Advertising, 6.25 Square Inches at a Time
Next year, the uniforms of the Philadelphia 76ers will feature the patch of a corporate sponsor, the first such deal in major U.S. sports.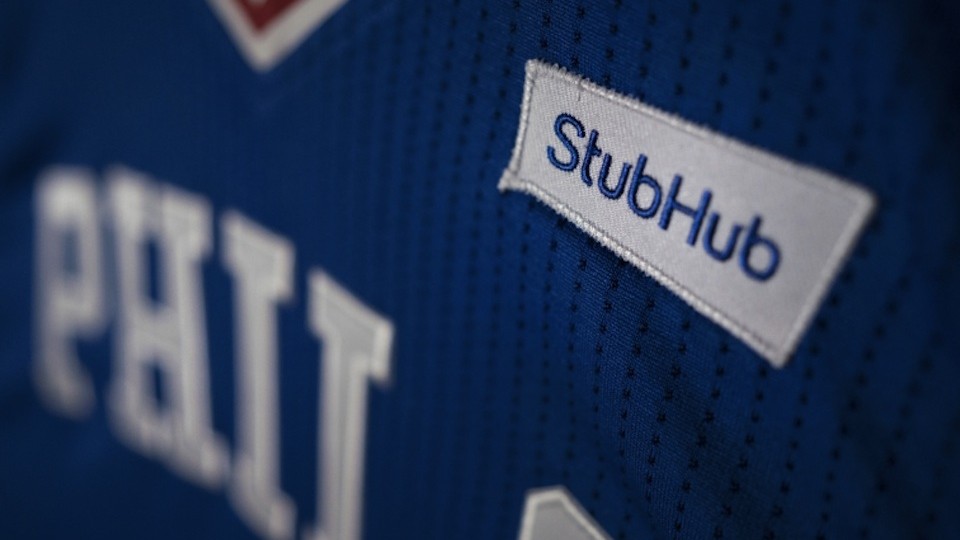 On Sunday evening, the NBA playoffs reached their halfway point as the Toronto Raptors beat the Miami Heat to advance to their first-ever conference finals. So, with just four teams left in title contention, it was a bit of surprise when the Philadelphia 76ers, the league's worst team by far this season, seized the headlines on Monday.
As ESPN reports, the Sixers became the first American team in a Big Four sports league to sign a deal to feature advertising on its uniforms. Starting in 2017, Sixers jerseys will sport a 2.5-by-2.5-inch patch with the corporate logo of the eBay-owned ticket-sales site StubHub.
The deal, which the two parties signed for $5 million per year, will last for three years under a provisional NBA marketing program that is open to all teams. Under this program, half of advertising revenues will go to the teams, and the other half will be distributed evenly among players.
The types of businesses that will be allowed to advertise on NBA jerseys is a bit more complicated. "Teams are allowed to sell to any company so long as it doesn't deal in gambling, alcohol or politics," wrote ESPN's Darren Rovell. "The NBA has given protected status—meaning the companies' competitors can't show up on a team jersey—to a number of its national partners: the media partners (ESPN, ABC, Turner), the apparel partner (Nike starting in 2017-18) and on-court partners Tissot (the official timekeeper) and Spalding (the official ball)."
Advertising on official sports apparel has long existed elsewhere, particularly in Europe, where a recent report found that top soccer leagues generated nearly a billion dollars in revenue from corporate sponsorship on uniforms. (American and Canadian teams in Major League Soccer also have ads on their jerseys, but also have a more limited viewership.) Back in 2011, Adam Silver, then the NBA's deputy commissioner, suggested that placing ads on jerseys could generate $100 million a year.
Ahead of the deal, the Sixers teased the new patch with videos of an enormous Betsy Ross mascot, needle in hand, hard at work on a Philadelphia jersey. While the StubHub-enhanced uniforms will not be available nationally, they will be sold at Sixers home games and, fittingly enough, almost certainly on eBay.