Not Walgreens, Not CVS: Life as an Independent Pharmacist
Family-run drug stores are an American tradition, one that Vincent Hartzell has wanted to take part in since the fourth grade.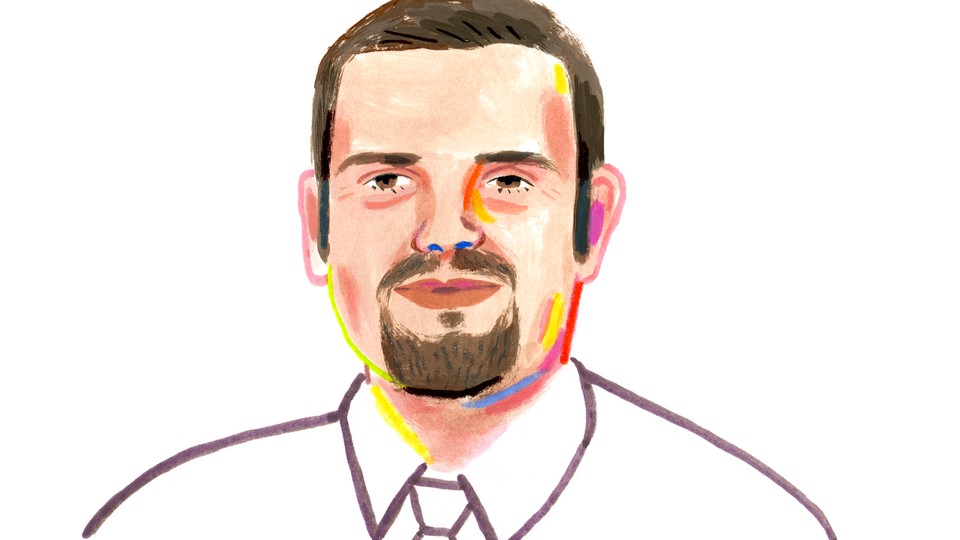 Before the U.S. licensed its first pharmacist in 1816, ailing Americans visited apothecaries based solely on reputation. Two hundred years later, there are nearly 300,000 licensed pharmacists working in the U.S., according to the CDC.
The independent pharmacy is an American tradition: Even some national chains, which many believe are crushing independent pharmacies, started out as family-owned businesses. Hartzell's Pharmacy in Catasauqua, Pennsylvania, has been in business for nearly 50 years. In 1968, Bob Hartzell purchased Sterner's Pharmacy, a storefront that dates back to 1874, and it has remained in his family since. Vincent Hartzell, Bob's son, now runs the pharmacy.
For The Atlantic's series of interviews with American workers, I spoke with him about his job, how to run a family business, and the challenges of running an independent pharmacy. The interview that follows has been lightly edited for length and clarity.
---
Bourree Lam: Did you always want to be a pharmacist?
Vincent Hartzell: Yeah, since fourth grade I knew I would be a pharmacist. In elementary school we had to do this thing, of what did you want to be when you grow up. I wrote pharmacist. I misspelled it horribly, of course, but I wrote it. So I knew as of elementary school. I always wanted to be a pharmacist. I don't know if I always wanted to be a business owner or an administrative person. That I went back and forth on a lot throughout my college life.
Lam: What are the good parts and bad parts about being a pharmacist?
Hartzell: I would say the good thing about being a pharmacist is that I enjoy the patient interaction and the professional interaction with other health-care providers—physicians, nurses, physical therapists—and helping patients achieve health outcomes. It's very satisfying when you get to know that you had a positive role in a patient's life.
I would say the hard thing about a pharmacist is—depending on where you work—long hours. It's a very demanding job, stress-wise. If a patient needs a stat order on the floor, you need to get that order ready as promptly as possible. Or, if you have a sick kid in your pharmacy. No one wants to wait, but they're going to have wait because there are other patients ahead of them. It can be stressful, and I think that's the hardest part.
Lam: And what about the perks of being a business owner and running a pharmacy?
Hartzell: The flexibility is nice. Being able to set your own work schedule. But at the same time, you really can't. If something happens, sometimes my other plans get bumped. For instance tomorrow, I can volunteer at my kid's school for recess duty tomorrow. That means a lot to me that I have the ability to do that. The bad thing is I know that we're having some billing issues, so I'm going to have to come in on Saturday. It's kind of like a plus-minus thing.
Lam: Hartzell's has been in your family for many years. Do you see the same people and do they know who you are?
Hartzell: They do. They call me Bob's son.
Lam: Is that annoying?
Hartzell: No! My dad is a good guy, so that's fine. The good thing is we have a lot of customers that have been here since I was younger. Sometimes I don't work downstairs in the pharmacy as much, so it's nice to see the same patients coming in consistently. Our staff has been pretty stable. Every company has turnover, but of our 47 employees, at least 30 of them have been with us for the past 10 years. That's pretty good, I think, and they're great employees.
The biggest thing that's changed is just the governmental and insurance environments out there right now. There's a lot more regulations, a lot more paperwork, a lot more headaches. When I started being the president four or five years ago, a lot of the regulations were not as strict, stringent, and demanding with time and resources. And they've gotten more demanding as time has gone on. Mostly the regulation environment, the government environment, the insurance environment, the requirements put on us have exponentially increased in the last five years.
Lam: Is your father still involved with the pharmacy?
Hartzell: My dad is a pharmacist and a naturopath, so he still sees his patients. He comes in, and he doesn't manage our vitamin section—we have another pharmacist that does that—but he comes in and definitely lets his opinions be known about what should be in the vitamin section. He's still very involved. He's still the majority owner so obviously he has very much to say in what goes on.
Lam: How's your relationship with your dad now that you've taken over his business?
Hartzell: In the beginning, it was difficult. There were things that my wife and I—I'm the president and she's the vice president—felt that the company needed to do and make changes in, which were counter to things that he's built up over the years. We used to do oxygen therapy, but we made the decision to exit that line of business. That was very hard for him, because in his mind that was tearing apart a piece of the company. So that was one item that we had to sit down and discuss. I think I've learned better how to approach things with him, and I think he's been more receptive.
Lam: Is there anybody else you could see running this pharmacy, since it's been in your family for decades?
Hartzell: No. I fully enjoy what I do. There are frustrating days. I really went to pharmacy school to be a pharmacist, and I don't get to do that every single day. But, I enjoy what I do and I enjoy the people I work with. So I don't foresee myself going anywhere else at this time.
But I would hate to say I'm going to be here forever. I'm a firm believer that you don't do something as a profession because it's something that you have to do. I believe it's something that you like to do, it makes you happy, which will make you a better person. Right now it makes me happy and it makes me a better person, so I'll continue to do it. If one day, government is over-regulating or insurance payments shrink or the paperwork just gets too much for me, I would evaluate that at that time. I don't see that happening anytime soon. That's a really weird answer, right?
---
This interview is a part of a series about the lives and experiences of members of the American workforce, which includes conversations with an optometrist, a bank teller, and a funeral director.