Understanding April's So-So Jobs Report
Tom Perez, the U.S. Labor Secretary, says there's good news despite the weaker-than-expected topline numbers.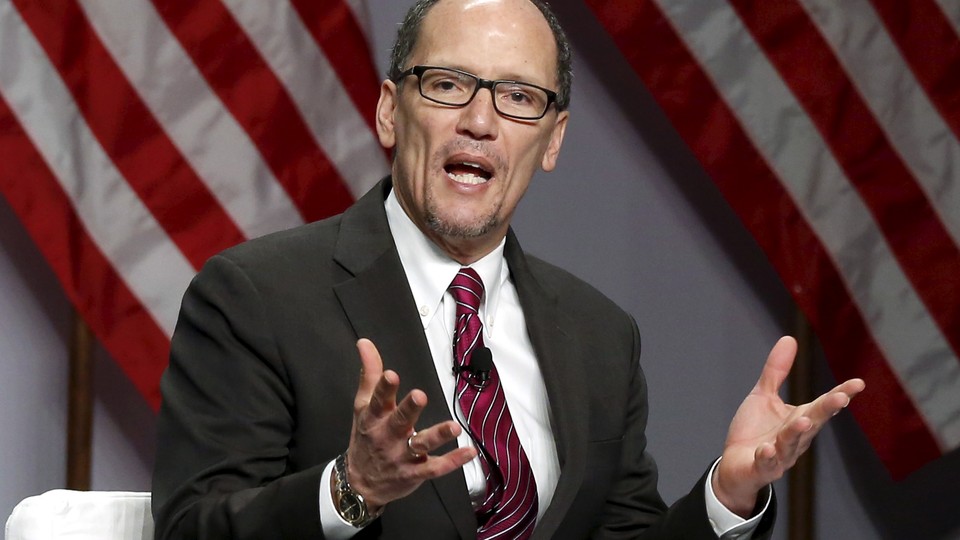 The April jobs report wasn't everyone's favorite: The U.S. economy added 160,000 jobs and the unemployment rate held steady at 5 percent. Wages seem to be going up, but the labor-force participation rate fell. Tom Perez, the U.S. Labor Secretary, says there's good news in the report despite the fact that the topline number missed expectations.
"I think it's really important when looking at the overall outlook, it's not simply the number of jobs that matter, but who's getting the jobs and what they're being paid that's also important," said Perez in a phone interview Friday. "What I like about this report is that it's another solid number. It's not as high as other numbers, but last year we had the second best year in the recovery, after the year before, and we had three months where we were below 160,000 jobs. What I was very heartened by in this report was that we're starting to see evidence of sustained real wage growth."
Additionally, Perez says that the percentage of people who are long-term unemployed is now at its lowest level in seven years and that roughly two-thirds of the decline in the unemployment rate—which has held steady at 5 percent since October of last year—over the past year is from a reduction in the ranks of the long-term unemployed. "Employers are seeing tighter labor markets. They're taking a look at people that they were previously less willing to give a chance to," says Perez.
But one of the most disappointing numbers of the April jobs report is the labor-force participation rate, which measures the number of people either employed or actively seeking employment. It fell slightly, from 63 to 62.8 percent. Economists look to this metric to gauge whether those who lost their jobs during the recession were finally coming back to the labor force (though others disagree on the importance of the labor-force participation rate, as it could be staying low due to Baby Boomers aging out of the workforce). Perez says that the Labor Department "will continue to monitor that closely," and that "as labor markets continue to tighten, and we see good evidence of that, I'm hopeful that this past month will turn out to be aberrational, just like it was six months ago."
On Friday, the Brookings Institution published a blog post by Jonathan Wright, an economics professor at Johns Hopkins University, who argued that unusually warm weather can fully explain the weak April jobs report. Wright wrote that "after adjusting for the effects of unusual weather, employment growth was substantially more robust at 229,000 jobs...the effect of weather inflated the level of employment upward through March, and an unwinding of the effect distorted the change in employment from March to April downwards."
Perez said this point of view has some merit, and cited the example of construction jobs, where the gains were significantly lower in April than in previous months. "The most likely reason for that is it was a pretty mild winter in many parts of the country, and as a result of that, a lot of the construction workers that would have been hired in April were hired in February and March," he said. "So April was a bit of payback to the fact that they were hired a little bit earlier."
Aside from the data covered in the jobs report, there are other reasons for workers to be optimistic, he believes. When asked about the most promising initiatives on the state and local level to improve the work lives of Americans, Perez pointed to investments made in skills development, the progress of efforts to raise the minimum wage, and the state and local governments that are enacting paid-leave policies. "We're trying to break down the barriers that keep people up at night: low wages, the need to make sure they're skilled, the need to make sure that a family member who might have a criminal history can get a job, and the need to make sure that 'I can't be called to work on 24 hours notice when I have a kid at home.'" said Perez. "That's unfair."