Obama's Proposal to 'Ban the Box' for Government Jobs
The rule would prohibit federal agencies from asking whether applicants for public employment have a criminal record until the final phase in the hiring process.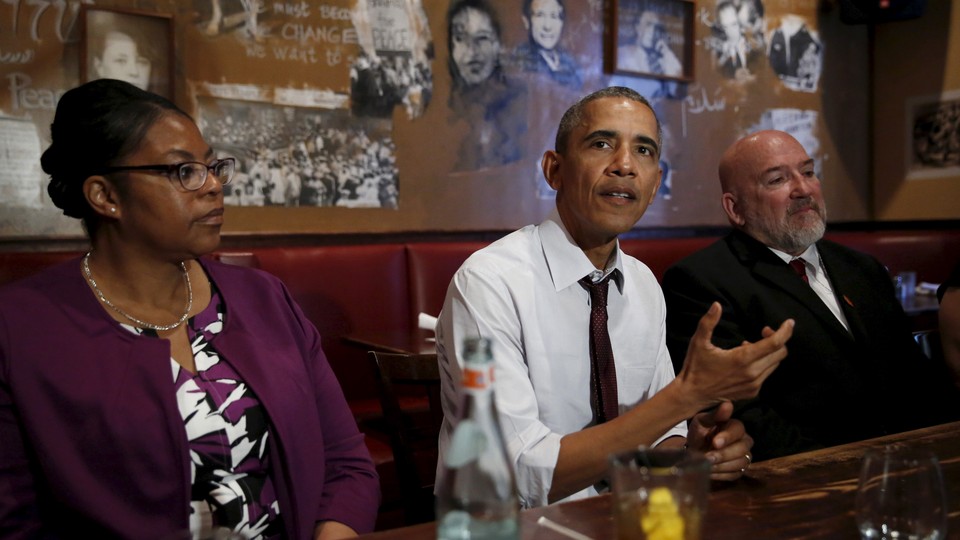 More than 70 million Americans have some kind of criminal record. For them, and the 600,000 Americans released from state and federal prisons each year, having served time can often mean that the cornerstones of the reintegration process—securing a job and housing—become exceedingly difficult tasks.
Last week, President Obama signed a memorandum proposing a rule that would prohibit federal agencies from asking whether applicants for government jobs have a criminal record until the final phase in the job process. While it's technically illegal to refuse to hire a qualified candidate due to a conviction unless the crime is directly related to the job, those with criminal histories are often discouraged or screened out due to disclosure requests on job applications.
In a statement supporting the president's initiative, the Justice Department wrote that the measure is important because early inquiries into criminal records "may discourage motivated, well-qualified individuals who have served their time from applying for a federal job" and "could also lead to the disqualification of otherwise eligible candidates, regardless of whether an arrest actually resulted in charges or a conviction, and regardless of whether consideration of an applicant's criminal history is justified by business necessity."
After being signed by Obama, the proposed rule published by the Office of Personnel Management (OPM) entered a 60-day comments period. Presidential memoranda don't require Congressional approval, but the OPM rule could be revised, withdrawn, or enacted. If enacted, it would essentially "ban the box" for federal government jobs—a term that's been used to call for the elimination of the checkbox on job applications asking for disclosure of criminal history. (Beth Cobert, the acting director of the OPM, said that the rule would not apply to jobs in intelligence, national security, or law enforcement.)
Obama has called on Congress to "ban the box" in the past, including last year, when he announced that $8 million would be allocated to new educational and training programs aimed at reintegrating formerly-incarcerated Americans. According to the National Employment Law Project (NELP), 23 states have already adopted this measure. NELP estimates that 185 million Americans currently live in "ban the box" jurisdictions, though the organization—along with other employee-rights groups—had been calling on Obama to go further than the current recommendation and include federal contractors as well.
Securing employment has been found to be a key determinant in reducing recidivism among the formerly incarcerated. In angling to ameliorate the difficulties of the acculturation process, Obama has also called on private U.S. companies to join the initiative to ban the box. Over a hundred companies have signed the White House's Fair Change Business Pledge so far, including Google, Facebook, Unilever, Coca-Cola, and American Airlines.