A McNugget for Our Time
The new recipe for one of McDonald's iconic foodstuffs contains no artificial preservatives, the latest symbolic change for an item that has always reflected conflicting priorities about food.
Last week, McDonald's announced that it is testing out a new recipe for its iconic (and often maligned) Chicken McNugget. The revamped version of the Happy Meal staple will soon be free of artificial preservatives, instead containing lemon-juice solids and rice starch, in what the company calls "a simpler recipe that parents can feel good about while keeping the same great taste they know and love."
This seems like an important milestone in the evolution of a product that, since its debut in 1983, has reflected the push and pull between American consumers' interest in taste, value, and nutrition.
A broadly accepted interpretation of what wrought the McNugget is the 1977 release of the first-ever dietary guidelines by the Senate Select Committee on Nutrition and Human Needs. One result was a drop in the consumption of red meat, which left the hamburger-heavy Golden Arches in search of a new item for the changing American palate.
"Its executives thought their best chance lay in chicken, the lower-fat protein that Americans were choosing instead," wrote Maryn McKenna in Slate in 2012, "and the company plunged into intense product research, even hiring a European chef who had cooked for the Queen of England to contribute ideas."
Within a few years, McNugget Mania took off and became a sales juggernaut, but not without criticism. There have even been some legal battles over its nutritional value, such as when two New York teens sued the company in 2002, charging that McNuggets had made them obese. (A federal judge threw out the case, but not before disparaging the McNugget as "a McFrankenstein creation.")
The reboot of the Chicken McNugget is a mechanism by which McDonald's is continuing its effort to present itself as a "modern progressive burger company." Last year, the company announced the phasing out of chicken raised with antibiotics used in human medicine, said it would stop using palm oil linked to deforestation, and pledged to shift to cage-free eggs.
"What I think they're trying to accomplish here is to move the needle slowly toward a better place and a better brand positioning for the consumer of the future," said Darren Tristano, the executive vice president of the market-research firm Technomic, in a phone call last week.
Perhaps to prove its sincerity, McDonald's tested the newest McNuggets at 140 stores in Washington and Oregon, including some locations in Portland, a craft-food capital. Tristano suggested that this test market was telling because the region's consumers not only have "skepticism about the brand," but "also heightened concerns about quality of ingredients."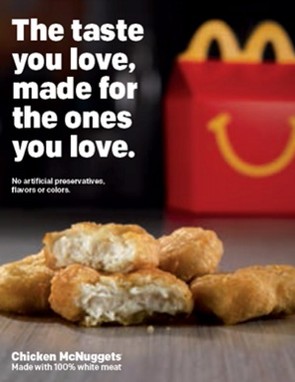 Ironically, one of the new McNugget's big selling points isn't even new. As Crain's pointed out, the promotional efforts in Oregon and Washington "spotlight that the new recipe does not include any artificial colors or flavors, even though the current McNugget recipe does not use such ingredients."
Through its rebranding process, McDonald's has still managed to sell plenty of Chicken McNuggets, particularly to lower- and middle-income consumers who are concerned more about price point than about the impeachability of the company's food sourcing. Instead, this tentative new McNugget is an effort to reach a different crowd. "There's a smaller amount of consumers who don't eat them, but might be willing to if they raised the bar on quality," said Tristano.
Chef Rene Arend, who was enlisted to create the first iteration of the McNugget, once offered another way of looking at the future of the foodstuff. When asked about his proudest accomplishment as a chef, Arend, who had prepared meals for English, Belgian, and Hollywood royalty, named his work with McDonald's. "Those meals were once-in-a-lifetime dinners long since forgotten," he told The Morning Call in 1984. "But Chicken McNuggets will go on long after I am gone."