Trading Persian Tea for Seattle Coffee
Seattle's diverse Iranian American community has integrated into the city while maintaining its cultural identity.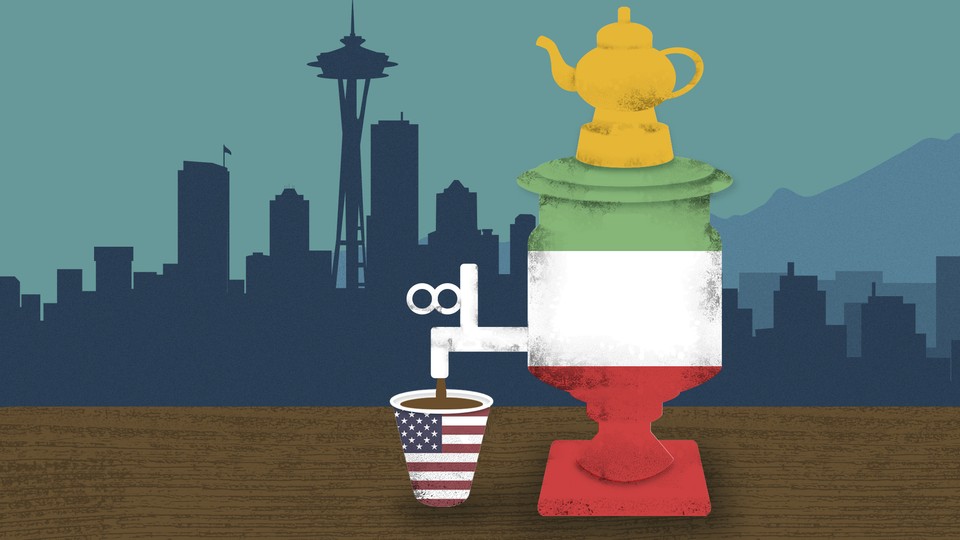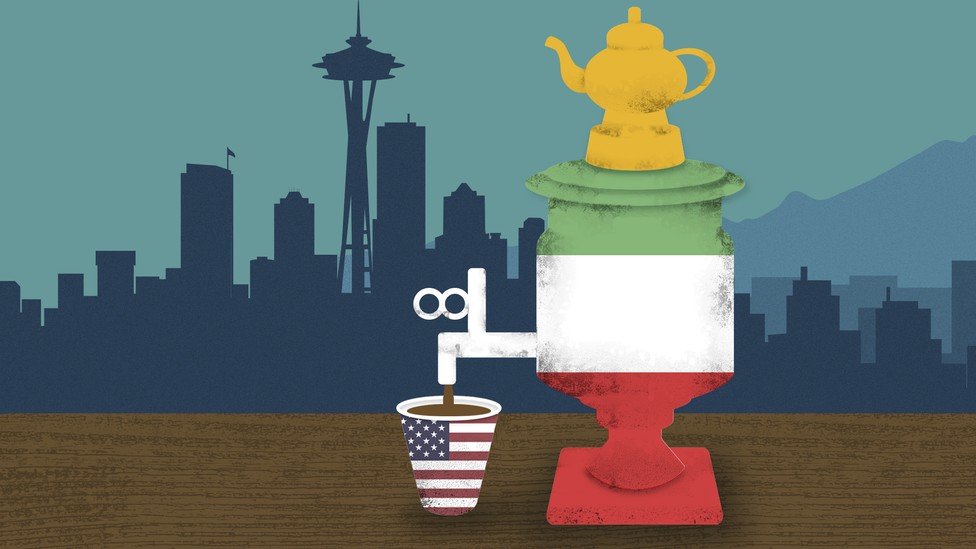 SEATTLE—Along downtown's First Avenue, Starbucks, this city's native son, is outnumbered. Instead, the street's caffeine monopoly belongs to Cherry Street Coffee House, a local chain. Each of its five First Avenue locations has a different design, but the northernmost shop has a particularly distinctive character: A metal lattice made up of eight-pointed stars abuts a quiet indoor fountain, and a shelf near the entrance holds up a brass samovar, an ornate vessel for serving tea often found in Russia and the Middle East. The casual cafe-goer might not realize that the flowing shapes on the wall near the barista's counter are actually Persian calligraphy, and may not know that the architectural close-ups in the small framed photos hanging over the shop's benches show the domes and arches of Isfahan, the ancient capital of the Persian empire.
The cafe is one enormous dog whistle for Seattle's Iranian community. That community is by no means the country's biggest—Iranians in California, New York, and the Washington, D.C., area far outnumber those living in the Pacific Northwest—and unlike in the Westwood neighborhood of Los Angeles ("Tehrangeles"), where the neon signs are in Persian and you're more likely to see a kabobi than a McDonald's, there's no part of Seattle where Iranians are particularly concentrated.
But despite their geographical dispersion, the city's Iranian Americans have maintained a strong cultural identity. They live all over Seattle and throughout its suburbs to the east, and they work in all its major industries: technology, aviation, and yes, coffee. And yet nearly every Iranian person that I spoke with in Seattle seemed to think there's something special holding their community together.
Ali Ghambari, the owner of the Cherry Street Coffee House chain, certainly does. The day I met him at one of his newer locations, he enthused to me about his downtown cafe's look. "The whole thing is designed Persian," he said. "It's sexy Persian. You'll love it. Oh, big time. You'll love it." The chain's to-go cups feature the shop's logo—a drawing of a cherry ringed with the name of his store—on one side; on the other, the store's name is written in Persian, in Ghambari's own hand. The top and bottom are hemmed by a motif he found near his father's grave site in Iran. "It looks like people who have got the fire in their belly," he says. "It looks like love."
Ghambari has lived in Seattle since 1979, the year that the Islamic Revolution scattered Iranians across the globe. He married an American woman, and worked his way from a job as a dishwasher at a Godfather's Pizza—"Hey, I was classy, man"—to a gig as a barista at a local coffee shop, eventually buying out the owner and setting up his Cherry Street chain.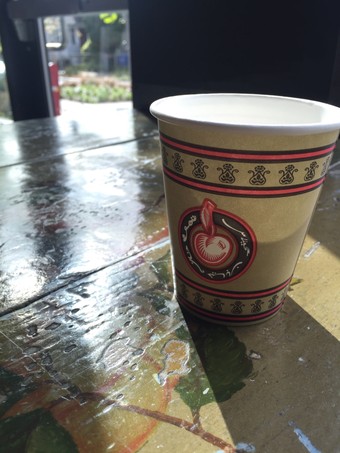 He preaches a doctrine of unity and cultural pride with a Persian lilt and a cheeky grin. His unabashedly grandiose philosophy emerges in a stream of consciousness, every third sentence worthy of being quoted in a swoopy script over an Instagrammed sunset.
Ghambari's extracurricular crusade is to organize and promote Seattle's Iranian American community—with an emphasis on fusing Iranian and American into something new. To that end, he's organized an annual Iranian festival for the past 10 years. The festival is held in a converted armory; last year's affair included traditional music and dance, storytelling and lectures, stand-up comedy, art booths, and cooking demonstrations.
"A tree cannot stand without the roots," Ghambari told me, leaning forward across the table. "And I cannot be excited as a proud American if I'm not proud of where I came from."
If you ask folks who are involved in the Iranian community in Seattle, many will tell you that Ghambari is its fulcrum. They marvel at his energy and earnestness, his propensity for inspirational speech-making, and his dance moves. ("We saw him at sizdebedar"—one of a series of Iranian New Year celebrations—"and we were like, 'Oh my god, get your phones out,'" a leader of the Persian student group at the University of Washington told me.)
Iranians have flocked to Seattle since the 1950s, largely drawn by Boeing and the University of Washington. Both organizations remain magnets for Iranian immigrants today, but the 1979 Islamic Revolution accelerated the pace of Iranian emigration—and altered its character. Immediately after the revolution, many secular, wealthy, educated families left Iran, fearful of the repercussions of being associated with the upper class, or worse, with the deposed shah. Most recently, a more diverse mix of Iranians has arrived in Seattle, for education or for jobs in the city's exploding technology sector. And a significant number have arrived as refugees, many of whom are practicing Christians or Jews who gained religious asylum. Add to the mix a herd of younger Iranian Americans, many of whom have never been to their parents' homeland, and the result is a complex jumble.
With his focus on culture, Ghambari presides over one slice of Seattle's Iranian community. Hamed Esfahani, the president of a mosque and Muslim cultural center in the Seattle suburb of Kirkland, is a custodian of a slightly different portion. The center's religious services—two rounds of daily prayers, plus special programming on Fridays and Sundays—are Shi'a, catering to residents with roots in Shi'a-majority countries like Iran, Iraq, and Bahrain. Esfahani says at least half of Iman's members have Iranian backgrounds.
I visited the Iman cultural center on a remarkably bright Sunday afternoon for a bustling interfaith gathering. Iman's leaders had invited Kirkland city and police officials as well as members of nearby Christian congregations and Jewish temples, and when I arrived, the line to get in snaked out the door and into the parking lot.
Inside, volunteers asked visitors to place their shoes in labeled cubbies, and seated them at long tables alongside Muslim members of the Iman community. The main banquet space was so full that some people were placed in an overflow room across a glass-walled courtyard. They watched through the glass as Jawad Khaki, Iman's religious leader, spoke from behind a lectern.
The event began with a melodic recitation of the Koran and an English translation of the passage. Khaki said a prayer that emphasized the commonalities between Islam, Judaism, and Christianity, and the role of social responsibility in religion. After remarks from local Christian and Jewish religious leaders and a city council member, the buffet opened.
Most of the women at the event—Muslim and non-Muslim alike, including the newly-appointed Kirkland police chief—had covered their hair with colorful scarves. I joined a table where three women from a nearby Lutheran church and a couple from an Episcopalian church were asking Farida, a Muslim woman who grew up in Pakistan, about her faith and the difficulties of wearing a hijab to work.
I excused myself to pour a cup of tea (Lipton, not from a samovar), and followed Esfahani to the entrance of a large, light-flooded prayer room, its floor lined with rugs. I asked him if the Iranian American community that attends prayers here is entirely separate from the secular, culture-focused community whose standard Ghambari bears.
Esfahani said the two groups often mingle, even if most area Iranian Americans aren't showing up for Friday prayers every week. Iman used to run a Persian-language school that attracted secular and religious parents alike, and Esfahani said he was surprised by how many secular Iranians take advantage of the traditional marriage, divorce, and funeral services that he offers.
"You may not come to the center and see them practicing, but at those times you realize they have very strong beliefs, actually," he said. "The Iranian identity is strong in them."
In nearly any large group, religion can be divisive, but there's particularly thorny baggage attached to faith for Iranian immigrants. A look at the pattern of emigration from Iran helps explain why.
The attitude of Iranian Americans who arrived around the time of the 1979 revolution can clash with those of other groups. Many introduce themselves as Persians rather than Iranians to disassociate themselves from the Islamic government in modern-day Iran. Some even fly the pre-revolution Iranian flag, which featured a lion and sun rather than the modern religious emblem, to show their opposition to the Islamic regime, which officially changed the flag in 1980. That strong rejection can be alienating for more religious Iranian Americans, many of whom left after the revolution.
Nonetheless, the different groups mingle often—so in mixed company, religion and politics are strictly off-limits. "They feel very, very strongly about [these things]," said Roxana Bahani, one of the leaders of the University of Washington's Iranian student group, Persian Circle. "So if they start a conversation about it—well, you don't want to. You just don't. They're just very, very strongly opinionated."
Community leaders tend to rely on some other element of shared Iranian identity to bring people together. While waiting at a table in a Persian restaurant for kabobs and rice, Iraj Khademi, a jowly poet-scholar with an impish smile, told me exactly what he thinks that is.
"The reason that we have kept our unity and diversity? We never talk about religion; we never talk about politics," Khademi said. "It's cultural, cultural, cultural." He brought a flat hand down onto the dining table three times as he spoke.
Khademi's cultural offering is a monthly poetry and music workshop, which he says regularly fills the 150-person space in Kirkland where it's held. Besides poetry and traditional music, there are academic lectures about history, literature, and the arts, and of course, an ensuing social hour. He's been running them for 16 years.
Khademi told me about the poems he used to publish in Persian-language newspapers and magazines in California. While his publishing success is unusual, his love for poetry isn't, at least among Iranians. Poetry is at the very core of Iranian identity and culture, and most Iranians, even some who largely grew up in the U.S., know the poems of the great Persian writers—Saadi, Rumi, Hafez, Khayyam—by heart.
"That's a very important thing for that generation," Bahani said of Khademi's poetry nights. "When I go to parties with my parents, they just end up sitting around—they all know the poetry, everything's memorized, and they all end up singing it together, or speaking it together, or playing poetry games."
Indeed, when Ghambari and I first met at one of his coffee shops and I asked him about his personal philosophy, he kept returning to poetry to explain himself. He recited a few lines here and there by Rumi and Saadi, poems about unity and love that he said "made me who I am today." The lines of calligraphy that adorn a wall in his "sexy Persian" shop are from a quatrain by Khayyam. Loosely translated, it reads: "I'm a slave to the moment that the cupbearer offers me another drink and find I cannot take another sip."
But it doesn't even take a poet or a literature buff to display a deep cultural understanding of Persian poetry. When I introduced myself to Dara Khosrowshahi, the CEO of Expedia, he seized on my first name before we even sat down together. He knew its provenance and history—it's from an epic poem by Ferdowsi credited with keeping the Persian language alive during the Arab conquest of Persia—and guessed, quite accurately, at my Iranian mother's political and religious leanings based on what she chose to name me.
All this from a man who left Iran at the age of nine and whose Persian-language skills are, by his own admission, "not great." But despite the fact he's never been back to Iran, he's firmly in touch with his Iranian identity. In fact, it took him years to ease into the idea of being American after he arrived in New York for elementary school.
When he was younger, he told me, he used to secretly root for Russia in the Olympics. It was just to prove a point, a demonstration of lingering resentment that he held toward the powerful nation he'd moved to; a small way to rebel, even if just inwardly. It wasn't until the 1996 Atlanta Olympics, he remembers, that he found himself cheering for the record-setting American sprinter Michael Johnson. That was his turning point.
But through family, he remains connected to his homeland. "I wouldn't trade the culture and the roots and the history that we have in Iran," he said. "At the same time, I feel like this place has accepted me and accepted my family, and we've been incredibly fortunate to be able to emigrate to a country like this."
"There's a big part of me that's Iranian, but there's a very big part of me that's American," he continued. "And obviously, America's won the race of the years."
Perhaps there's no better example of Iranians' integration into the Seattle community than the fact that a significant chunk of Seattle's east side suburbs is represented by an Iranian American in Washington's statehouse. Cyrus Habib became the first Iranian American to be elected to a state legislature in 2012, and two years later, he was elected his district's state senator. Now, he's ramping up a campaign for lieutenant governor.
Habib isn't too happy that he's the only Iranian American ever elected to state office. "You look at the level of success that Iranian Americans have had in many different fields—it's a little frustrating to me," he told me over a doughnut near his Bellevue home. When I asked him why more Iranian Americans hadn't gotten into politics, he had more than a few ideas. For one, the Iranian community is less established than some groups who have been in the U.S. for centuries, he said—but a lot of it has to do with the expectations that people have for a politician with Iranian roots.
"You know, people often feel that if you're Iranian American in politics, you have to talk about U.S.–Iranian relations or Israel or whatever," Habib said. "People go into politics as Iranian Americans because they care about traffic and schools and the debt. No part of me got involved in politics because I want to work on Middle Eastern foreign relations."
That sort of thing—Iranian Americans getting involved in the wider Seattle-area community—elevates Ghambari even beyond his default exuberant state. "You look at Cyrus Habib, and you look at all the intellectuals and all the people connected to the good elements in IT and medical," Ghambari said, his voice rising, before I even brought up Habib's name. "The type of culture that is here is a lot more Iranian American in a real way, as far as I'm concerned, than in the rest of the U.S.," he said, with equal emphasis on both Iranian and American.
Back at the Persian restaurant, Khademi, Ghambari, and I were talking about the sense of unity they strive to promote among Seattle Iranians. But the harmony was shattered when our kabobs arrived, setting off the storied, borderline violent Iranian tradition of taarof. Engaging in the cultural ritual requires offering guests and friends the larger portion of food (or your seat on the bus, or the best shirt in your closet, or a seventh helping of tea) in the loudest and most insistent way possible. We had ordered two kabobs and two servings of rice between the three of us, and apportioning the food followed a practiced, combative script, even among the two old friends. When I chimed in, Ghambari shut me down with a jab: "Irani-bazi dar nayar," he said. "Don't play the Iranian." He winked, knowing full well I grew up taarofing my way through family reunions, too.