The Trade Show of Everything
A few days at China's Canton Fair, where nearly 200,000 visitors converge to put in the wholesale orders that will stock the world's shelves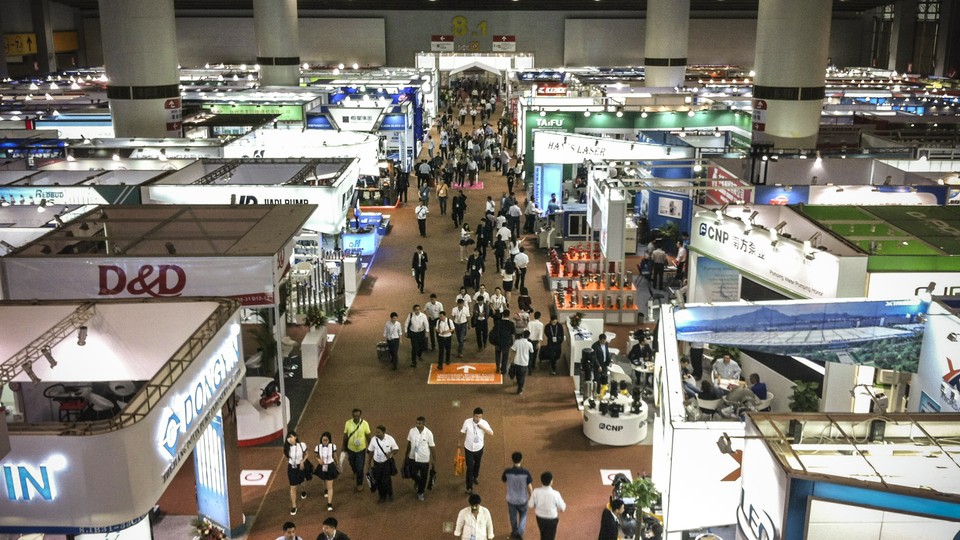 Between the Pazhou subway station and the entrance to the 119th China Import and Export Fair, there is a fair before the fair. All attendees—by official count, there are 185,596 buyers present—must follow a series of metal barriers to reach their respective registration areas, and before they even get inside, they are the targets of countless unofficial wholesalers: Vendors lean over the dividers to indiscriminately pitch their wares to anyone who bothers to pause or make eye contact.
At the fair, and outside it, it seems the most coveted currency is neither the renminbi nor the U.S. dollar, but business cards, which enable suppliers to pitch prospective buyers beyond the fair's official conclusion on May 5. Some infiltrate the cordoned-off area before the registration points and masquerade as journalism students, asking elementary questions before their closer: "Can I have your business card?" Others pose as the fair's service personnel, giving foreigners directions or taking pictures for them.
Held semi-annually in the spring and fall, Guangzhou's Canton Fair, China's largest trade show, is central to getting nearly every type of consumer product from Chinese factories to store shelves around the world. Shirts, lighting fixtures, gardening tools, medical supplies, consumer electronics—nearly anything one could desire is among the fair's more than 150,000 types of products.
The fair attracts buyers from nearly every country in the world, as well as representatives of some of the world's largest global retailers, including Carrefour, Home Depot, Target, Tesco, and Walmart. Last year, transactions at the spring and fall fairs reportedly exceeded $55 billion. (For comparison's sake, the U.S. imported $482 billion worth of goods from China in 2015.) The ramifications of all this commercial activity propagate throughout the city: Hotel prices experience a temporary bump, taxi drivers turn off their meters, and scalpers hoard train tickets out of the city and sell them at a 250-percent markup.
Broadly, trends at the fair have been representative of China's economy in the last half-century. Between 1978, when China opened up commercially to the world, and 2002, prior to the SARS outbreak, China's GDP increased approximately seven-fold. During this time, the number of fair buyers also rose seven-fold, and transaction volume rose eight-fold.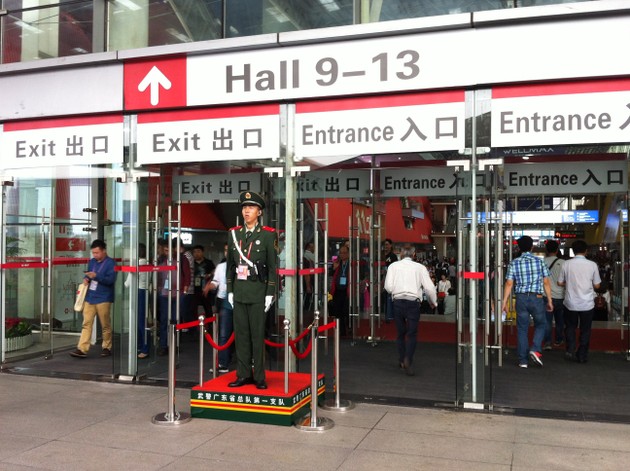 The city of Guangzhou, historically known as Canton, has long been important economically and geopolitically. During the Ming and Qing Dynasties, which spanned from 1368 to 1912, any exports from China were tightly controlled. In 1757, they were further restricted, to include only government-approved traders in Guangzhou. Exactly 200 years later, when similar constraints still existed, the Canton Fair was established, enabling China to reap the benefits of international trade while keeping foreign merchants penned into a single location.
To enter the fair, this year's attendees swipe electronic badges and proceed through metal detectors, and then make their way to one of the three colossal exhibition halls, whose entrances are manned by armed police officers carrying themselves with the seriousness of Buckingham Palace guards. The exhibition space is positively gargantuan, covering 12.7 million square feet today, roughly double what it was a decade ago.
Among the sprawl are more than 60,000 booths, and competition is intense, leading vendors to devise creative ways to attract buyers. Some larger, higher-end booths resemble the backdrop for inoffensive sitcoms: They have several rooms, lounge chairs, tables, flat-screen televisions, and fridges. To attract attention, one company has brought in a mechanical dinosaur. Another has a stage and a five-person dance troupe, and another has invested in multi-story-tall faux palm trees. One booth has a mime in orange body paint and a few booths down there is a woman in a tutu.
Flat escalators and compact shuttles move people to and fro. Experienced attendees wear casual outfits and pull wheeled bags, as newcomers unintentionally identify themselves, burdened with overstuffed shoulder bags full of samples and brochures. Some attendees ride hoverboards, narrowly avoiding passersby.
Although the volume of deals done at the fair did not peak until 2011, the nature of Chinese manufacturing and trade began changing during the 2000s, as labor costs rose, the renminbi appreciated, and the Great Recession hit. Also, earlier that decade, the SARS panic severely reduced the number of visitors to the fair: In spring of 2003, only about 23,000 buyers were in attendance, a roughly 80 percent drop compared to a year before. While attendance had rebounded by the fall of 2003, SARS drove many buyers online to Alibaba, which was founded in 1999 and is today the world's largest retailer, as measured by gross sales volume. In the 2016 fiscal year, Alibaba had $15.7 billion in revenue and 423 million active buyers.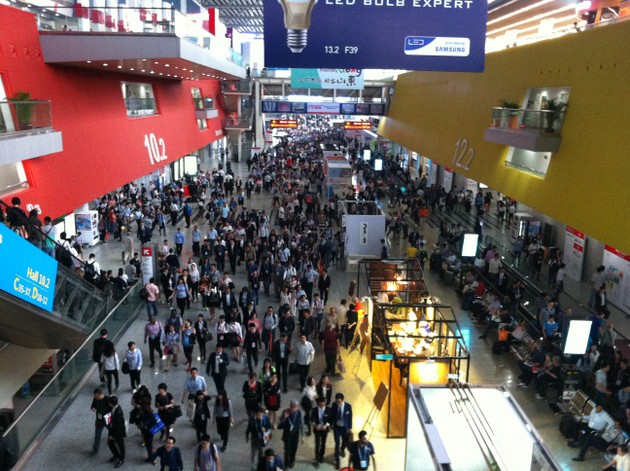 Much has been made of the threat that online retailers pose to brick-and-mortar ones in the realm of consumer spending, but a similar tug of war is also playing out in supply chains; the Canton Fair illustrates some advantages of physicality. "You can actually see the product in person that you're looking at and you can also get to know the people, get to see them," says Dean Bessey, a first-time attendee who works for an online gem retailer based in Australia. Seeing a factory firsthand, another attendee I talked to observes, offers a glimpse at labor conditions that a marketplace like Alibaba cannot.
At the entrance of Hall A, a book called The Governance of China is for sale. Below it, a tagline reads, "Chinese President Xi Jinping's Solutions for Today and Visions for Tomorrow." Today, Xi and China's leadership are aiming to upgrade the kinds of products China exports. Conforming with this vision, the fair has adapted and now sells more innovative, higher-value, domestically-branded, and/or eco-friendly goods.
Comparing his experience today to his first trip more than 20 years ago, Ashley Grove, who has trekked to the Canton Fair from Springfield, Missouri, says, "Back then, I was mostly looking for textiles or toys, and now you can find just about anything—computer goods, TVs, whatever you want." In 2015, almost half of the goods sold at the fair were electronics or household electrical appliances. Textiles and garments represented less than one-third.
Additionally, although the fair is export-focused, as domestic consumption rises, a handful of international companies are coming to Guangzhou to display their products rather than to simply buy others'. For instance, many of these companies are introducing foreign foods to the Chinese market. Free samples from an Australian winery called Duerrenmatt-Folk are in strong demand, and in Area B, Hall 11.2, Aisle D, wholesalers offer cups of white coffee from Malaysia and answer buyers' questions. One aisle over, the health benefits of flaxseed are being emphasized to whoever will listen. Nearby, a VP at the New Jersey-based cheese company Arthur Schuman is launching new brands targeting the Chinese market. Online pictures and descriptions can accurately portray specifications for a t-shirt or hammer, but, to the fair's advantage, they can not represent the taste, texture, and smell of food and beverages—one has to try them in person.
Although so much commercial activity has migrated online and the volume of transactions done in Guangzhou has declined, the Canton Fair will likely remain central to global consumption. This is evidenced by the mass of buyers when leaving the fair at 6:00 pm, when it closes for the day. After navigating a crowd that includes shipping-company representatives eager to help with new purchases, a woman selling a $2 sewing machine shaped like a stapler, and a man showing the efficacy of an electrified cage by periodically zapping a white mouse with a bolt, buyers migrate toward the subway, and back to where they came from.