Bloomberg's New Gender-Equality Index
The question is, will investors respond?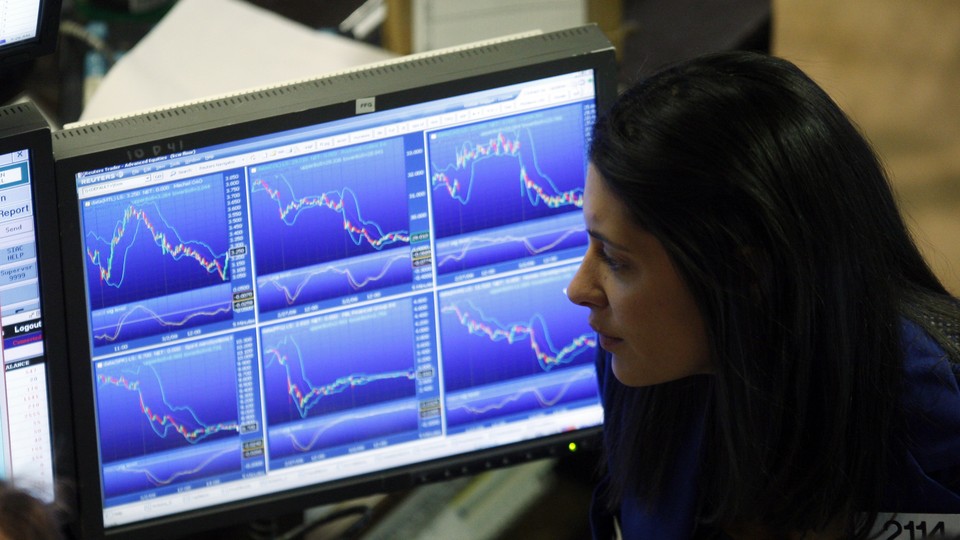 For investors who prioritize gender equality, new market data tools are emerging to help them assess a company's efforts on this front. This week, Bloomberg launched an index that scores financial-service companies on how well they treat women and whether they are promoting gender equality. (At the moment, the index is only available via Bloomberg's proprietary terminals.) The index, called the Bloomberg Financial Services Gender-Equality Index (BFGEI), rates companies not only based on programs like parental leave and flexible work arrangements—which together make up 70 percent of the score—but also whether a company has product offerings geared toward women and community engagement.
This kind of data has roots in Environmental, Social, and Governance (ESG) indexes, which were established for investors who care about environmental and corporate social-responsibility issues. Currently the BFGEI only includes public companies with a market cap larger than $15 billion; the data itself comes from a survey companies volunteered to fill out. The inaugural list featured 26 financial firms that scored above the 60-point threshold required for a company "with strong commitments to gender equality."
According to Michael Bloomberg, there's a growing demand from investors for data on how well firms perform on matters of gender equality and whether industry benchmarks are being met. "The big money managers really are interested in gender equality, in the environment and what companies are doing about that, how open they are about recruiting people from all different backgrounds, from all over the world," said Bloomberg at BFGEI's launch event in New York.
The index is just one of several new tools for investors to measure how firms handle gender equality. Last year, Barclay's launched the Women in Leadership Index, which lists companies with female CEOs or women consisting of a quarter of the board of directors. Recently, Bank of Montreal launched the Women in Leadership Fund, an impact-investing (the term for investing that takes into account social good) mutual fund that focuses on companies with female representation in its leadership ranks.
The argument usually offered in support of impact investing is that it is both a good social and business decision. Several recent studies has supported this line of thinking: McKinsey found that companies with female representation and diversity at their senior levels performed better. Some investors, such as Pax Ellevate Global Women's Index Fund, believe that investing in companies with better gender equality makes sense if they perform better. A study last year reported positive outcomes on the financial returns of impact investing.
"Evidence demonstrates that gender-equality policies and practices can affect a company's financial performance, productivity, and ability to retain top talent," said Angela Sun, the head of strategy and corporate development at Bloomberg and one of the leads on BFGEI. "While more and more firms are focused on addressing gender equality in the workplace, we've lacked a holistic set of data to better understand the issues facing companies, employees and clients."
The hope is that indexes like BFGEI will incentivize and encourage more firms to enact gender-equality policies and disclose them. But since the data is submitted voluntarily, firms with poorer gender-equality dynamics will probably avoid the BFGEI assessment altogether—which might make it difficult to find meaningful correlations between companies' policies and their profitability. For now, Bloomberg's index serves as a tool for investors to decide whether gender equity matters to them. And if it does, there's hope that other companies will take note.