Bayer's $62 Billion Bid for Monsanto
The deal would create the world's biggest agricultural supplier.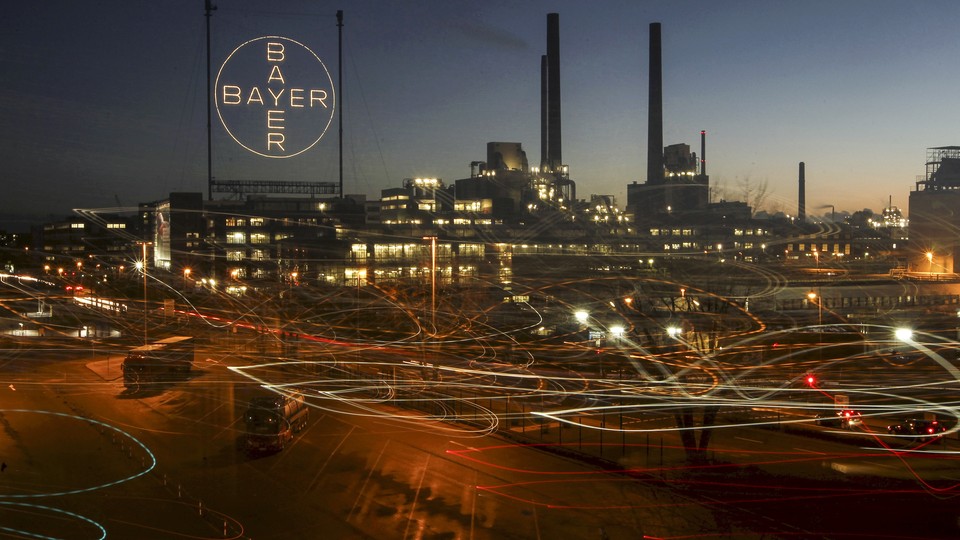 Bayer, the German chemicals and pharmaceuticals giant, has made a $62 billion offer for Monsanto, the American agribusiness company.
Here are the details of the deal, via Bayer:
Bayer has made an all-cash offer to acquire all of the issued and outstanding shares of common stock of Monsanto Company for USD 122 per share or an aggregate value of USD 62 billion. This offer, based on Bayer's written proposal to Monsanto dated May 10, 2016, represents a substantial premium of:
- 37 percent over Monsanto's closing share price of USD 89.03 on May 9, 2016
- 36 percent over the three-month volume weighted average share price
- 33 percent over the six-month volume weighted average share price
- Last twelve months EBITDA multiple of 15.8x as of February 29, 2016
Shares of Bayer, which, among other things, makes Aspirin and Alka Seltzer, fell 3 percent in early trading Monday. Monsanto is known for its genetically modified crops, leading to criticism in Germany for the offer.
The proposed deal, which is subject to regulatory approval in Germany and the U.S., comes amid several high-profile mergers in the industry, including the still-to-be-approved $130 billion merger between Dow Chemical and DuPont, as well as ChemChina's acquisition of Syngenta, the Swiss firm. Monsanto itself had last year offered to buy Syngenta, but was rebuffed.
Bayer has a market value of about $90 billion; for Monsanto, that figure is $42 billion.