The Best Business Reads of April
The month's most interesting stories about money and business from around the web.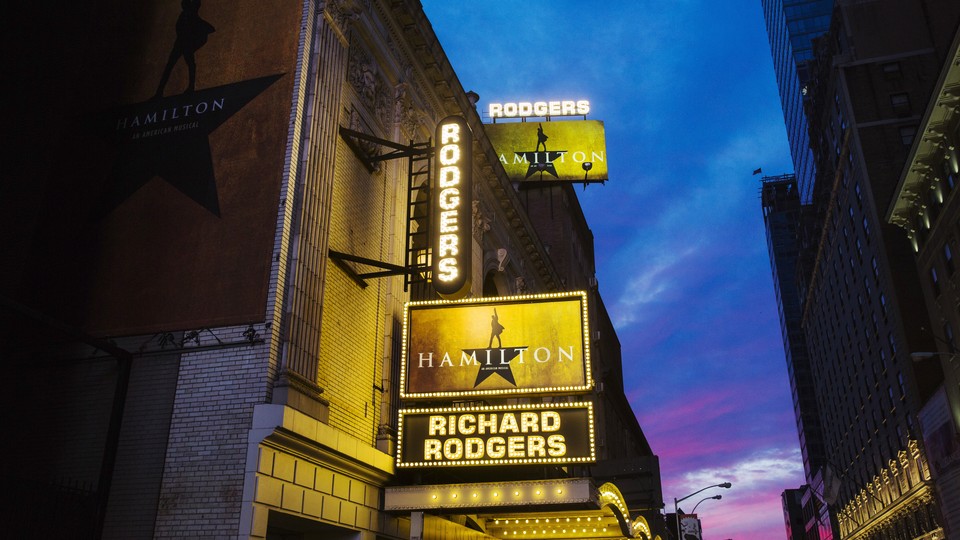 Each month, the editors of The Atlantic's Business section put together a list of the most intriguing, well-told stories they've read (or listened to). Over the past month, we've collected pieces about housing, poverty, sports, entertainment, and a number of other topics that relate to money and business.
Here are those we think are too good to miss. And if you're just catching up, you can check out our roundups from earlier this year, which can be found here and here.
* * *
"How Habitat for Humanity Went to Brooklyn and Poor Families Lost Their Homes"
Marcelo Rochabrun | ProPublica
In 2010, the New York City Affiliate of Habitat for Humanity received a $21 million federal grant to work on a city neighborhood hit particularly hard by the foreclosure crisis and help stabilize it.

The funds would allow Habitat-NYC to launch the most ambitious project in its 32-year history. Its neighborhood pick was Bedford-Stuyvesant, a historically poor neighborhood in central Brooklyn, where the charity would focus on buying and renovating abandoned apartment buildings.

There was just one problem. With few vacancies in the gentrifying area, longtime tenants were pushed out of their apartments — some into homelessness — clearing the way for developers to sell to Habitat at a hefty profit, a ProPublica investigation has found.

. . .

Between 2010 and 2011, at least seven Bed-Stuy families were pushed out of their rental apartments shortly before Habitat purchased them, ProPublica found.
* * *
"'Hamilton': Who's Making Millions Off of Broadway's Hottest Show?"
Rebecca Sun | Hollywood Reporter
The fine print on the investors' agreement for The Public Theater's spring 2015 musical warned that backers likely wouldn't see a return on their money unless the show eventually enjoyed a successful Broadway run—the chances of which were "impossible to project or predict."

That disclaimer seems hilarious in hindsight.
* * *
Rachel Aviv | New Yorker
Her youngest daughter, Ezreil, who was eleven, shouted, "No, Mama!" Her fifth-oldest daughter, Eunice, proposed that they all walk to school, rather than take a pedicab, to save money for tuition. The older girls were more cavalier. "Are you going to send us plenty of money?" one said. "So we can buy the Levi jeans?" Emma said that Ezreil told them, "I don't need the Levi jeans."

On August 21, 2000, Emma borrowed two service vans from her office and, with her daughters, her husband, and her brother-in-law, drove two hours to the city of Cagayan de Oro, which has a small airport. She took one suitcase containing four pairs of pants, a sweater, two pairs of shoes, two nightgowns, and a hairbrush. Virgie had told her not to take any dresses; there would be no occasion to wear them. In the terminal, all her daughters were crying. They would be cared for by their father and two "helpers," whom Emma had hired for the equivalent of twenty dollars a week. Emma went to the bathroom to weep alone in a stall. She said, "My conscience was telling me, 'Don't leave your kids. Don't leave your kids. They are young and need you.' "
* * *
"Amazon Doesn't Consider the Race of Its Customers. Should It?"
David Ingold and Spencer Soper | Bloomberg
In six major same-day delivery cities, however, the service area excludes predominantly black ZIP codes to varying degrees, according to a Bloomberg analysis that compared Amazon same-day delivery areas with U.S. Census Bureau data.

In Atlanta, Chicago, Dallas, and Washington, cities still struggling to overcome generations of racial segregation and economic inequality, black citizens are about half as likely to live in neighborhoods with access to Amazon same-day delivery as white residents.

The disparity in two other big cities is significant, too. In New York City, same-day delivery is available throughout Manhattan, Staten Island, and Brooklyn, but not in the Bronx and some majority-black neighborhoods in Queens. In some cities, Amazon same-day delivery extends many miles into the surrounding suburbs but isn't available in some ZIP codes within the city limits.

The most striking gap in Amazon's same-day service is in Boston, where three ZIP codes encompassing the primarily black neighborhood of Roxbury are excluded from same-day service, while the neighborhoods that surround it on all sides are eligible.
* * *
"Are Payday Loans Really as Evil as People Say?"
Stephen J. Dubner | Freakonomics
How should one think about the industry? Is it treacherous enough that it should be eliminated? Or, is it a useful, if relatively expensive, financial product that the majority of customers benefit from?
* * *
"Where Did the Government Jobs Go?"
Annie Lowrey | The New York Times
Louisiana is an exaggerated case, but the pattern persists when you look at the country as a whole. Since the recession hit, private employers have added five million jobs and the government has lost 323,000. The country has recovered from the recession. But public employment has not.

The public sector has long been home to the sorts of jobs that lift people into the middle class and keep them there. These are jobs that have predictable hours, stable pay and protection from arbitrary layoffs, particularly for those without college or graduate degrees. They're also more likely to be unionized; less than 7 percent of private-sector workers are represented by a union, while more than a third of those in the public sector are. In other words, they look like the blue-collar jobs our middle class was built on during the postwar years.

The public sector's slow decimation is one of the unheralded reasons that the middle class has shrunk as the ranks of the poor and the rich have swollen in the post-recession years. This is certainly true in Louisiana, where five of the 10 biggest employers are public institutions, or health centers that in no small part rely on public funds. In Rapides Parish, which includes Pineville, the biggest employer is the school district.
* * *
"What Would Happen If We Just Gave People Money?"
Andrew Flowers | FiveThirtyEight
The idea is as simple as it is radical: Rather than concern itself with managing myriad social welfare and unemployment insurance programs, the government would instead regularly cut a no-strings-attached check to each citizen. No conditions. No questions. Everyone, rich or poor, employed or out of work would get the same amount of money. This arrangement would provide a path toward a new way of living: If people no longer had to worry about making ends meet, they could pursue the lives they want to live.
* * *
"Four Years a Student Athlete: The Racial Injustice of of Big-Time College Sports"
Patrick Hruby | Vice
Today, the economic exploitation within college sports remains race-neutral on its face. The association's strict prohibition on campus athletes receiving any compensation beyond the price-fixed value of their athletic scholarships applies equally to players of every color. White former Texas A&M University quarterback Johnny Manziel couldn't cash in on his market value any more than black former Auburn University quarterback Cam Newton could. When black former Vanderbilt University center Festus Ezeli was suspended in 2011 for accepting a meal and a hotel room from a school alumnus, it wasn't any different than when white former University of Nebraska quarterback Eric Crouch was suspended eleven years earlier for accepting a plane ride and a ham sandwich from a candidate for the school's board of regents.

And yet, while the NCAA's intent is color-blind, the impact of amateurism is anything but. In American law, there is a concept called adverse impact, in which, essentially, some facially neutral rules that have an unjustified adverse impact on a particular group can be challenged as discriminatory.
* * *
"I Wrote an Essay About Working Overnights"
Peter Nickeas | Medium
And it wasn't just the hours. I could work overnights forever, I think. It's like everything else — you adapt. If my job was in a factory or something where I wasn't at a murder every night or couple nights, I think nights wouldn't be so hard.

If I'm being honest (and I find myself saying this a lot to myself lately, when I'm confronting something I've denied myself over the years), my employer didn't make it any easier. It is not an organization that's set up to help or accommodate people on that shift. And I get why — because two of its hundreds of employees work that shift. If 1/3rd to 1/4 of the company's staff worked those hours at the same time, the work load would be different and there would be some institutional respect / understanding. But there's not. And that's life. It's unreasonable to expect anything more — it's two people out of hundreds. Thousands, even.
* * *
"They Had Created This Remarkable System for Taking Every Last Dime From Their Customers"
Gary Rivlin | Mother Jones
While the subprime auto market is nowhere near large enough to bring down the economy, there are unmistakable parallels to the mortgage debacle. Delinquencies and repossessions are on the rise industry-wide, and there have been reports of falsified loan applications. At least eight banks have come under scrutiny for allegedly jacking up interest rates on black and Latino car buyers. Big players including Ally Financial and Fifth Third Bank (America's ninth-largest bank) recently paid out nearly $200 million to settle such accusations. "Auto loans are now the most troubled consumer financial product," Sen. Elizabeth Warren (D-Mass.) noted last spring. "The market is now thick with loose underwriting standards, predatory and discriminatory lending practices, and increasing repossessions."

It is the real Don Foss story—the sometimes remarkable, often disturbing tale of a subprime auto-lending pioneer—that helps us understand how we got here.