Amazon, the Facebook of Physical Things
The company's launch of private-label products is revealing of how it hopes to continue devouring commerce.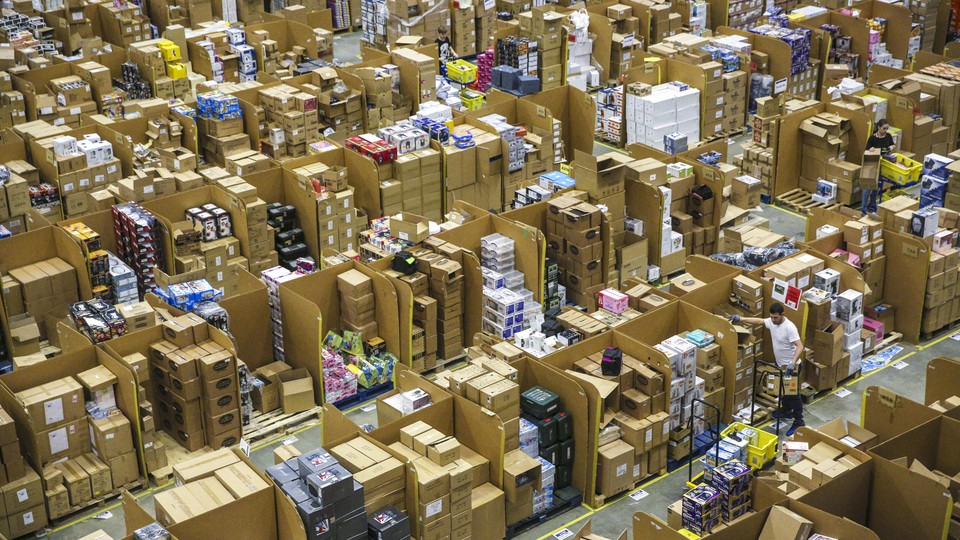 Last year, my colleague Adrienne LaFrance enumerated all the ways in which Facebook, as a source of news, collector of ad revenue, and time-and-productivity sinkhole, is devouring the Internet. "Facebook," she wrote, "wants to be the portal by which people go online. And, increasingly, it is."
Amazon, it seems, has similar aspirations, but for commerce: It wants to be the portal by which people get actual things—all things, perhaps.
In the coming weeks, the Seattle-based company will reportedly launch several lines of products, from nuts, spices, tea, coffee, baby food, and vitamins to household items under in-house, private-label brands. This long-anticipated development comes during a year in which Amazon has also expanded its restaurant delivery and same-day delivery services, built up startling delivery infrastructure, and opened a physical bookstore.
As my colleague Bourree Lam observed earlier this month, stores like Costco and Sam's Club (unlike their slightly smaller big-box brethren) are succeeding in part because they've capitalized on consumer wariness about shopping for food online. The strategy behind Amazon's latest gambit is that it co-opts some tactics—the sale of private-label items and an emphasis on non-perishable food— that have allowed supercenters and warehouse stores to withstand the rise of online shopping.
By making these new items available exclusively for shoppers with Amazon Prime subscriptions, the company may cultivate more loyalty to its membership program. However, it's the expansion of private-label items in particular that seems to the centerpiece of a real trend. According to the firm Marketing Track, 88 percent of consumers attribute their willingness to purchase private-label goods to cheaper pricing, with nearly 70 percent saying that they believe generic brands to be of the same quality as national brands.
As The Wall Street Journal noted, in-house products are the "plastics" of 2016—an industry that's only growing more popular. "Store brands reached $118.4 billion in U.S. sales last year, up about $2.2 billion from the prior year, according to the Private Label Manufacturers Association."
Besides low prices, what has enabled the rise of in-house product lines, essentially, is trust. Over the years, the stigma of generic brands has diminished as popular retailers like Trader Joe's and Whole Foods put their own products on the shelves.
The continued expansions of Facebook and Amazon do come with some ethical concerns about the effects they will have on their respective domains. For Facebook, alongside perpetual worries about its collection of data, its continuing role as the custodian of information has recently been undermined by suggestions that it has been suppressing "conservative" news. That this is seen as a problem in the first place is a testament to just how many facets of digital life are consumed through the network.
For Amazon, questions about its work culture snowballed into a full-blown scandal last fall after some of its white-collar workers alleged an abusive professional environment. (The company's warehouse employees have lodged several complaints about working conditions over the past few years.) But as it flirts with things like drone delivery, the idea of what Amazon can do for a thrifty, time-strapped consumer may always be more compelling than the reality of how it gets its products to its customers on the ground.