The Weird, Wonderful Job of Being a Tour Guide in the Age of Google
In Hawaii, the secret to keeping tourists on schedule is pineapple ice cream.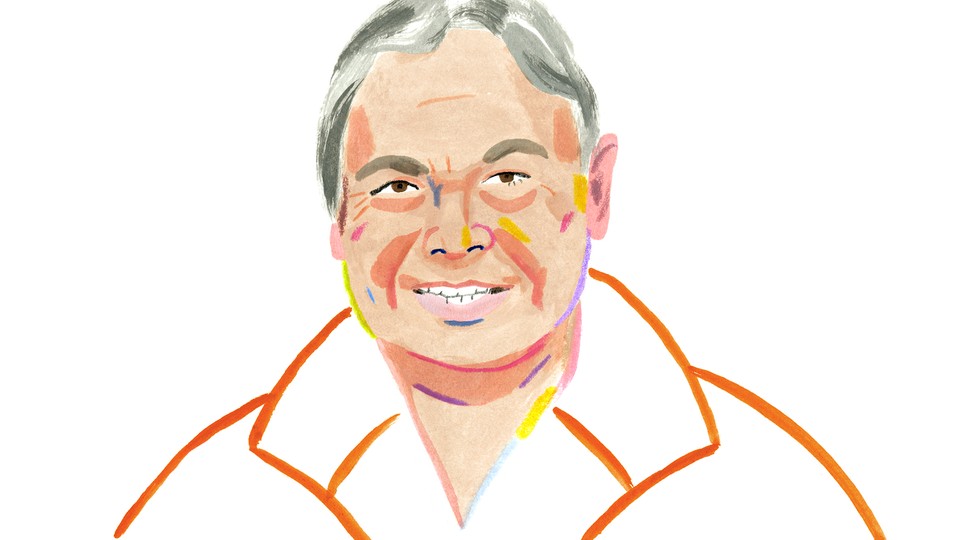 In Hawaii, tourism is big. $16 billion big.
According to statistics from the Hawaii Tourism Authority, there was an average of over 200,000 visitors to Hawaii per day in 2015, with those visitors spending over $40 million a day. A good portion of this probably goes toward resorts, beach-chair rentals, and flower-print shirts, but a lot is also going to the state's tour guides. In fact, Hawaii has the highest concentration of tour guides in all of the U.S.
Nick Oducado has been a tour guide at Roberts Hawaii, a tour group based in Honolulu, for nearly 20 years. For The Atlantic's series of interviews with American workers, I spoke with Oducado about the tourists who visit Hawaii, and how to make sure everyone's on time. The interview that follows has been lightly edited for length and clarity.
---
Bourree Lam: When did you start at Roberts Hawaii? And how did you get into this kind of work?
Nick Oducado: I started with Roberts Hawaii in November of 1999. I was exposed to different tour companies in my prior career. I'm a retired police officer, and a lot of times venues hired police officers for security. And the thing that attracted me to Roberts Hawaii was the equipment that they had. And of course, the grooming standards: clean-shaven, groomed hair, pressed uniform. Being a police officer, it was natural to me in my 28 years of service.
After I retired, we did some traveling, my wife and I, and I told her I needed to do something. I wanted to work at Roberts, so I submitted my application and they interviewed me right then and there. They asked if I was willing to take a urine test, and I said "Not a problem! I've been doing that for many years." They said after the test, just report to their training facilitates and I've been with them ever since.
Lam: Has the job of being a tour guide changed for you since 1999?
Oducado: The way I look at it, the most important thing is the information. It's so important that we keep the information updated. From the 1960s to the 1980s, most people fantasized about being in Hawaii because it's considered a paradise. So everybody wanted to go to a luau, or a sunset dinner sail, or to all these different venue and activities.
But the visitors of today, they still want to do that, but they're more into history and culture. So the difference is that we try to update the information as much as possible. As you do the tours, we drive and narrate, and people are Googling the information to make sure you're telling them the truth. And a lot of times, when I ask questions, one or two people will always come up with the right answer. I'll ask them if they're Googling it, they'll say, "Yeah," and I'll say, "You're cheating," and everybody just laughs about it.
Lam: Which tours do you lead?
Oducado: I do all the tours offered by Roberts Hawaii. The Pearl Harbor city tour, which involves a drive through the capital section of downtown, Chinatown, the palace district, to the National Memorial Cemetery of the Pacific punchbowl, and also the Arizona Memorial visitor center where there's a program that's provided by the National Parks Service and the U.S. Navy. I also do a "Stars and Stripes" tour—we do the Pearl Harbor city tour but it also includes the USS Missouri, the battleship. I also do our Circle Island tour, and any modified tour. It's a lot of different activities, but I enjoy it.
Lam: What do the tourists want to experience when they visit Hawaii and how do you manage people's expectations?
Oducado: Because of the technology today, accuracy is important. Every other year, I'll do a tour of the palace just to keep updated on any changes, any new features. I'll also go to the Bishop Museum to see what treasures they've located. Same thing with the Pearl Harbor tours, just to see if there's anything added. Same with the restaurants in Waikiki—people might be interested in certain seafood and so on. That way I can give them some recommendations.
Lam: What's the hardest thing about running your tours?
Oducado: The most challenging of all is to try to keep on schedule. There might be others in the group who have a dinner to go to, so you want to make sure they get back in time.
Lam: How do you stay on time?
Oducado: You just remind people of the schedule. Inform them about the restroom breaks, and just remind them that otherwise, we'd have to take things out of the tour and that'd be unfair to everyone else. I would say of all my tours, less than 1 percent have been slightly behind schedule.
Lam: So you're good at reining in people who are late?
Oducado: I try to. Instead of talking directly to that person, we talk to the group that—just as a reminder—we need to be mindful of the time. And there are certain things, such as if we can stop at a macadamia-nut tasting place—and they're free—but we've got to keep on schedule or else we can't stop there. And then, for example at the Dole Plantation, they've got [pineapple] ice cream, which isn't free, but everybody likes ice cream. So if we keep on the schedule, we can stop there, or else it's straight back to Waikiki. Those are the two kinds of things you can tempt them with.
Lam: So you basically bribe them with food? That's so funny.
Oducado: Technically! Well, when you talk about certain things, everyone gets excited about it. So everybody is going to be looking after each other. Everybody wants ice cream. For me, the most rewarding part is when we return at the end of the day, as I reach out to shake hands, and people actually want to hug you. That they really enjoyed themselves. For me, that means they had a great day.
Lam: You've been doing this since 1999, so do you ever get bored of showing people the same stuff?
Oducado: Not really, each day is a different day. My favorite place is through the capital section of downtown, Pearl Harbor, and the Kalanianaole coastline. The coastline has been seen on Magnum P.I., Hawaii 5-0. And just the history it, people are around the bend just to see this beautiful coastline. For me, number ones are sharing a bit of history of the island, the beauty of the island, the culture of the people of Hawaii, and have fun—then I've done my job.
Lam: How long do you see yourself being a tour guide for?
Oducado: I just turned 66. I'm looking at two, maybe three more years. If my health stays good, maybe a little longer working part-time. But I have wonderful bosses. Roberts Hawaii has been around for 75 years and we have great leadership. The people who trained us, those are the ones who made me who I am today. When I came into the industry, I had no knowledge of what I'm sharing. I'm having a wonderful time, there are ups and downs, but it's been a great ride.
---
This interview is a part of a series about the lives and experiences of members of the American workforce, which includes conversations with a cartographer, a park ranger, and a hotel manager.