The Business of the DNC Convention
Minority and female-owned businesses in Philadelphia are cashing in on the multimillion-dollar political convention this summer.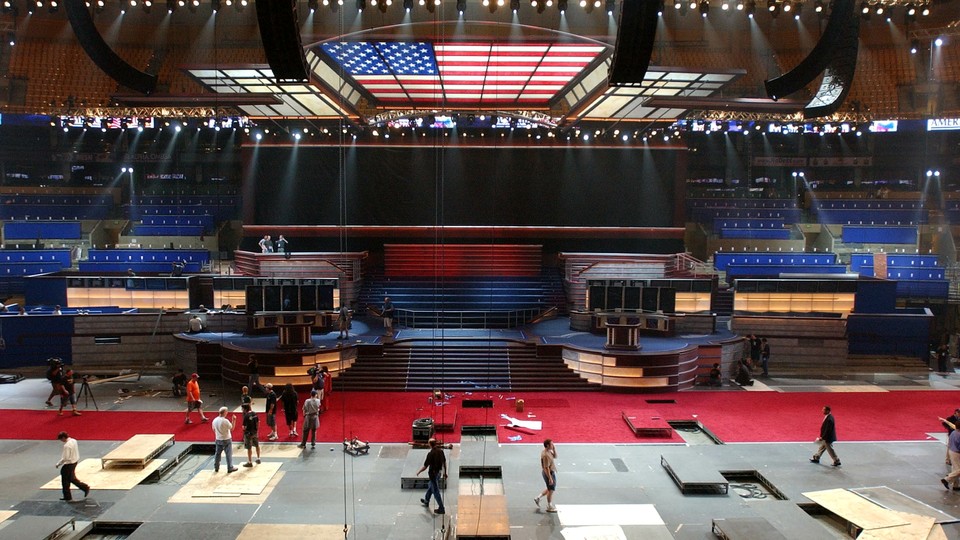 Updated on April 29 at 1:34 p.m. ET
PHILADELPHIA—Just two more months to go. In July, thousands of delegates and members of the media will arrive in Philadelphia for the Democratic National Convention. During the event, party leaders will pick the nominee for president. But just as exciting are the $300 million expected to pour into the city, according to city leaders and convention organizers.
Based on sales during the more recent conventions in Denver and North Carolina, Philadelphia expects an estimated 50,000 visitors to fill the city's 16,000 hotel rooms and spend millions of dollars at local restaurants and stores. The DNC's convention committee and the city's host committee plan to spend about $150 million on the four-day event. There are the contracts for construction, transportation, merchandising, and event production. Businesses across the country submitted bids for these lucrative deals, and six out of seven major contracts with the convention host committee have gone to businesses owned by minorities and women. Five of the seven are local businesses.
Ethnic minorities own 47 percent of Philadelphia businesses, according to the U.S. Census' 2012 Survey of Business Owners, and it's important that visitors see that reality reflected in the convention, says Tiffany Newmuis, the director of diversity and community engagement for the Philadelphia DNC 2016 Host Committee. "We want people to leave here having seen what Philadelphia is really like," she says. Newmuis was hired specifically for diversity outreach and to make sure even the smallest local businesses were aware of the opportunities to cash in on the convention. For example, the host committee hired a local African American-owned transportation company to provide buses and shuttles. They hired another local African American-owned company to print their business cards.
One of the big contracts went to Luis Liceaga, a Puerto Rican entrepreneur who runs Impact Dimensions, a Philadelphia company that makes convention swag. Liceaga and his subcontractors are making lanyards, baseball caps, and other products with the DNC Host Committee logo on them. He knows what these political conventions can do for a small business like his. Liceaga, a graduate of the Wharton School of Business, credits the Republican National Convention in 2000, which was also held in Philadelphia, for his company's growth over the past decade or so.
Back then, he had an embroidery company and was hired as a subcontractor to stitch logos onto bags and other merchandise for the convention. He worked so well with the main contractor that they decided to become business partners. "If it weren't for these conventions, my business wouldn't be what it is today," said Liceaga, who launched Impact Dimensions with his partner Norbert McGettigan in 2002.
While Republican leaders were busy nominating George W. Bush as the GOP presidential candidate in 2000, visitors to Philadelphia spent $5.5 million at local stores and about $6 million at bars and restaurants in the city. They spent another $25 million just on hotel rooms.
Giving contracts to ethnic minorities, women, and LGBT-owned businesses aligns with the values of the Democratic party, and is an especially high priority since these groups make up its voter base, says Reverend Leah Daughtry, CEO of the Democratic National Convention Committee. The committee has pledged to give at least 35 percent of its contracts to these groups. "When we talk about diversity and inclusion, it's not just about voting, but about where we spend our dollars," says Daughtry.
Historically, spending dollars on union labor was the hallmark of the Democratic National Convention Committee. After all, unions have been one of the Democratic Party's biggest allies (and donors). But that alliance has sparked tensions in right-to-work states that have hosted the convention in recent years, like North Carolina. In these states, workers at unionized companies don't have to join unions, weakening workers' power to negotiate higher wages and job protections, and as a result making unions less prevalent. Local business owners in Charlotte criticized the DNC for expecting contractors to use union labor in a state where only 3 percent of workers are unionized. They told The Washington Free Beacon that they were unable to get contracts with the DNC because of this.
The DNC said both of their venues for this year's convention use unionized labor, though they were unable to say how many of their total contracts involve unionized workers. Philadelphia is generally a union-friendly city, though the former mayor was known for having a rocky relationship with local labor groups.*
Winning a big contract is great exposure for small businesses, says Liz Jenkins Santana, owner of Leap Starr, which specializes in corporate event production. The company, which has 30 employees, won the contract to put on PoliticalFest, the largest convention-related event open to the public. They had their bid ready as soon as the committee started accepting proposals, says Jenkins Santana, who is Native-American, African American, and Caucasian. (She declined to say how much the contract was worth.) LeapStarr staff are currently designing the layout and exhibits for the six-day festival, which will highlight American political history and presidential campaigns. It's the largest contract Leap Starr has secured for a one-time event.
For businesses that didn't get contracts, the convention committees are trying to help them find a way to make money from it. They've been meeting each month with the Greater Philadelphia Hispanic Chamber of Commerce to find opportunities for smaller businesses. The Philadelphia region has 18,000 Latino-owned businesses and 8,000 in the city itself, says Jennifer Rodriguez, the president and CEO of the chamber. The majority are Puerto Rican entrepreneurs who own auto-repair shops, extermination companies, and supermarkets. "We have a lot of minority entrepreneurs who don't have the opportunity to bid on large contracts. A lot of that has to do with capacity, but a lot has to do with lack of access to information," Rodriguez says.
The DNCC recently partnered with Google to host a series of workshops for small Philadelphia businesses to boost their online presence before the convention. More than 100 entrepreneurs attended the first event in February, which showed them how to increase their business' chance of turning up in a Google search or on Google Maps. Next month, they will host a workshop for members of the Hispanic Chamber to help them increase their visibility ahead of the big event. "If someone does a search for a Puerto Rican restaurant, we want to make sure they can find it," says Rodriguez.
*This article originally misstated the mayor's relationship with unions; it's the former mayor who's known for having a rocky relationship with local labor groups. We regret the error.
---