The Two Women Who Kicked Off Salesforce's Company-Wide Salary Review
Over the past couple years, Leyla Seka and Cindy Robbins managed to convince their CEO to correct gender-pay disparities. Today, they reflect on what made that possible.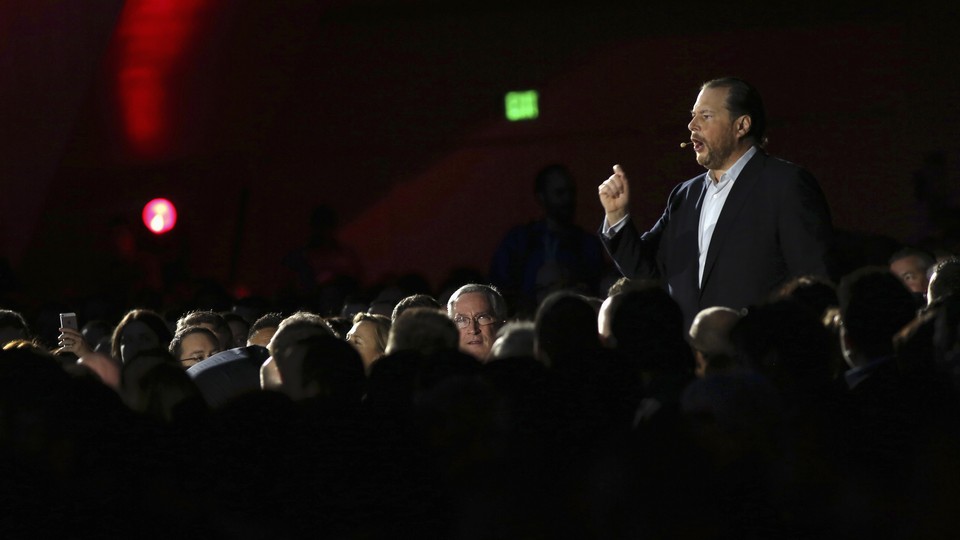 Last year, the software company Salesforce made headlines when its CEO, Marc Benioff, announced at a conference that the company had done an internal audit of its 17,000 employees to see if it was paying its male and female employees equally. After finding gender-pay disparities, the company then spent $3 million righting that wrong. This idea has taken hold in the tech industry: This week, Facebook and Microsoft both announced that they had achieved gender pay parity, joining a handful of other large companies such as Apple and Intel.
These announcements receive lots of coverage, but what hasn't is how Salesforce's internal review got started: It all goes back to the conversations and actions of two of its employees, Leyla Seka and Cindy Robbins. Both have been at the company for 10 years: Seka is a senior vice president of Salesforce's customer-support unit Desk.com, and Robbins is an executive vice president in charge of HR for all of Salesforce. The two women were part of a program called Women's Surge, an initiative of Benioff's that, among other things, required that 30 percent of the attendees of every company meeting had to be women. "We did what the program was supposed to do: We got elevated and got more access," Seka says. "And through that, we started talking. Equal pay was something that was always on my mind; I've been thinking about it for the last 10 years. As Cindy and I got these new jobs, we felt an obligation to do more for the women inside of our company."
Seka and Robbins decided that the company should be subjected to an internal audit. They worked on their proposal over meals, brainstorming what they'd plan to say to their boss. Robbins set up a meeting with Benioff and brought Seka along, and they told him they suspected that women at Salesforce were being paid less than men at the company. Benioff was skeptical. "He was kind of shocked, which I was kind of shocked by. He said, 'I'm not sure about this,'" recalls Seka.
But Benioff agreed to initiate an internal review and as a result, 6 percent of Salesforce employees—including both men and women—got raises to ensure they were getting equal pay. Following this, Benioff was recruited to support Obama's new equal-pay rules, which starting in 2017 will require companies with 100 employees or more to report to the government how much their employees are paid, broken down by race, gender, and ethnicity.
Looking back, Seka and Robbins both say that conditions at Salesforce enabled them to speak up. "It's important to understand your company's appetite for transparency. I'm really lucky to work at a company, and for a CEO, that is open to having these conversations and doing what is right. However, not every company has a culture of transparency," says Robbins. On top of that, Robbins recognizes that not everyone has access to his or her CEO quite like she and Seka did.
Seka says that despite working at a company where they felt comfortable bringing pay disparities up with an executive, it still took courage to say something. "At the time, I didn't think it was courageous—I just thought, "Let's do this. It's the right thing to do. Let's make something happen,'" says Seka. "But this takes courage … I can't speak to every industry—I'm very tech-focused. But I know a lot of tech CEOs, and they're open people. They might not say yes, but what's the harm in asking? That's the way I look at it now."
Both Seka and Robbins are hoping that their accomplishment at Salesforce will help other women and other companies start the conversation, and Robbins says that their approach was important. "Speak with the managers and executives you have access to and let them know what motivated you to start this conversation," she advises. "It is also important to highlight why this issue is important, not only for equality purposes, but also for your company's own competitive recruitment and retention strategies."
And if the result of that conversation is an internal audit, the rest is easier. "As our CEO has stated publicly," Robbins says, "every company has an HR system and has access to the data."