When a Company Tells People Not to Eat Its Products Every Day
What's behind Mars' efforts to distinguish between "everyday" and "occasional" food?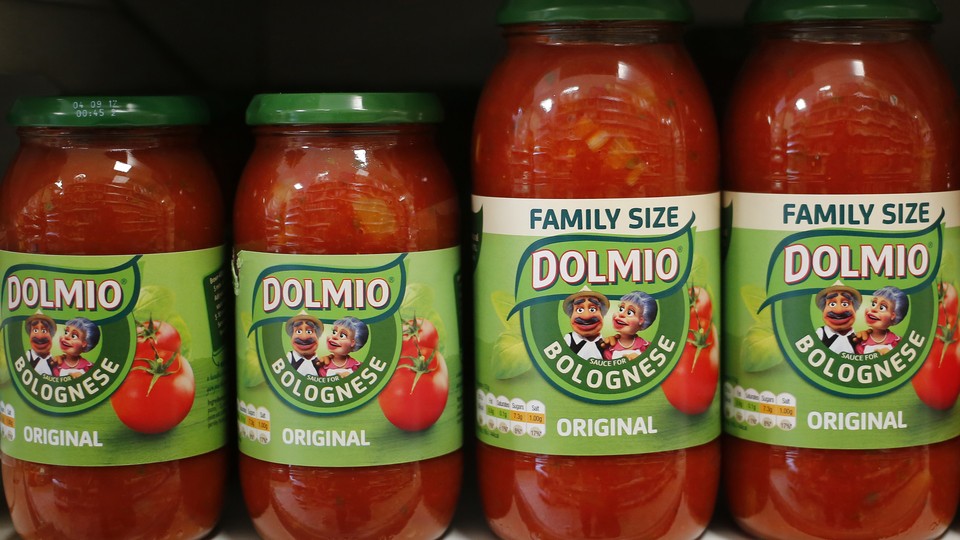 This week, NASA scientists announced their plans to find the perfect crop to plant on Mars. The early favorite seems to be the potato.
For some, a planet Mars stocked with only one starchy food is a dream beyond any of Isaac Asimov's wildest imaginings. Meanwhile, back on planet Earth, Mars the company is trying to deter people from their unhealthy habits. Mars, which owns foods brands like Dolmio and Uncle Ben's, has announced an initiative that would label certain foods—for now, mostly pasta sauces— that are high in sugar, salt, and fat as "occasional" foods.
"As these products are not intended to be eaten daily, Mars Food will provide guidance to consumers on-pack and on its website regarding how often these meal offerings should be consumed within a balanced diet," wrote Mars's president, Fiona Dawson.
According to the company, the "occasional" label is reserved for foods that it suggests should only be eaten once a week. The other 95 percent of its products will carry a label designating them as "everyday" foods. As the BBC noted, the U.K.-based National Obesity Forum offered some semi-enthusiastic praise for the initiative, calling it "hugely unusual" and "very imaginative."
What is both unusual and imaginative about this maneuver is that it essentially amounts to an admission by Mars that some of its products are terrible for you. However, it also comes at a time when government bodies are seeking to define or classify the relative unhealthiness of certain foods—and when companies might see an advantage in getting out ahead of potential regulations.
Last month, a first-in-the-nation regulation went into effect in New York City that requires restaurants to label saltier menu items at chain restaurants that contain more than the daily suggested sodium intake. New York, along with a number of other local governments across the country, already demand that chain restaurants post calorie counts. (In March, a federal version of that regulation was postponed for the second time until 2017.)
Meanwhile, a bill in Vermont that will require the labeling of products that contain genetically-modified ingredients (GMOs) is set to go into effect in July and the United Kingdom, France, and Mexico have recently enacted taxes on sugary drinks.
It's unclear whether other companies will follow Mars's lead or if these new labels will have any real impact. A number of studies have seriously questioned the efficacy that New York City's calorie counts in changing consumer behavior.
One upshot of the decision is that Mars gets to determine the language ("occasional" is hardly "obesogenic") in an increasingly sharpening public debate on public health. Mars also gets to decide how its measures are implemented. Curiously absent from mention in Mars's new strategy is the company's vaunted chocolate division, which produces Starbursts, M&M's, and Snickers.