The March Jobs Report Brings More Good News
Nothing outstanding here, but things seem to be moving in the right direction.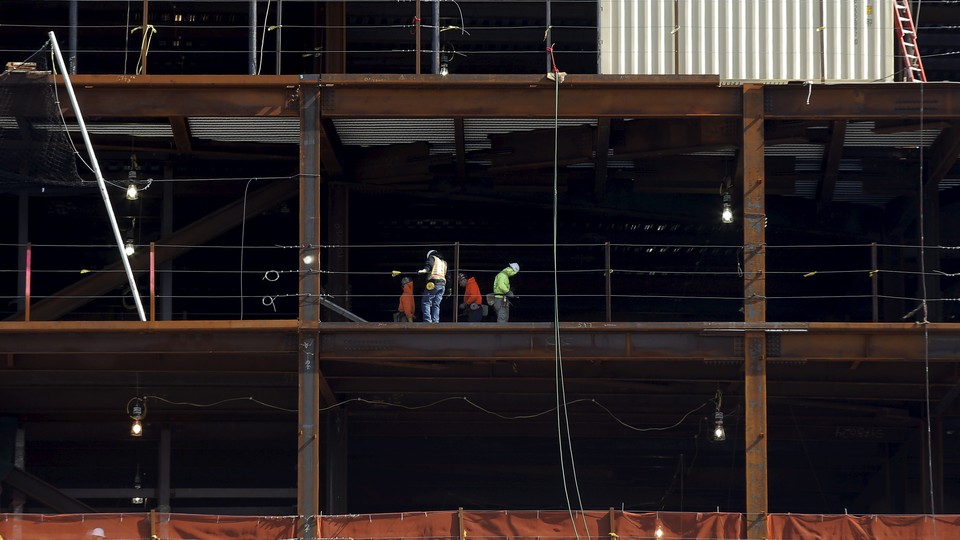 The March jobs report is out, and it's meeting the modest expectations laid out for it. On Friday morning, the Labor Department reported that the U.S. economy added 215,000 jobs and that unemployment moved up slightly, to 5 percent. Economists were expecting 205,000 jobs to be added and that the unemployment rate would remain at 4.9 percent. All in all, the U.S. economy is looking healthy, with steady job gains for the past 73 months.
---
---
January's jobs report missed expectations, but February's numbers exceeded them. This month's revisions had January's numbers go slightly down and February's numbers slightly up, but even so the U.S. economy has been adding an average of 209,000 jobs in the last three months.
In the last couple of years, the month of March has borne disappointing jobs reports. But this year's March report met expectations, with the Labor Department reporting hiring in the sectors of retail, construction, and health care. Employment in mining continued to decline.
---
---
One of the most promising signs: In 2016, economists are looking for wages and labor-force participation to improve. And in March, hourly wages rose by 7 cents, bringing wage gain to 2.3 percent for the past 12 months. There's also good news about the labor-force participation rate, which is up again, to 63 percent.
A lackluster participation rate has caused economists to wonder whether those who lost their job during the recession will return to work. This month's number is the highest in two years, and indicates that Americans are indeed coming back to the labor force. This is also a source of optimism when accounting for the slight uptick in the unemployment rate, as Americans sitting on the sidelines post-recession was one suspected reason that the rate of unemployment has been so low: Those who haven't actively looked for a job in the past four weeks aren't counted by the Labor Department.
Investors have been carefully watching the Federal Reserve for hints about its actions during the rest of the year. On Tuesday, Fed Chairwoman Janet Yellen said at the Economics Club of New York that the FOMC would "proceed cautiously"—which most took as an indication that the Fed would not be raising rates at its April meeting. According to minutes from the Fed's March meeting, there are two quarter-point increases expected ahead in 2016. The question is whether firm U.S. economic data will be enough to keep the Fed convinced in light of weak global growth.