Cuba, the Brand
Miami's Little Havana is no longer home to the city's Cuban population, but that hasn't stopped businesses there from pretending things haven't changed.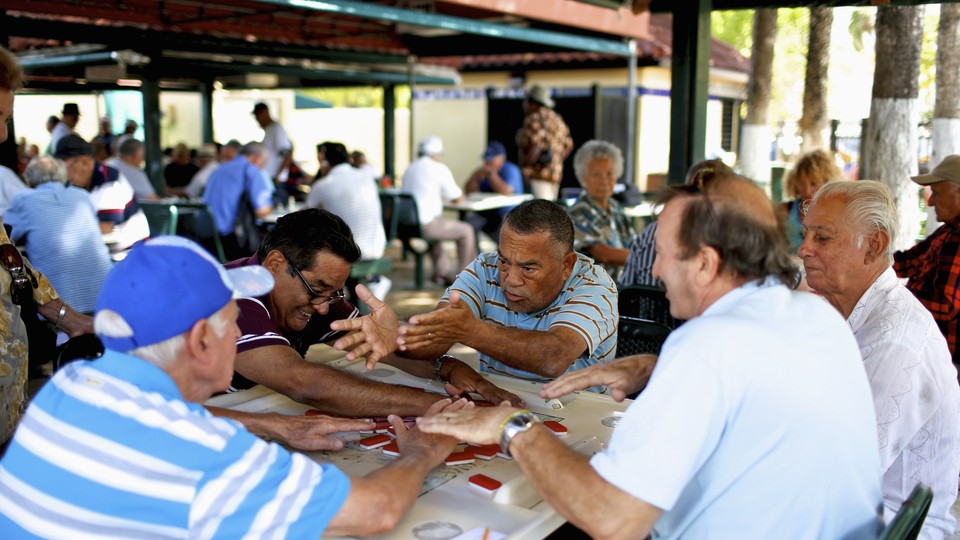 MIAMI—The types of fruit Angel Hernandez sells haven't changed much over the last 48 years. There are still rows of guanabanas and mangos in Los Pinareños Fruteria, each wooden crate decorated with a Cuban flag stapled to the side. The people who pop into his Little Havana open-air fruit market, however, have shifted in recent years. His Cuban American regulars still swing by to pick up some fruit or to just talk politics, but so do Nicaraguans, Costa Ricans, and Mexicans.
The neighborhood where thousands of political exiles landed after the Communist takeover of Cuba in the late 1950s is now primarily Cuban in name and history only. As what's happening in the rest of Miami, where just half of the city's 70 percent Hispanic population is Cuban, Little Havana is diversifying. "Today, it's more international, from many countries," Hernandez says, leaning on his countertop decorated with old photos of the neighborhood and insignia from his time in Brigade 2506, the group of Cuban exiles who led the failed Bay of Pigs Invasion in 1961. His shop is just across the street from a boulevard where an eternal flame adorns the top of a memorial to that invasion, along with other marble and granite monuments of Cuban military heroes and national figures, stone reminders of a previous era in a neighborhood nine miles west of South Beach.
Hernandez knows quite well how the neighborhood has changed over the years. He doesn't have to look any further than the ownership of his fruit market to see the progression. Before Hernandez took the business over in the 1960s, it had Jewish, white, and black proprietors, dating back to the turn of the century and in many ways matching the demographic shifts of the neighborhood. When Hernandez began selling fruit, Cubans were just moving in. Dilapidated after Jewish residents moved out of the city and black residents moved to neighborhoods further north, the area was one of the few places in Miami that was affordable. It became a landing zone for exiles fleeing Cuba. "That's where the businesses began," says Guillermo Grenier, a Cuban exile and professor of sociology at Florida International University, who co-authored a book on Little Havana. "That's where the ideology of people getting together and hating Fidel Castro began. It was a very intense, dense environment."
Cubans who arrived early in Miami never expected they would stay there long. They were only 100 miles from their home and thought the U.S. would soon intervene and kick Castro out of power. "They were sure of it," says Grenier, who left Cuba in 1960 when he was 10. "They weren't going to be there for 50 years. They were going to go back." While the neighborhood became an incubator for counter-revolutionary activity, they also started to build a community. As Cuban-owned businesses and restaurants began popping up, residents brought back elements of Cuban life. Men would informally play dominos in open areas, just like they did back home. Today in Domino Park, a fenced-in square where elderly exiles banter and throw bones during the day, there's a photo posted of them playing before there ever was an established park. By 1970, the neighborhood was more than 85 percent Cuban, says Grenier.
As Cuban Americans gained wealth, they started spreading out across the city to more affluent areas. Little Havana, however, remained a place where incoming immigrants, many Cuban, could find an affordable place to live, ease into American society while still speaking Spanish, and find a job. Businesses remained Cuban-owned, but residents started reflecting the different crises that were taking place in Latin America. When the left-wing Sandinista National Liberation Front took power in Nicaragua in 1979, Nicaraguans came in droves to Little Havana. Economic blight and civil war would soon bring Guatemalans, Hondurans, and other Central Americans to the neighborhood, as well.
Little Havana has firmly established itself as a haven for new, poorer immigrants, and remains that way today. "It's the Ellis Island of Miami," says Grenier. "Folks do come, and they may not be exiles, but they come running away from poverty, trying to find a better chance." Cubans today make up about a third of the neighborhood, he says, and that percentage continues to fall.
Frank Rodriguez Melo's biggest clientele are new arrivals, mostly from Nicaragua. The real-estate broker rents out apartments on the east side of Little Havana that are sometimes 40 percent below fair market rates. His one-bedroom apartments have an average rent of $700—well below increasingly unaffordable units in other parts of Miami, and matching the needs of a community that has a median household income of $15,000, according to Census figures. The only Cubans Melo rents out to, he says, are in their late 60s. "The young population of Cubans do not live here because they associate it with their past, their beginnings," says Melo. "Within the Cuban population, if you have the option you don't live in Little Havana. The Hispanic culture is about pride. Moving up and on is the goal."
Most businesses here are still owned by Cuban Americans, even if many of them don't live in the neighborhood anymore. But the waves of immigrants from different countries in recent years has led to a new generation of business-owners, like Marco Incer, who are capitalizing on the Little Havana brand. Incer left Nicaragua in 1985 when he was 16 during a time when Sandinistas were recruiting young men out of parks, schools, and theaters, pulling up in a truck and taking them to the mountains to fight for them. He fled to Mexico and soon after illegally crossed the U.S. border. Since then, he's earned a visa, gone to school, and built a career as a civil engineer.
On the side, Incer runs Art District Cigars, a cigar lounge in Little Havana that he opened in 2008. Paintings from local artists decorate the burnt orange walls of the dimly lit lounge, as a dozen or so patrons smoke cigars and lean back in leather couches. Around 70 percent of his business comes from tourists, who come to his lounge to seek out the cigar culture that's synonymous to Cuba. "This is the closest thing to Havana," Incer says. "Everybody thinks this is the capital of the tobacco industry, and everybody who comes in here asks for Cubans." He has Cuban flags around the shop, knowing he survives off the Little Havana identity, even though he's not Cuban.
Local tour guide Corinna Moebius, who also isn't Cuban, wants to show the diversity of Little Havana. Just a few hours before the 10-block section of Southwest 8th Street dubbed "Calle Ocho" transforms into a chaotic showcase of Cubanness for Viernes Culturales on the last Friday of the month, I met with Moebius at Los Pinareños Fruteria. Soon, dancers performing the mambo pour out of restaurants into sideways, where vendors sell Cuban food and cigars to wide-eyed tourists, clumsily dancing to music from street performers. While the neighborhood as a living community may not be Cuban, Little Havana as a brand is distinctly Cuban.
Often, how businesses in Little Havanna use "Cubanness" to market themselves frustrates Moebius. (This is a phenomenon that Grenier, the FIU professor, calls "created community"—an ersatz sense of community that people are using to sell goods.) When we met, she was about to start a tour about the cultural influence of Afro-Cubans, a topic that can be "passé" to locals, she says. Moebius tries to tailor her tours what she sees as the "real Little Havana." But that's not what people always want to see. "It's less sexy if you're not Cuban," she says. "It's so hard for me. I'm a tour guide. I want to share my neighborhood and all the cultures. But the demand is literally a little Havana. That's the perception, and people want to consume this idea of it being traditional and stuck in the past." They consume that idea in large quantities, it seems, as tourism accounts for a massive chunk of the local economy—$23.7 billion in 2014—Little Havana being a major part of that revenue.
Harnessing the Cuban theme in business has been tricky in some ways for José Santana, a Salvadoran who runs the local Cuban restaurant, El Cristo. But, he says, imagine if you came to Little Havana and business-owners didn't want to talk about Cuba. It would be "unthinkable," he says. Plus, "if you go to an Italian restaurant, the chef is not necessarily Italian, nor is the owner necessarily Italian."
Carole Ann Taylor, the owner of tourist shop Little Havana To Go, says she loves that the neighborhood is morphing into a place for all immigrants, but wants to celebrate the history of Little Havana, even as a black businesswoman. "People come to Miami not just for the beach, but to imbibe the vibe of Miami's Cubans," she says.
Even so, businesses that don't fall into the Little Havana brand still thrive. On her tour, Moebius leads her pack past Mexican and Honduran restaurants, a Nicaraguan bakery, and a Colombian jewelry shop, before ending near Colon Supermarket, owned by Daniel Sore, who just moved to the U.S. from Venezuela two years ago. The store has been open for just a few months and caters to mostly local clientele—90 percent of his customers, he says, use food stamps. "We have everybody," he says, listing off Nicaraguan, Salvadoran, Honduran, Costa Rican, Argentine, Venezuelan, Colombian, and Cuban customers, making up the new look of this neighborhood.
Hernandez, the owner of Los Pinareños Fruteria, comes in every morning to buy the newspaper. This store, like the fruit market, has changed with the times. Before Sore bought the supermarket, it was owned by Dominicans for 18 years and then Cubans for 30 years before then. There's rumbling among different business-owners in the neighborhood about development creeping from the swanky Brickell Avenue area, threatening what made Little Havana so attractive to immigrants: it's affordability and culture. "We believe in the neighborhood," Sore says. He's says he's ready to take on whatever incarnation Little Havana will transform into next.
---
Related Video