Innovation Is Overrated
An obsession with disruption has obscured the work that goes into just keeping everything up and running.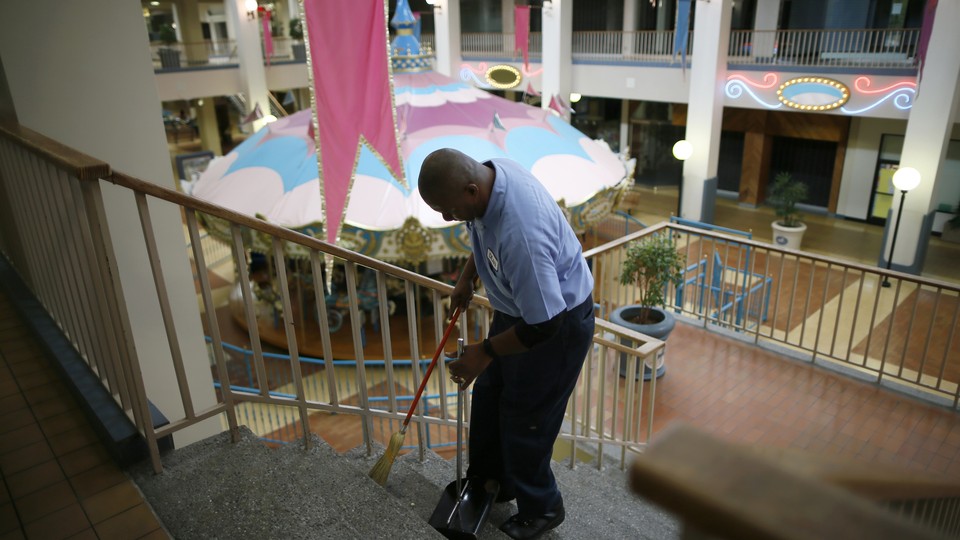 New technologies and their inventors are often celebrated as society's heroes. Steve Jobs, Bill Gates, Elon Musk, Larry Page: These are all contemporary "innovators" whose "visionary ideas" and "creative leaps" led to "disruptive realities"—that is, if one buys the rhetoric of certain books and novelty-oriented publications.
But those who've questioned whether technology really is society's salve aren't alone. Lee Vinsel, an assistant professor of science and technology at the Stevens Institute of Technology, wrote a dissertation on innovation and regulation in the early days of the automobile. But lately, he finds that the word "innovation" is overused to the point of meaninglessness—and worse, that it can obfuscate the bleak realities of the status quo. "In a culture where we forget about things like crumbling infrastructure and wage inequality, those narratives about technological change can be really dangerous," Vinsel says.
How so? "Look no further than the income disparities and gender inequalities in Silicon Valley, which is often seen as a hub or cathedral of innovation," says Andy Russell, also a historian of technology at Stevens Institute of Technology.
Vinsel and Russell believe in the power of an alternative discourse about work and technology, and they're helping it take shape with a three-day conference that began last Thursday. Called "The Maintainers" (a play on the title of Walter Isaacson's recent best-seller), the event assembles historians, social scientists, artists, activists, and engineers to discuss how the human-built world is maintained and sustained—so often by unnamed, unseen, and underpaid labor.
One presentation looked at how many of history's biggest, seemingly sudden disasters were the result of deferred infrastructure maintenance over long periods of time. Another talk demonstrated the historical importance of cleanliness in industrial settings, with a paper titled "Discipline and Polish." There was also a strong focus on gender: Vinsel appraises Mary Poppins as a rare "caregiving hero" of mainstream cinema, while the keynote speaker, Ruth Cowan Schwartz, connects her 1985 book More Work For Mother (which examined how 20th-century household inventions actually increased women's chores) to the way Cuban society "re-valorized" domestic labor after the collapse of the Soviet Union.
Vinsel stresses that it is not, in itself, an "innovation" to talk about maintenance in these ways. "Thinkers have been working on these issues for a long time," he says. "The goal of the conference is to open space for a conversation." He hopes to hold more forums like it, and to eventually invite policymakers to one in D.C.
Both he and Russell also note that they have nothing against "innovators" such as Jobs—it's just that "maintainers" are doing so much more. "The vast majority of technologies that surround us and underpin our lives are not innovations," Vinsel says. "And the vast majority of labor in our culture is not focused on introducing or adopting new things, but on keeping things going."
---
This article appears courtesy of CityLab.