'I Still Shop From the Damaged Food Section'
Editor's Note:
This article previously appeared in a different format as part of The Atlantic's Notes section, retired in 2021.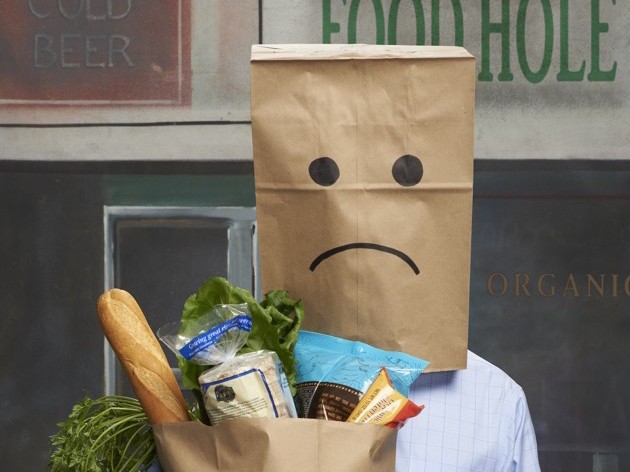 A ton of reader emails have already come in responding to Becca's callout for "true money stories." The first one comes from a reader who prefers to stay anonymous. Her story of financial struggle is set in the mid-'90s, when the U.S. was having an economic boom:
In October, we had a very cheap wedding and put a down payment on a house instead of going on a honeymoon. We were in our mid-20s and both had college degrees. My husband had two part-time jobs. I had a full-time job with health insurance and a part-time job for Christmas money. What could go wrong?

In November, my company went under, leaving me with the 15-hour-a-week bookstore job. Luckily they took me on full-time for the holiday season.

In December, one of my husband's part-time jobs went on hiatus for three weeks. The refrigerator quit. We turned the furnace down to 56, blocked the vents, and unplugged everything in all but our bedroom, the kitchen, and the basement (which luckily had a full bathroom). I returned for cash all the wedding gifts we hadn't used. There were no Christmas gifts that year, of course. My dad sold some stock and gave us $400 so we could buy a cheap fridge. I cried.

Our food for the next year was from the damaged rack, and we ate quick-sale meat and dairy. We racked up $7,000 in credit card debt, trying to keep ourselves above water.

We've now been married 21 years, have two kids, and two more degrees. But I still shop from the damaged food section.
This next reader discloses how "my worst moments of financial insecurity, as a young husband, both involved food":
The first happened at a grocery store in 1976. My bride and I were shopping for groceries, in the days before we had credit cards, and we realized that we didn't have enough cash to pay for the pitifully few groceries we had put in the cart. Deciding what to put back was a combination of embarrassment and a feeling of impotence (of the "not man enough" variety).

The second was worse. Mary was cooking pasta and trying to drain it without a strainer. The lid slipped and the pasta went into the sink, some down the drain.  She broke into tears because she had to fish our dinner out of the sink. We had nothing else to eat, and no money to eat out.

I was in graduate school at the time, on a fellowship that almost paid our rent.  She had a BFA to teach, but jobs were nonexistent. We both had good prospects for the future, but a feeling of "we won't survive to get there."