South Asia in South Texas
An Indian and Pakistani neighborhood of Houston shows what it's like for a new generation to take over an immigrant community.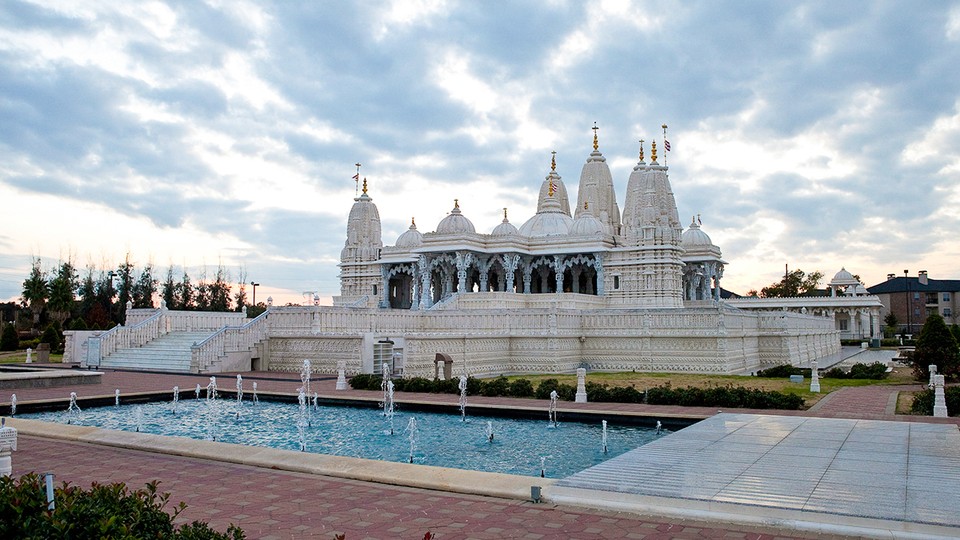 Back in the '80s, Hillcroft Avenue in southwest Houston was pretty dead. The section closest to I-69 was home to a fast-food joint and an auto shop, but they sat near open farmland. Three stores stuck out in this undeveloped area of the city: a sari market, a jewelery shop, and a bakery. "Most Indian people, for any occasion—for any wedding, any anniversary, any party—they buy gold, they buy new Indian clothes, and they buy sweets," said Sharan Gahunia, whose parents, Resham and Joginder, opened that bakery—Raja Sweets—in 1986. "Those were the three original businesses on Hillcroft, as far as Indian businesses go." The owners of those three stores are often called the founding fathers of the Mahatma Gandhi District, the official name Houston Mayor Annise Parker gave the area in 2010, Gahunia said.
Nowadays, the cows are gone and several dozen Indian and Pakistani businesses have taken their place. The kids of those original "founding fathers"—Gahunia of Raja Sweets, Anant Patel of Karat 22, and Aakash Lulla of Sari Sapne—are today grown and helping run their families' businesses. Patel's parents started theirs out of a Hallmark store in North Houston, taking displays of gold and necklaces around to fairs and motels in small towns across the South. Over the past three decades, their original space has gone through two renovations, growing to several times its original size and picking up marble statues and dark wood-paneled walls along the way. Similarly, Sari Sapne is now one of five stores owned by the Lulla family. They sell everything from vegetarian food to electronics that work with India's 240-volt circuitry.
Houston's South Asian community is a case study in how an ethnic enclave evolves. The city is relatively diverse and young compared to other American metro areas, with large groups of blacks and Hispanics. As of 2013, Asian Indians made up roughly 2 percent of the city and its surrounding areas, according to estimates based on data from the Census Bureau. The overall population is growing, and according to the Greater Houston Partnership, an association of local businesses, it may become even more ethnically mixed in coming decades. The changes that have happened on Hillcroft are part of that story: After the first few businesses, it only took a few years for the area to start "blowing up," as Patel put it. A lot of South Asian immigrants, including people from all over different regions of India and Pakistan, came to Houston for jobs in medicine, engineering, oil and gas, all big industries the Texas city. "You're talking about first generations, leaving their country and moving abroad—they needed somewhere that reminded them of home," Lulla said. "Everybody knew everybody, and this street was a meet-up point."
A lot of the shops are small and family-owned, and the more established ones have had to figure out new ways of doing business as they've grown. Lulla said he often sees sari shops opening up, only to close down quickly; competition on the block is fierce, and people will often walk back and forth between stores to compare prices and products. When it comes to food, owners are often secretive about recipes; Lulla said an employee at his family's restaurant quit only to open a nearly identical place down the street.
"I would love to have more Karat 22s. I'm not going to have more kids just to open them up."
This kind of thing has made it hard for the owners to trust their stores to people outside their families. Karat 22, for example, hired its first-ever manager just last year. "We had never had anyone open or closer our doors, ever, besides me or a member of my family, in 30 years," Patel said. He and his sister went away to school in Boston, but they eventually came back, hoping to help their parents' business expand. "The whole passing down through the generations: It's a very Asian thing to do," he said. "I would love to have more Karat 22s. I'm not going to have more kids just to open them up. Keeping with family is great, but you're not going to grow more if you keep thinking that way."
Over time the South Asian community in Houston has become fairly diverse in terms of geographic origin and cultural traditions. Gahunia's family is from Punjab, in northern India, but she didn't grow up religious. Her family's store has always served meat, including beef, which many Hindus don't eat; she said some of their best business is from Pakistani Muslims who buy sweets at the end of Ramadan. There's a small temple to Ganesh around the corner from Hillcroft Avenue, and Aku Patel, Anant's dad, helped with the development of the BAPS Shri Swaminarayan Mandir, a giant Hindu temple of white, intricately carved stone that sits a few miles south in Stafford.
The temple opened in 2004, said a volunteer there, Viral Desai, and was the first to open of the six major North American centers for BAPS, a Hindu denomination. It often gets around 1,000 visitors per month, including school groups and tourists. Roughly 200 to 300 families from all over Texas, including San Antonio and Beaumont, regularly come to pray and make offerings to the murtis, small statues of gods that sit behind glass panels in the main sanctuary dressed in bright clothing and covered in decorations and flowers. Even though Hindus are a religious minority in Texas, Desai said, he's never felt any kind of hostility or discrimination—the people in the surrounding suburbs are mostly curious. The temple sits on a vast green lawn surrounded by fountains and palm trees; that's a landscaping touch, Desai said, which is "a Houston thing."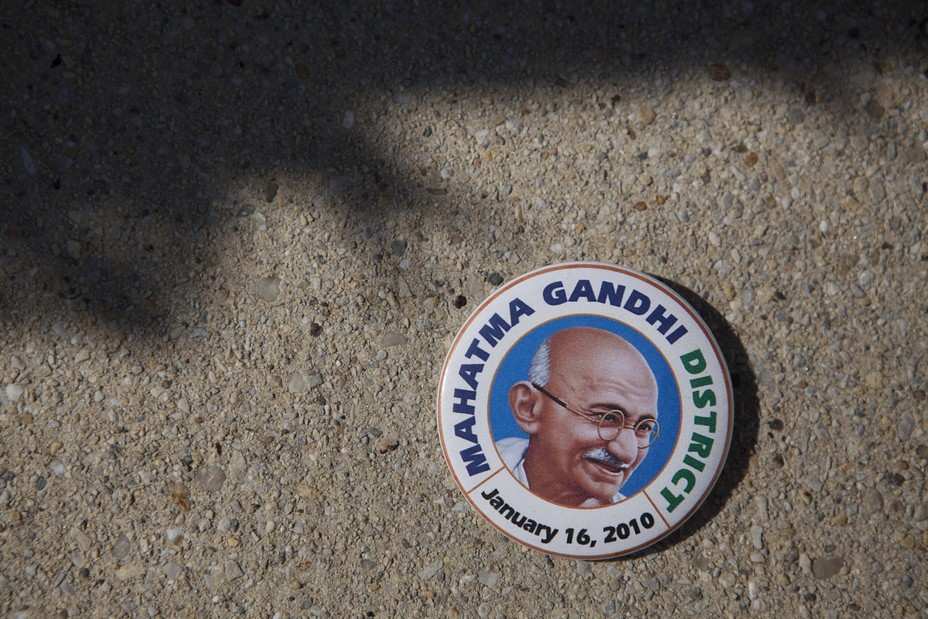 Back in Houston, a little ways away from Sari Sapne and Karat 22, Kaiser Lashkari's Himalaya Restaurant sits in another shopping center near a grocer and a self-described couture clothing shop. Writing on the windows promises chicken curries and "special" biryani, a mix of spices, meat, and rice. Lashkari, who was raised in Karachi by his Indian father and Pakistani mother, said he's never felt any tension between the Indians and Pakistanis who live in Houston. "When we change continents, all of that is left behind—unless it comes to the game of cricket, in which the rivalry is fierce and intense," he said.
He opened up his first take-out restaurant in Houston in 1994 after working for years as a hotel chef, and moved to a new location near Hillcroft in 2004. He and his wife open and close the restaurant every day and recently started taking one week of vacation per year; they taste every dish before it goes out. He's never ratcheted down the spice levels in his food to coddle a faint-of-palate American audience, he said; "if they can handle three-alarm Texas chili, they can handle this." He doesn't believe in buffets—"you just mass produce food"—but he's found other ways of catering to Texan preferences. "I don't think there is a soul born on earth who does not like fried chicken," he said. "So I took the Southern fried chicken and gave it a Desi spin."
Although he's a relative newcomer to the Mahatma Gandhi District compared to the Gahunias, Patels, and Lullas, and has to jostle with every other restaurant that claims to have a specialty unlike any other place in the neighborhood, he's not worried about competition. "This is something that you can't pull the wool over anyone's eyes," he said. "As soon as you put the food in your mouth, you know whether it's good or it's bad or it's mediocre." He rubbed his eyes a lot, tired near the end of a very long workweek and years of being in his restaurant almost non-stop. Like the other families who make their livelihoods in the Mahatma Gandhi District, he believes hard work is the key to staying open—and to surviving. "There are no shortcuts in life," he said, "and definitely no shortcuts in cooking."