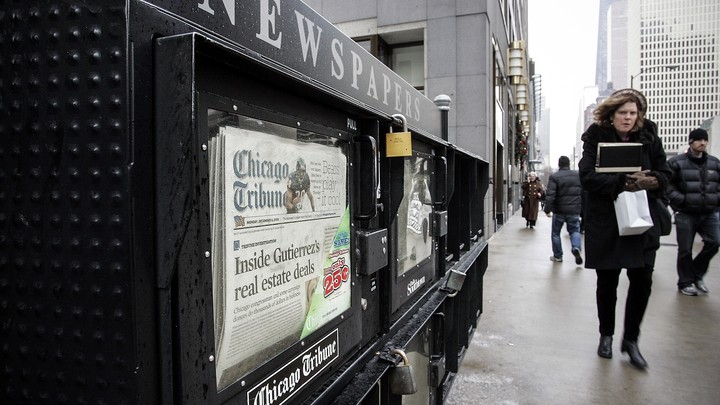 Gannett, the largest U.S. newspaper publisher that counts USA Today and other media properties across the country among its holdings, said Monday it is offering about $815 million to buy Tribune Publishing, which owns the Los Angeles Times, the Chicago Tribune, and nine other dailies.
USA Today reports that Robert Dickey, Gannett's CEO, made public a private offer made on April 12 to buy Tribune for $12.25 per share, 63 percent above the company's closing stock price last Friday. Tribune, however, has refused to begin formal negotiations, Gannett said, though Dickey has had several phone calls with Justin Dearborn, Tribune's CEO, and Michael Ferro, the company's non-executive chairman.
Here's more:
The bid, unanimously supported by Gannett's board, comes less a month after theMcLean, Va.-based company completed its $280 million acquisition of Journal Media Group, which includes the Milwaukee Journal Sentinel and The Commercial Appeal of Memphis.

Gannett spun off from its former parent in June of last year, retaining the publishing business but not its broadcast assets. At the time of the spin-off, Dickey made it clear that his strategy amid the turbulent print advertising market involved consolidating more media properties to strengthen its position on local reporting and local marketing and advertising.
Tribune has been hit by the same headwinds battering the rest of the industry, including falling print ad rates and the challenges posed by a fast-changing media environment. The company, in a statement, said: "The Board is now engaged, with the assistance of its advisors, in a thorough review. The Board is committed to acting in the best interests of shareholders and will respond to Gannett as quickly as feasible."
We want to hear what you think about this article. Submit a letter to the editor or write to letters@theatlantic.com.