The Ethnic Groups That Still Believe in the American Dream
Hispanics and Asians, more than might be expected, tend to trust that they have a fair shot at getting ahead.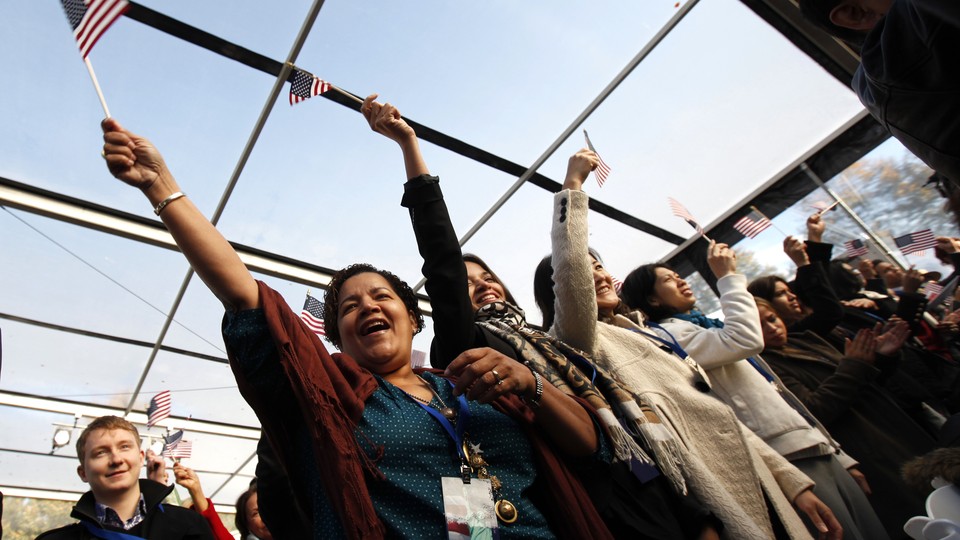 Despite the narrative, very popular in this election cycle, that Americans are having trouble getting ahead, Hispanics and Asians in the United States still believe in the basic premise of the American Dream—that anyone who works hard still has a fair chance to succeed and live a comfortable life.
This optimism is felt by over half of Hispanic and Asian respondents in an Atlantic Media/Pearson Opportunity Poll released on Tuesday. Most white and black respondents, however, said it is difficult for the average person to get ahead in an economy that mostly rewards the rich. Across all of the demographic groups polled, just 44 percent of respondents said that hard work can lead to a fair shot at success.
So, where is this confidence from Hispanics and Asians coming from? In part, it's tied to the fact that new arrivals have so many recent immigrants with similar backgrounds to lean on and consult, says Patricia Pérez, an associate professor of Chicana and Chicano studies at California State University, Fullerton. About 70 percent of immigrants currently living in the U.S. are either Asian or Hispanic, and that will remain the case for the next 50 years, according to the Pew Research Center. And those people who have immigrated in recent years are observing in their peer groups the success that comes in the generations that follow. Further Pew data shows that the U.S.-born children of immigrants are more likely than their parents to own a home, have a college degree, and have a higher annual median household income. Seeing this success is likely shaping Hispanic and Asian beliefs about social mobility.
In the Atlantic Media/Pearson poll, those two racial groups also seem to agree on the path toward success. Choosing between going to college, getting training or a certificate in vocational skills, or entering the workforce immediately after college, 67 percent of Hispanics and 58 percent of Asians chose college. (Most Americans agree.) And when asked if a four-year college degree was needed to be successful, 65 percent of Hispanics and 74 percent of Asians said yes. White and black respondents, though, polled at or below 50 percent on both questions.
While Hispanics and Asians agree in large part that going to college leads to success, those racial groups differ on actual educational attainment. Sixty percent of Asians aged 25 to 29 had a bachelor's degree or higher, but that's true of only 15 percent of Hispanics in that age group. (For whites and blacks, these figures are 40 percent and 20 percent, respectively.) Even though Hispanic college enrollment has skyrocketed by over 200 percent in the last decade—with around 2.2 million Hispanics enrolled in college in 2013, according to Pew—the number of Hispanics actually earning a four-year degree is lower than all other racial groups.
Hispanics are instead most likely to attend public two-year schools, but often face a difficult path in graduating from them, says Pérez. Those coming from low-income communities often test poorly on placement exams, and are then forced to take remedial English and math courses for two or three years before they can start taking classes that actually count toward transferring to a four-year institution. And that's if they are going to school full-time. "Who wouldn't get discouraged?" says Pérez. And even though more Hispanics are getting college degrees, the rates at which they earn them tend to stall three or four generations after a family immigrates to the U.S.
This has led to a general concern among the Hispanic community over this shortage of degrees. In this Atlantic Media/Pearson poll, Hispanics were most likely, at 50 percent, to say that not having a high enough level of education has been a major barrier to achieving their personal goals in life, polling 14 percentage points higher than black respondents.
Still, 53 percent of Hispanics believe they have equal access to employment opportunities compared to other Americans, despite earning considerably less in median household income ($42,500) than their white ($60,000) and Asian ($74,000) counterparts. That outlook, in part derived from seeing some of the long-run success of their peers, remains a buoyant force.
---
The Atlantic Media/Pearson Opportunity poll, conducted by Princeton Survey Research Associates International surveyed 1,276 adults living in the United States by landline and cell phone from February 10 through 25. The survey included oversamples of African-Americans, Asian-Americans and Hispanics. Interviews were conducted in English and Spanish. The margin of sampling error for the complete sample is plus or minus 4.3 percentage points; the margins of error are larger for subgroups.