The Cities Doubling Down on Highways
Physically expanding roads doesn't cure congestion. So why are places like Arkansas spending millions to do just that?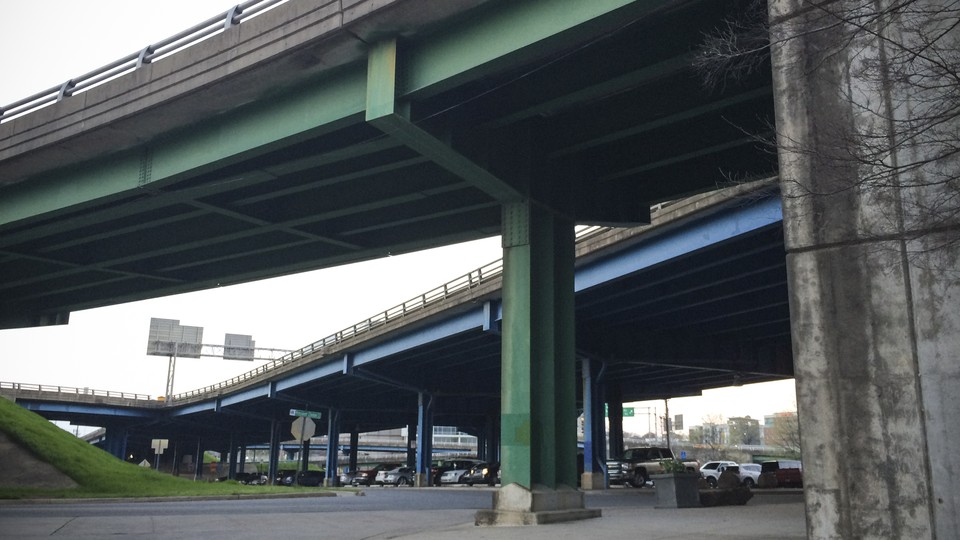 LITTLE ROCK, Ark.—Interstate Highway 30 runs over the Arkansas River. Every day 126,000 cars travel along it, to North Little Rock and suburbs farther afield. Things usually run smoothly, but some days, traffic builds up around rush hour. Also, the Federal Highway Administration has declared the bridge to be structurally deficient. For these reasons, state planners want to tear down the existing six-lane freeway and erect in its place a behemoth: a 10-lane highway.
This is happening at a time when a revitalization of the River Market district, located on the Arkansas River just beside the highway, is starting to take hold. Condos are popping up in the area, next to pubs and restaurants and book stores, creating a type of walkable downtown area that hasn't been present in Little Rock for decades.
Little Rock's Tim McKuin says that the highway expansion will end that revival. He is so opposed to this proposal that he created a group, Improve 30 Crossing, to fight against it. He says a 10-lane freeway would harm the wetlands near the river and cause noise and pollution harmful to nearby residents. (An initial plan sought to make the highway 12 lanes.) "They say, 'For future success, we have to bring more and more cars to downtown Little Rock,' but it's already dominated by parking," he told me, as we walked through the River Market district and restaurants and bars brimming with people on a spring night. "If we bring 50,000 more cars a day it's going to be harder for this area to expand."
Half a century ago, urban planners pushed for the erection of freeways through the downtowns of major cities across America. The idea was to make it easier for residents to travel between cities and from inner cities to the suburbs. These projects often included "urban renewal" efforts that tore up poor, historically black neighborhoods, and replaced them with office buildings and parking lots. Little Rock had one such neighborhood, Ninth Street, which now sits across the highway from the River Market district and is all but abandoned, with one original building remaining. That building hosts a business that is selling decals, pennants, and American and Confederate flags.
Now, though, Baby Boomers and Millennials are moving back to city centers, eager to get rid of cars and walk to work and to nightlife. In many cities, including Milwaukee and Boston, planners have tried to encourage that walkability by tearing down urban freeways and putting parks and new businesses in their place.
In many other cities, though, including Little Rock, states are doubling down on highways, expanding lanes and building more concrete structures through residential or urban areas. Colorado wants to spend $1.2 billion to widen I-70 in Denver. Louisville is planning to widen I-71 to six lanes, from four. Iowa is widening U.S. 20 to four lanes. And in Birmingham, the state of Alabama wants to widen I-20/59, which passes right through the city center. It's a testament to Americans' continuing obsession with cars—citizens have relied on them for decades, and don't want to think about a life without them. No matter the effects on the city underneath.
"If [the Alabama Department of Transportation] proceeds unabated, they will be reinforcing something that has become a barrier in our community for 50 years, and making sure the barrier stays in place for the next 50," Darrell O'Quinn, a resident of Birmingham who opposes the widening there, told me.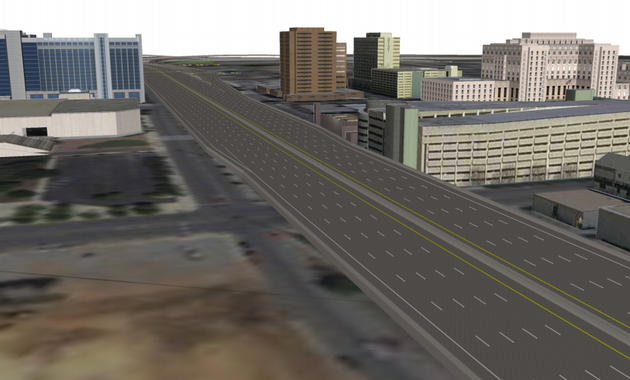 The expansions are curious especially given the numerous studies that show that widening roads doesn't reduce traffic. When Texas expanded the Katy Freeway in Houston to 26 lanes to reduce congestion, for example, travel times increased by 30 percent in the morning and 55 percent in the evening.
"Congestion has been looked at pretty carefully [and the conclusion is that] it's difficult to build your way out," said Robert Krol, a professor at Cal State Northridge who has studied this issue.
But it can be difficult to dial back highway spending. There's much more federal money available for highways than for anything else, and that funding is apportioned to states, which can go forward on highway projects without much oversight. Though they could invest in transit or smaller networks of streets, states have prioritized highway construction for more than the past half-century, and it's easier to keep doing that than to dramatically rework their budgets. And when state transportation departments spend money that comes from outside, they are less likely to feel accountable to local communities than they would be if they were spending local tax dollars.
In Little Rock, the highway I-30 needs to be repaired, the state says, because of heavy traffic on the bridge that brings the highway over the river. The bridge would be unsafe during a seismic event, according to the Arkansas State Highway and Transportation Department, simply called "the Highway Department" by locals. The Highway Department has put forth a plan, 30 Crossing, that would widen both I-30 and I-40. In a 2015 application for a federal TIGER grant, the Highway Department calls it the "largest and most ambitious project ever planned to be undertaken" by the department.
There's no question that cars are the dominant method of transportation in Arkansas. The state's is the 13th largest highway system in the country (in terms of miles of roads), even though its population is the 33rd largest. In 2014, the last year for which data is available, the top 10 of the state's Highway Department contracts were all for highways, including $38 million for the widening of Interstate 40 and $21 million for widening another highway, 63.
In 2012, voters passed a Constitutional Amendment that levied a half-cent sales tax to support a series of road expansions that the Highway Department called "the largest single highway program in the history of Arkansas," even as receipts from the gas tax were shrinking. But when Pulaski County, where Little Rock is located, asked voters to pass a transit tax earlier this year to fund more bus routes, it failed 56 to 44 percent.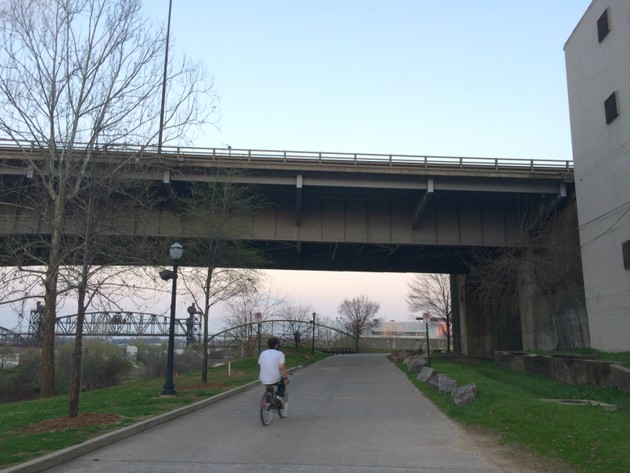 The support for highways could be because people in the region are moving further from the city center, to suburbs served by the highways. Between 2010 and 2015, suburbs such as Austin grew 25 percent between 2010 and 2015, while Bryant grew 19.6 percent, according to the region's Metropolitan Planning Organization, called Metroplan. Little Rock grew up 3.1 percent in population, and Pulaski County, where Little Rock is located, grew just 3.3 percent, while Saline County grew 8.7 percent.
Suburbs often grow when highways are particularly robust; if people can quickly get out of the city center to far-flung neighborhoods, there's little incentive for them to stay in the city. But the causal arrow runs both ways: Once there are robust suburbs, the residents there tend to support projects that will benefit them, and those projects include roads that will supposedly make their commutes faster.
Regional politics often favor spending on resources to suburbs, especially when their populations grow so quickly, according to Joseph DiMento, a professor at UC Irvine who has studied the construction of urban freeways.
"Once people move to the suburbs, they want to be serviced, and historically, the suburbs were wealthier and more politically important, so their votes would go for replacing the freeway and improving it, rather than displacing it," he said.
There's another factor that leads to more and more building of highways. Highway departments in many states operate as independent fiefdoms with little oversight or accountability. They often over-estimate the benefits of widening highways or of building new ones, while under-estimating costs, said Krol, the CSUN professor. That's the case in Arkansas, according to Warwick Sabin, a state representative who opposes the highway widening. The Highway Department is governed by an appointed commission created in the 1950s as a response to corruption, he said. Members serve 10-year terms.
"Over the years, what's developed is that the Highway Department doesn't feel accountable to members of the Legislature, and by extension, they don't feel accountable to the voters or citizens, or anybody else in the state of Arkansas," he told me.
The Highway Department must first get approval from Metroplan to go forward because the proposed highway would be wider than policy allows in the region's long-range plan. It needs a waiver; Metroplan has not indicated how it will vote. Sabin says that as city leaders have expressed concerns about the widening plan, the department has threatened to pull funding entirely and spend it somewhere else in the state if it doesn't get to expand the lanes.
"They act like a spoiled brat in the playground," Sabin told me.
A Highway Department spokesman told me that the funding for the project was not "geographically tied," and that it could be moved elsewhere in the state. When I asked him about locals who disapprove of the project, he referred me to a FAQ on the department's website.
"Will widening the interstate necessitate additional highway widening, urban sprawl and inner city job loss?" the relevant question asks.The answer leaves little question as to what needs—and which people—the state is thinking about in expanding the highway. The highways must be widened, the state answers, because the region is projected to grow by 220,000 people in the next 25 years, with 75 percent of that growth occurring outside of Pulaski County. "Severe congestion on I-30 near downtown Little Rock and long commutes to the Central Business District could incentivize businesses to move out of downtown and to the suburbs," it says.
In Alabama, the highway department is proceeding with the plan to expand I-20/59, even though business groups have come out against it and a nonprofit has filed a lawsuit against it. O'Quinn, the executive director of that group, Move I-20/59, suspects the state wants to get the work done before a judge decides on the lawsuit.
"They are actively trying to outrun us," he told me.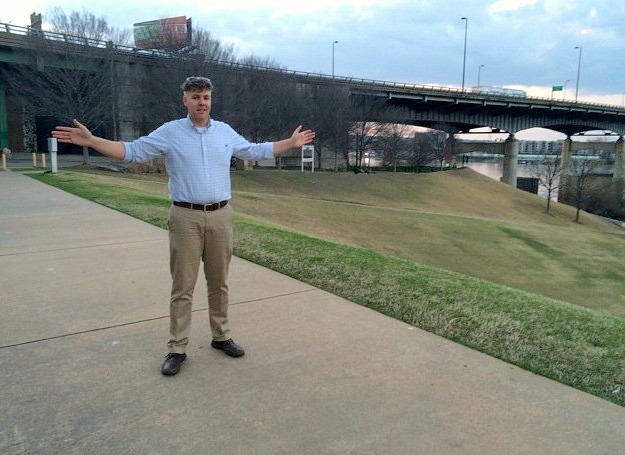 After McKuin and I walked through the River Market District, we headed towards I-30, which is at the east end of the area, and separates it from the glass structure of the Clinton Presidential Library and Museum. We walked towards the highway along a bike and running trail that stretches for miles down the Arkansas River, past an outdoor amphitheater and a playground filled with kids. As we approached the I-30 bridge, the noise from cars above got louder. About 20 yards away from where the highway towered above, McKuin stopped.
"This is where the expansion would end," he said, looking up at the sky that could soon be covered by more highway, and then down at the kids riding their bikes underneath.
Then McKuin and I went to Ninth Street, the historically black neighborhood that had been decimated by the construction of a separate freeway, I-630, between 1969 and 1985. Today, it's largely abandoned, with parking lots, and fenced-in plots of land. McKuin pointed out the historically black churches that used to be attended by people who would walk from their homes. Now, there are few homes, and those that exist seem empty. There are also few local stores. We walked down the street, and as the highway hummed nearby, we found a sidewalk where people used to walk. Today, it disappears into overgrown grass.