The American Neighborhoods Without Water, Sewers, or Building Codes
Low-income residents bought cheap land outside of border cities decades ago. But the promised infrastructure never came.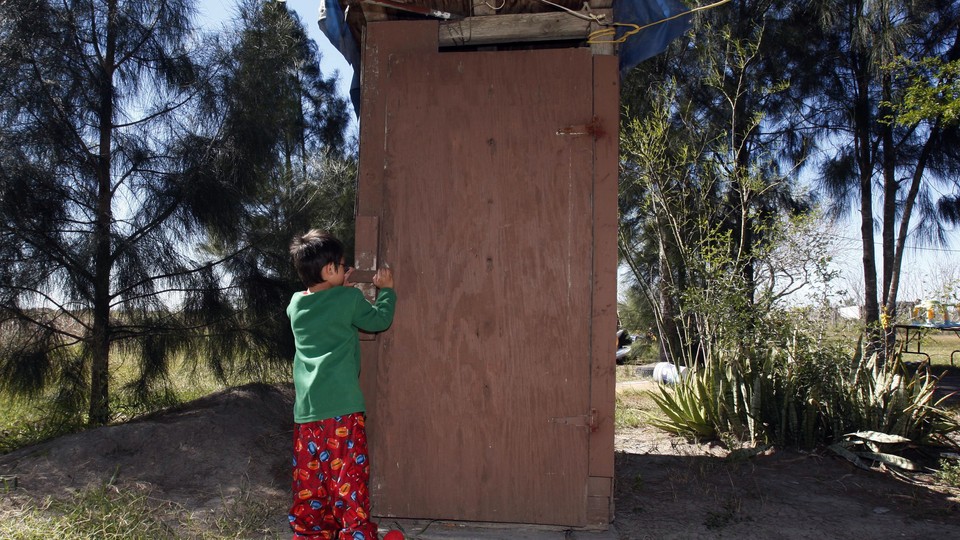 MONTANA VISTA, Tex.—No one objected when developers bought up dusty vacant land here in the 1950s and 1960s and turned it into unincorporated subdivisions—areas outside city limits where no one had authority to enforce building standards.
Neither the state nor the county stepped in when the developers turned around and sold that land—making empty promises to later add running water and sewer systems—to low-income immigrants who wanted, more than anything, to own a home of their own. And no one batted an eyelash when low-income landowners in these unincorporated border subdivisions, called colonias, started building homes from scratch without building plans or codes, or when they started adding additions to those homes as their families grew, molding structures together with nails and extension cords and duct tape.
That's because, in Texas, all of these actions were perfectly legal. Texas prides itself on its low taxes and lack of regulation, but it's possible that decades of turning a blind eye to unregulated building  is starting to catch up with the state. Today, around 500,000 people live in 2,294 colonias, and many still lack access to basic services, such as running water or sewer systems. Lots of residents live in dilapidated homes with shoddy plumbing and electrical wiring that they've cobbled together themselves to save money on contractors. And now, they want the state to pay to extend basic services in their homes. Water, for instance, should be a human right in America, they say.
"You have families that live in third world conditions in the state of Texas with a modern city just miles away," said Veronica Escobar, the County Judge of El Paso, who functions as a county chief executive. "But the state of Texas has essentially put counties in charge of health, safety and welfare, at the same time they give us very limited authority."
Alejandra Fierra lives with her husband in the Hueco Tanks colonia, where they bought land in 1987. They still don't have access to running water or a sewer system. When her children were growing up, she would pour water from a well into a tub and wash them, one, two, three, in the same water. She does the same for her dishes. She gets a delivery of a 2,500 gallon water tank for bathing and washing, and buys bottled water from Walmart for drinking and cooking.
In Montana Vista, a colonia some 22 miles east of El Paso, the septic tanks of the 2,400 families who live there frequently overflow, creating rivers of sewage in their backyards. In the summer, the smell can be horrific. Tina Silva, a resident and activist, lives here in a spacious one-story adobe house surrounded by a stone wall. She raises chickens and a giant pig in her backyard, where a rusted out car sits, half painted, in the sun. She loves her home and her neighborhood, but she doesn't understand why it has taken so long to put in a sewer system. "We're human beings. We pay taxes. Somebody needs to listen to us," she says. Various politicians have promised her they'd help get the money to install services, but it's never actually happened, Silva told me.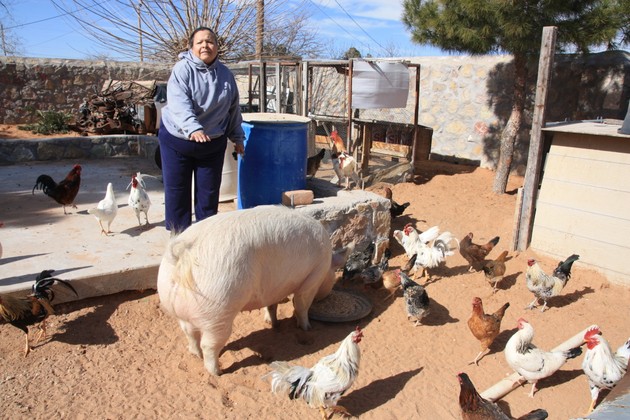 Part of the problem is that no one wants to take responsibility for paying to install these services. The developers who sold the land promising water and sewers are long gone. And for many the thinking—at least according to Escobar—is that if the homeowners wanted to buy land without access to running water, that's their problem.
It may seem obvious that the homeowners who bought cheap land without access to water and sewers should be responsible for installing access to services. But that isn't realistic either. More than 40 percent of colonia residents live below the poverty line, according to a 2015 report from the Federal Reserve Bank of Dallas. The median household income in colonias is less than $30,000 per year. And the conditions in the colonias are troubling. There are water and mosquito-borne illnesses, high rates of asthma, lice, and rashes. One doctor told the Texas Tribune that rates of tuberculosis in the colonias are two times the state average and that there is a lingering presence of leprosy.
In 2012, the Texas Department of State Health Services issued a nuisance determination in Montana Vista documenting the health problems the septic tanks were causing, which meant the El Paso Water Utility could receive a grant for more than half of the project costs. In December, the Texas Water Development Board agreed to provide a $2.8 million grant to El Paso Water Utilities so that the utility could start designing the sewer system. But it will cost an estimated $33 million to build the system, and that money has not yet been secured.
"It's getting there, unfortunately, it's taking a lot of time," said Munzer Alsarraj, the infrastructure program manager for El Paso County.
The state is stepping in to upgrade some of the colonias, too. Between 2006 and 2014, 286 more colonias, were linked to drinking water, drainage, wastewater disposal, paved roads, and legal plats, according to the Federal Reserve report. In 2006, 443 colonias had access to no basic infrastructure, by 2014, that number had dropped to 337.
But it's slow going.
It's not easy to install infrastructure in areas that are far from the main water and sewer lines and in places that have grown with no central plan. It was not until 1989 that the Texas legislature even asked state agencies to come up with rules that would ensure new residential developments had access to water and sewer services. Now, cities can regulate development in Texas, but in unincorporated areas, counties have little regulatory power. Zoning regulations that would limit the size of buildings or of lots in cities don't exist for the colonias.
In some instances, the county can't install infrastructure to homes because they're not up to code. Because people building on unincorporated land don't have to follow many rules, there are odd constructions in the colonias, including units that combine two RVs, homes with rooms tacked onto the side standing on  cinder blocks, homes with extension cords that run  outside, wooden planks as sidewalks. This makeshift construction can lead to roof collapses and electrical fires, said Irene Valenzuela, the interim director of community services for El Paso County.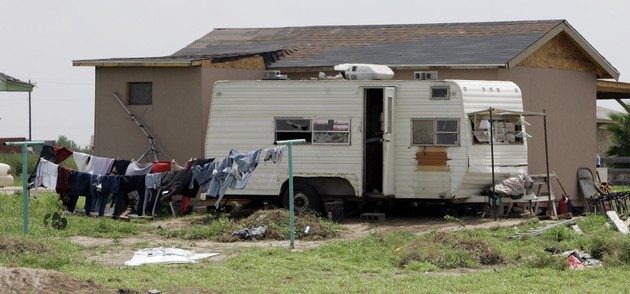 The county is giving grants out to people interested in bringing their homes up to code, but people are often hesitant, she said."I think the majority of them are afraid," she said. "They say, 'This is a takeover. What are you going to ask for next? If you assist me, are you going to take my property away when I pass away?'" Alsarraj, with the county, added.
Then there's the cost. The county is trying to install sewer lines in the Square Dance colonia. That colonia is located just a few blocks from established subdivisions that are part of the county's water and sewer system. But the price of adding those services to the colonia's 264 homes is $8.5 million. Installing water and sewers in another colonia, called Hillcrest, would cost about $120,000 per home, Alsarraj said. But the homes are worth just $20,000 to $30,000 each.
It's ironic, too, that the county is trying to extend water and sewers to far-off subdivisions as it also tries to execute a vision that cuts down on sprawl. "For 30, 40 years, we've continued to sprawl out to the edges of the earth and it was costing us more than we were making as a community," Beto O'Rourke, a U.S. Congressman who led the charge to cut down on new subdivisions, told me.
But El Paso has had little success regulating far flung subdivisions, even when they are incorporated.
Perhaps most worrying to Escobar and others is that new colonias are still being built across the state. This time around, they have basic water and sewer hookups, but don't have paved roads or streetlights, according to the Federal Reserve. Plots cost as little as $25,000, and developers offer 20-year financing at a 12 percent interest rate and just $500 down, according to Bloomberg News.
It's proof to Escobar that developers will always be willing to sell substandard plots of land to people desperate to own a home. But she had hoped Texas would step in and regulate.
Two sessions ago, the county tried to get permission for zoning authority over 60 square miles near a border crossing south of El Paso. But the state legislature refused to grant it , in part because real-estate agents objected to the bill, said Escobar, the judge. Legislators also didn't believe that government should trump property rights, she said. But perhaps that's because they don't have to deal directly with the after-effects.
"We are having to fix the problems caused by unregulated government," Escobar said. "There are innumerable examples and costs associated with fixing problems that could have been prevented. There's just a fundamental belief in Texas—if you own property, you can do what you want with it."