Can Texas Figure Out How to Teach English to Immigrant Children?
Schools in El Paso are struggling to find the funds and the format to help low-income Spanish-speaking students.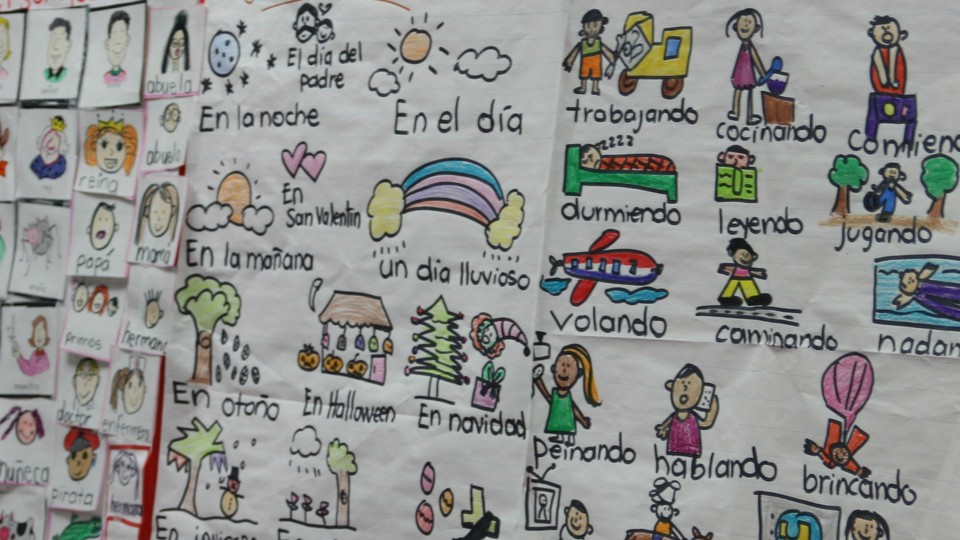 EL PASO, Tex.—Out of all the cities in Texas, this would seemingly have been the one where schools knew how to help Spanish-speaking students learn. El Paso is progressive and welcoming, and is more than 80 percent Latino. Its close ties with Ciudad Juarez, just across the border, means that the city embraces its Mexican roots and the people who have crossed the border for a better life. But a recent cheating scandal revealed that not even El Paso could successfully figure out how to best educate English-language learners.
In an effort to improve state test scores at Bowie High School in the 60,000-student El Paso Independent School District, administrators told some low-performing—mostly immigrant students—to drop out of school. And for years, administrators contorted their student rolls, skipping students from 9th to 11th grade so they wouldn't have to take the state tests in 10th grade and bring down the school's scores. Others, they chose not to educate at all: Many Spanish-speaking El Paso students at Bowie High School and others in the district were simply "disappeared" out of school rosters, their transcripts changed so they could be shown to have graduated, without ever having finished high school.
After the El Paso Times revealed the depth of the cheating scandal in 2012, the superintendent of the El Paso Independent School district went to jail, and the border city vowed to do better for its low-income, Spanish-speaking students.
Part of the problem is resources: Texas cut $5.4 billion from its public-schools budget during the recession, and a number of lawsuits allege that the state's method of allocating revenue hurts lower-income districts in particular, which are often the schools with the most English-language learners. Latino rights advocates have been battling the state since 1970, arguing that it discriminates against minority students by failing to fund programs for English-language learners. An offshoot of that case, filed by the Mexican American Legal Defense Fund in 2014, accuses the Texas Education Agency of failing to effectively monitor, implement, and enforce programs for English-language learners.
Another problem may be the political optics of beefing up programs for non-English speakers.Texas legislators don't want to be seen as spending state money on Spanish speakers, says Marco Portales, a Texas A&M professor who studies education trends. "It's a conservative state, and they don't want to be perceived as helping or teaching kids with other languages," he said. "They're not like in California. California plays up the fact that they teach more than 70 languages. You'll never hear Texas say any such thing."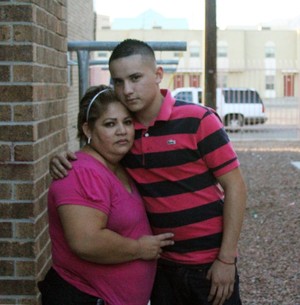 There are scattered programs through the state that use the dual-language method, which teaches children in both languages, but they're not the norm, he said. Some districts just have English-as-a-second-language courses, others separate Spanish and English-speaking students for much of the day.
Research may show that English-language learners do best when they are taught in two languages, but implementing bilingual education programs can be tricky. School districts in Texas, and even those in El Paso, can't seem to decide the best method for educating English-language learners. El Paso might be just across the border, after all, but it is in America, and teaching American kids in Spanish, some administrators worry, may not prepare them for the real world.
People in the district might have once thought that it was okay for students to learn only in Spanish because of the prevalence of Spanish speakers in the El Paso region, Xavier De La Torre, the superintendent of one of the biggest school districts in the El Paso region, Ysleta Independent School District, told me. But there are downsides: For instance, he sees elementary-school teachers who grew up in the district who still struggle with English. Teaching his students English is the only way to make sure they're going to be prepared for the 21st century workforce, he said. It's ok if they struggle for a few years. He says he'd rather students take Texas's state assessment test in English and have them perform poorly than encourage them to take it in Spanish. "I always ask why is it that every other country can learn how to speak English, and acknowledge and embrace the fact that a great deal of business is still conducted in English, and we can't find a way to educate our own students," he told me.
De La Torre didn't know much English when he started elementary school as an immigrant in California. But he learned. He had to; it was sink or swim. As superintendent, De La Torre, is starting to wonder whether that type of "sink or swim" approach could be best for his students.
His students currently start out in a program that teaches them in Spanish 90 percent of the time. At each grade level, they learn a little bit more in English and less in Spanish. By sixth grade, students are supposed to receive only 10 percent of instruction in Spanish.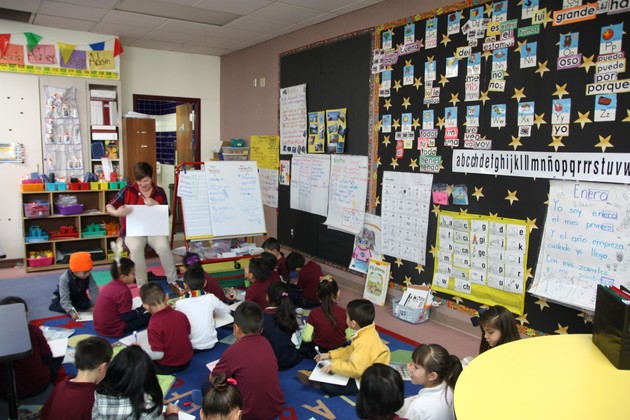 But De La Torre worries that this approach isn't as effective as one might hope. Teachers want to see their students learn, and if the only way they think they can understand a subject is to teach it to them in Spanish, teachers will bend the rules a little, he said. Then, when students arrive at middle school and are taught only in English, they're completely lost and way behind. Last year, only half of non-English speakers were meeting academic proficiency standards in the district, down from 60 percent the year before.
"It's 'Poor Juanito‑he's barely making it and now they want me to push him?'" De La Torre told me. "He's struggling so I concede and I start having most of our conversations in Spanish, in fact I begin to encourage him to do [assignments] in Spanish so that he can feel success, if not in life, at least here in school."
De La Torre is now implementing an "aggressive" approach to English-language acquisition, adding software programs to track the amount of time that students spend learning in English. He's telling schools to include more English instruction in early grades and to hold students accountable for knowing academic concepts in English. He wants students to be able to talk in English, of course, but also write papers and communicate in what he calls "academic" English.
When I visited the Ysleta elementary school, the principal Norma Corral walked me through the library, where Spanish-speaking children sat at computers with headphones as a program taught them English. In the classrooms, Spanish-English dictionaries were piled in the corner and posters of the alphabet in both Spanish and English were tacked on the wall. In some classrooms, teachers instructed the more advanced students in English, while the students who were still struggling sat with headphones at separate tables off to the side, learning from laptops.
"When I first came here, I can honestly say that we were a Spanish-immersion school," Corral said. But now, that is changing, she said. A newly implemented program gives students computers to take home so they can continue English-language learning after school hours. They're also adding chants and songs in English so the students will become more comfortable with the language. When Corral asked a bunch of young kids about their newest chant, they responded in unison:
"Be here, every day, all the way, attendance counts!"
But Elena Izquierdo, a professor in bilingual education at the University of Texas at El Paso would tell you that immersing Spanish-speaking children in English classes doesn't work. She's now consulting the El Paso Independent School District as it moves forward after its cheating scandal, and says that type of approach was what led to the scandal in the first place.
"What it created was a lot of kids that were left behind," she said. "They learn some English, but not enough English, and they get behind in understanding of other topics. By the time they get to middle school, there are so many academic gaps."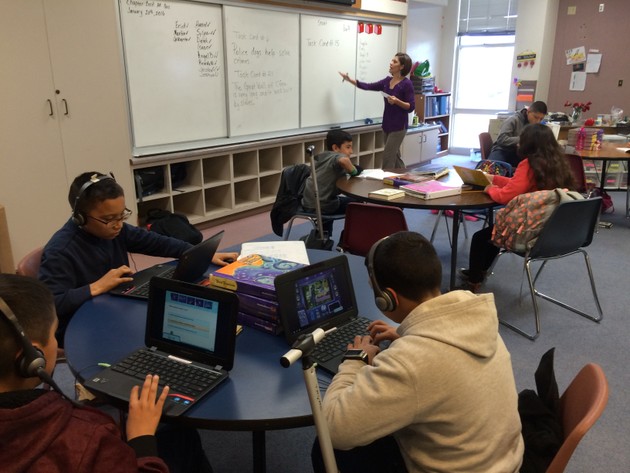 That immersion approach that De La Torre is considering for the Ysleta school district is the one that's been tried elsewhere in Texas, and across much of the country, she said. That's led to the creation of so-called long-term English language learners who have been in school for years but aren't learning much English and aren't progressing academically. California, New York, and Colorado at least track these students, but Texas, she said, is in denial. "I think that as a state we don't do enough to promote the quality programs that our English learners need," she said.
She is helping the El Paso Independent School District roll out a different plan, one she calls the "Ferrari" of bilingual education programs, that she says could serve as an example for best practices for districts like El Paso. The program, which the district began in  2014, teaches all students in English half the time and Spanish half the time. Beginning in the district's kindergarten classrooms, all students learn all subjects in both languages, so everyone becomes bilingual, she said. The district will continually assess the students to make sure they're learning in both languages and comfortable about speaking in all subjects in both languages (in Ysleta, students learn Social Studies in Spanish). They'll also be allowed to test in both languages, until they've become comfortable enough with English to focus on the state tests.
It's almost the opposite of the Ysleta's approach, but Susie Byrd, an El Paso Independent School District board member, thinks it's the right direction. She says that El Paso needs to come to terms with its large Spanish-speaking population and focus on how best to educate English-language learners alongside other students, rather than trying to hide them or force them out. "The duty of a school district is always to provide the best education for each student," she said. "And if you know that the research shows that the only program that closes the gap is dual language, then you have a moral obligation to provide that." Many people like to tell the story of how they grew up in English immersion and succeeded, but in reality, many of those kids get left behind, she said.
De La Torre knows that he can't switch back to total English immersion right away, there would be controversy in the district. Many parents want to make sure their kids keep up in Spanish, too, and there are cultural minefields around trying to ban the Spanish language in Texas. He prefers the slower approach they've devised, adding more and more English and allowing less Spanish with each year. At the same time, his neighboring school district, Ysleta, will be experimenting with a very different method. Though different in execution, both plans have the same important goal in mind.
"If you look at most of our school districts in this area, the thing that keeps them from being great school districts is that no one has figured out how to solve the English-learner problem," he said. "If we could find a way to reach English learners, our district performance would skyrocket overnight."