Why Tech Is the Leading Industry on Parental Leave
Etsy is the latest company to offer extremely generous paid leave—a policy many of its peers are using to attract and retain highly-skilled employees.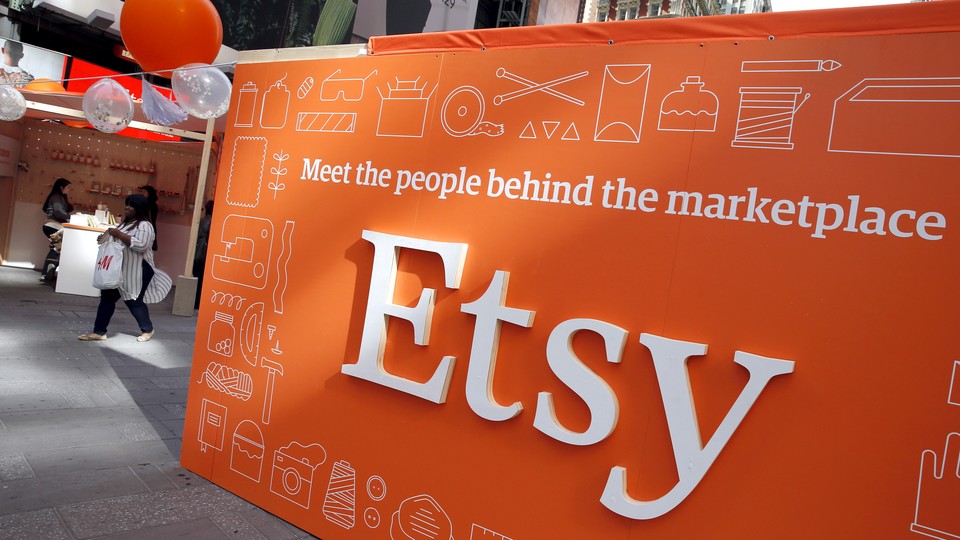 On Tuesday, the online retailer Etsy became the latest tech company to offer an extremely generous (at least by U.S. standards) parental-leave policy. Starting this April, new mothers and fathers at the company will be able to take 26 weeks of paid leave (eight weeks immediately following birth and 18 more that can be spread out over two years). Previously, the company gave its U.S. employees 12 weeks of maternity leave or five weeks of paternity leave.
"Speaking as a parent myself, and as a CEO, parental leave was really important to me personally," said Chad Dickerson, Etsy's CEO. "I think family leave has been more and more on people's minds." One explanation for why paid-leave policies are so rare is that most executives are men, who don't get the brunt of childcare duties and thus don't personally feel the need for such policies. But this may be changing, as tech founders from a younger generation start becoming parents themselves.
Last year, Netflix announced that new mothers and fathers in its ranks would be free to take as much time off as they'd like during the first year of their child's life. Etsy says it believes that unlimited leave, though generous, leaves too much up to cultural norms and managers' expectations when new parents are considering how much time to take off. "I think our concern has been just that without that guidance employees can actually feel unsure about the signals that are sent by their choice of how much time to take off," says Juliet Gorman, Etsy's director of culture and employee engagement.
But even generous leaves that are well-defined can still pose practical problems at work, which Etsy accounts for. Gorman says that in addition to having a budget to hire temps when employees are taking paid leave, Etsy's engineers regularly undergo cross-training, which lets them work on different projects. Dickerson says the company is already focused on strong back-ups—having a number-two that can take over during illnesses or vacations—which puts the company in a good position to handle the absences of new parents taking leave.
The policy at Etsy, which is based in Brooklyn and has around 800 employees, is competitive with several larger Silicon Valley companies, including Google, Facebook, and Twitter. The U.S. tech sector has been leading the way in offering paid leave for new parents. But why has it been so much more focused on this benefit than other industries?
One possible explanation is that this is just an extension of luxe tech-employee perks—laundry service, travel stipends, haircuts, etc.—into parent territory as Millennial workers start to have kids, but there are a number of other potential reasons too.
For one thing, it's a way for companies to compete for talent. "It's an incredibly competitive employee market," says Katie Bethell, the founder and director of PL+US, a grassroots organization fighting for paid leave in the U.S. Bethell says that highly skilled tech workers have serious leverage, as companies in the sector are keen to retain their workers. "There's a little bit of perfect storm here where the sought-after employees and the people at the top of these organizations are all realizing at the same time that having a baby is really really hard," Bethell says.
Further, as tech companies become international entities, they have to catch up with other countries' policies. The U.S. is the only OECD country that doesn't mandate paid maternity leave. So for American companies recruiting skilled tech workers abroad for overseas offices, it's not only a matter of legality to offer paid leave for its workers in other countries—it's about matching those policies for its U.S. workers.
Dickerson and Gorman at Etsy echo these sentiments. Gorman explains that 26 weeks of paid leave will be a global standard at Etsy, which will either meet or exceed the cultural norms of every country where the company does business. "The success of your company really depends on the engagement of your employees," says Dickerson, the CEO. "For me it's a really practical matter, if you want to bring the best people to your company, and have the most-engaged employees, and have the families of the people in your company behind them and supporting them to help make the company successful."
But advocates for paid leave, such as Bethell, say that generous policies from a small number of rich companies are no substitute for a government policy that would help all working parents. "It's great that these companies are taking the lead in doing this and showing that it's possible and beneficial, but if we want everyone to have paid family and medical leave we need to have a national insurance program," says Bethell, referring to government-funded universal programs. "Otherwise, there will always be people who are left out either because their companies refuse to have these policies, or they're at places that are small enough that they don't have enough space to socialize that cost."