Taking the High Ground—and Developing It
As sea levels rise, investors in Miami are buying up land with higher elevation, sometimes displacing low-income residents.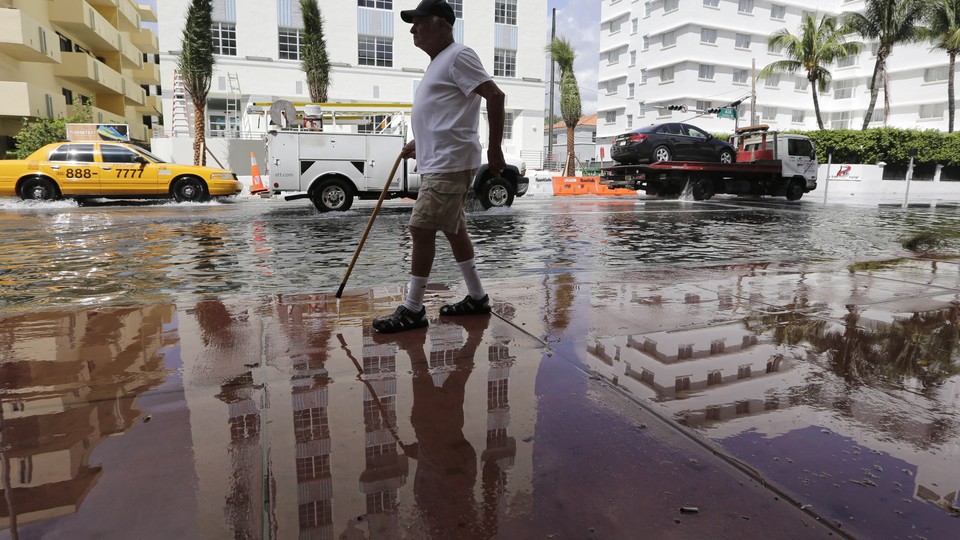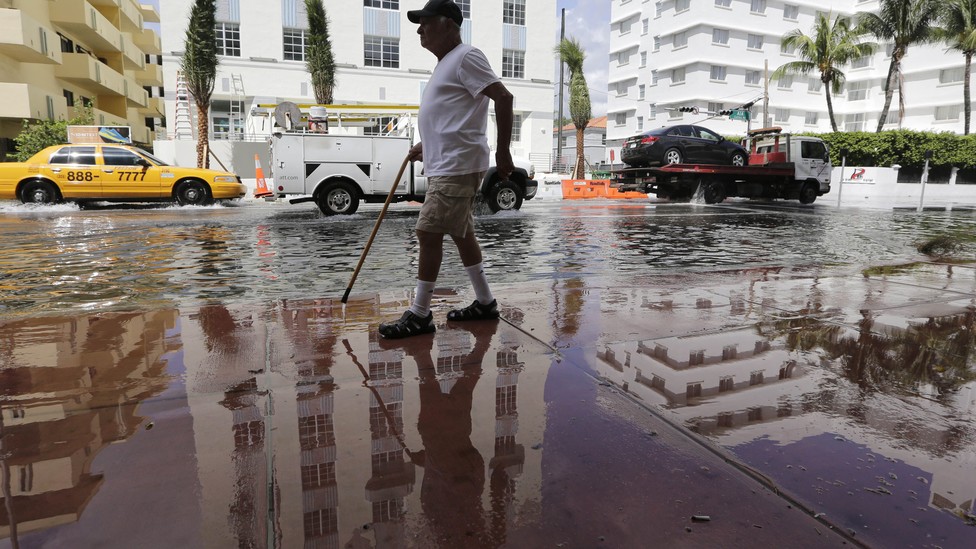 MIAMI—Sea levels are rising here at the rate of an inch a year, and if trends continue, they will rise six feet well before the end of this century. By then, the ocean will have subsumed the city's low-lying, densely-populated areas—the wealthy coastal enclave of Coral Gables, much of Little Havana, downtown Miami, and of course Miami Beach.
There is nothing Miami can do to stop this. Even if global emissions dropped dramatically today, the city would still be locked in for 15 feet of sea-level rise over the next 200 years, says Jeff Onsted, an associate professor at Florida International University's Sea Level Solutions Center. The rising water won't be produced by a single weather event, but will gradually become a part of residents' lives. And while major cities such as New York can build seawalls, Miami is defenseless because it's built on porous limestone that would allow ocean water to come up from under the city. Already, yards and streets remain flooded even days after rainstorms have rolled through the city.
But this looming threat isn't detectable in the massive ongoing construction along the waterfront in Miami. There's $10 billion of development underway in the city's downtown, featuring new luxury condos and stores, while the beachfront across Biscayne Bay in Miami Beach is still the hottest property in the area. In the Coconut Grove neighborhood along the water in Miami, a new high-rise is going up right across the street from the Miami City Hall. There, I asked Mayor Tomás Regalado if developers are going to stop building on the waterfront, considering the predicted rise in sea level. "The developers?" he recoiled. "Of course not."
As long as there is demand to live along the ocean, and as long as banks continue giving out loans that will be fully paid before the sea level gets too high, developers will keep building high-rises in areas that will be underwater in just a few decades. "Developers are still coveting waterfront property as if there were gold underneath," says Horacio Aguirre, a local real-estate broker and the chairman of the Miami River Commission, a state-created watchdog group. Even city officials hesitate to suggest that developers should look to higher ground. Peter Iglesias, the city's building director, doesn't deny that the sea level is rising, but is wary of limiting construction on Miami's present-day waterfront. Before any big decisions are made, he cautions, "we need to look at the science very closely." He insists there is too much money on the line not to.
Onsted, the FIU professor, frames things in starker terms. "We cannot save Miami," he says. "That does not mean that nobody will live here in 100 years, but it can't be like this. Miami must only adapt." And that means building on higher ground.
When the ocean waters flow inland, bringing the coastline past the sunken nightclubs of Miami Beach and the submerged high-end boutiques of Brickell Avenue, Miami's waterfront will be revised. For instance, the land near the train tracks in Lemon City and Little River, two blighted neighborhoods that together make up what's known as Little Haiti, will become a lot more valuable. As Peter Ehrlich, a board member of the advocacy group Scenic Miami, predicts, "Even though the tracks are a mile in, that may be the future waterfront."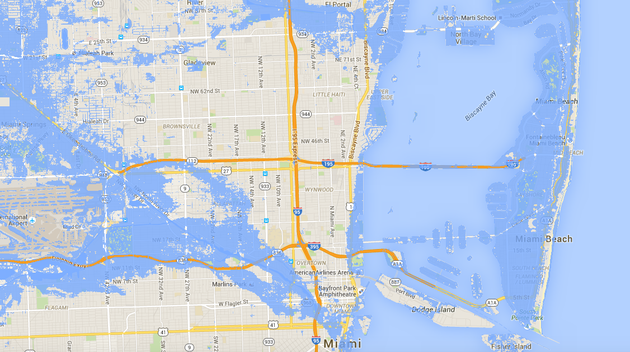 So, beyond the cranes dotting the waterfront today, a growing group of investors, rather quietly, are looking farther inland. Ehrlich, who owns three acres in Lemon City, foresees developers using higher ground as a sales feature. "'Sure, we're not the sexy waterfront right now,'" he imagines the development pitch will be, "'but we're taking a safer route and our project will survive 125 years, rather than 20 years.'"
In Lemon City and Little River, the average elevation is around 10 feet above sea level, with some areas as high as 38 feet—significantly higher than the averages in Coral Gables (six feet) and Miami Beach (just over three feet). Marleine Bastien, the executive director of the advocacy group Haitian Women of Miami, says that because the area is more elevated than other parts of the city, developers are quickly purchasing property there. "We are fighting the biggest fight of our life against investors who are buying left and right," she says. She knows that many in her community won't be able to afford to live in Little Haiti after developers buy up land.
A little over year ago, residents of the Little Farm trailer park, which sits a couple blocks outside of Little Haiti and holds 100 mobile homes, were told they were being evicted. The park's new owners, a Chinese shell company, wanted to clear it for development. But clearing out is not so simple: While the homes originally were movable when they were wheeled in the '40s and '50s, they deteriorated to the point that they were effectively fixed to the ground.
Little Farm's homeowners have little choice but to leave. Sophia Alexandre and her husband have owned their mobile home in Little Farm for the last four years, raising two children in their three-bedroom trailer, where school awards and family pictures take up every inch of limited wall space and smells from their garden waft through the windows. Alexandre, along with other Haitian immigrants, pays $500 a month to live there and expected to do so for many years to come. "But that's not what happened," she says. She doesn't know where they'll live next, now that some of the last remaining low-income, non-subsidized housing in Miami-Dade County is disappearing.
The investors who bought the land under Little Farm offered residents between $1,500 and $2,500 to vacate their homes voluntarily, but advocacy groups such as Legal Services of Greater Miami and South Florida Voices are pushing for larger sums. Last month, the group won a court victory granting another hearing for damages and delaying the original February 28 eviction date.
But eviction is still inevitable. "Where can they go and pay the same amount of rent? Nowhere," says Kian Frederick, the director of South Florida Voices. "What's the next thing that has to happen? They're very proud that they've come to this country, and they've done the right thing, and they bought their own home, and their kids go to the public schools here. But these folks are expected to remain invisible and just float out."
Howard Kuker, the lawyer representing the new owners of Little Farm, says he sympathizes with the people who are being evicted, but claims the small sum of money they offered residents was "more than what was required." He said that his clients hadn't cited the elevation of their land as their prime motivation for purchasing it, and noted that the tract's value lies in its size. "You're talking about 17 acres of land," he says. "You can make your own city there."
Every week, 30 trailer-park residents and a small team of advocates have been meeting to discuss the evictions. Although they have three more months until they have to move out, residents still don't know how they'll pay for a new place to live. "It's more than I can bear. I can't find a house," Yolanda Dorce, a 35-year resident of Little Farm, says in Creole to the group. Frederick, seeing the room shuffle in discomfort, interjects, "But now is the time to stick together. You don't have to be strong because we will help you be strong."
This is one of many community meetings that will occur in Miami over the coming years and decades as more low-income residents get pushed out of property on higher ground, says Bastien. Her group needs to do a better job, she says, of educating people in the Haitian community about the consequences of sea-level rise. While the elevation may be higher in Little Haiti, median household income is lower than other parts of the area—just $33,500. "When disaster strikes, not everyone is equally mobile," says Onsted, the environmental professor. "People of means have the most choices and can just buy a house elsewhere. Not everyone can just go like that." When the water comes, it will be the wealthier residents of Miami who will have the easiest time adapting.
---
Related Video