Saving Spanish in Miami
Fifty years ago, hundreds of thousands of Cubans immigrated to the southern tip of Florida. Now, the city has to teach a new generation how to thrive in a bilingual economy.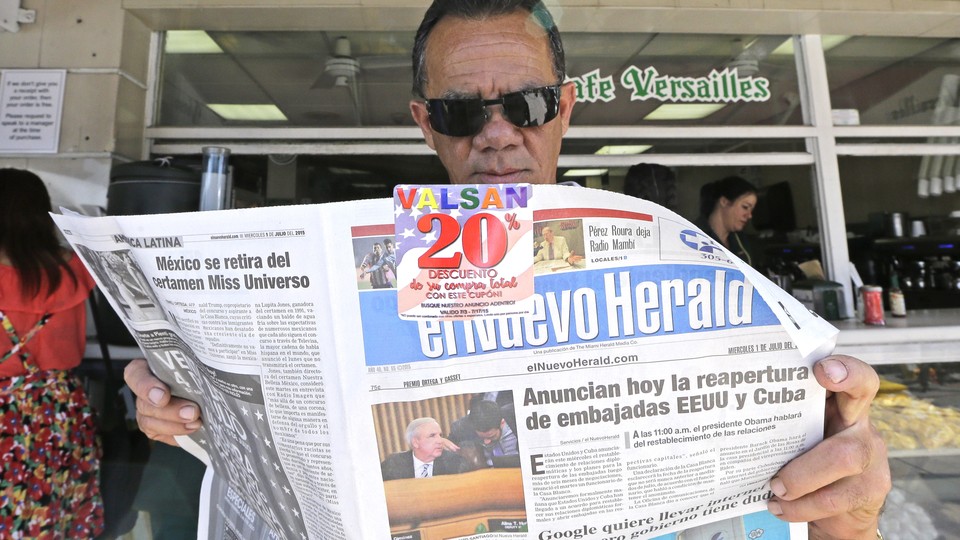 MIAMI—Spanish is an integral part of daily life here. In downtown restaurants, men in suits order cafecitos and huevos in Spanish before heading into their Brickell Avenue jobs. At night young professionals sipping on craft cocktails at outdoor Wynwood bars banter in their parents' native tongue. Even disc jockeys on Top 40 radio stations speak in a way that's distinctly Miamian, effortlessly cutting in and out of English, Spanish, and local slang before playing the latest hit.
Over the last 60 years, Miami has been the gateway to America for Hispanic immigrants. And ever since waves of Cuban exiles came to South Florida in the late 1950s and early '60s, the city's economy and culture has been intertwined with Spanish. The local economy grew around immigrants who spoke Spanish (sometimes only Spanish), which in turn brought increased business opportunities, media operations, and tourism exchanges with Latin American countries.
As a result, Spanish speakers did well and built wealth, a fact that differentiates Miami from many other major cities, where Spanish is more commonly spoken by low-income residents. Here, Spanish is used across the socioeconomic spectrum. In Hialeah, a community just northwest of Miami with a median household income of $30,000, over 90 percent of residents speak Spanish, according to Census figures. In Key Biscayne, a wealthy enclave just south of Miami Beach that has a median household income of $121,000, around 70 percent of residents also speak Spanish.
Miami is a bilingual city with an economy that is dependent on both languages, says Phillip Carter, a professor of linguistics at Florida International University. But things are changing. While Spanish may have been spoken in homes growing up, recent research has shown younger generations of Miami Hispanics are less inclined to speak Spanish as they grow older and are far less likely to be able to read it.
Like many young Cuban Americans, Paul Hernandez learned Spanish as a child from his grandparents, who couldn't speak English. "I learned out of necessity," he says. If the 28-year-old Hialeah city councilman one day does have children, he says he would teach them Spanish and would continue speaking the language on a daily basis. But he thinks he's in the minority among Cuban Americans his age. "It's not a matter of necessity for them," he says. "It's dying out. My generation speaks a very broken Spanish. It's not proper at all. It's very common to misuse words. And the generation that came after us speaks Spanish even less." He says there is "absolutely" a decline in Spanish literacy in Miami.
This decline in biliteracy may lead to an employment gap in the coming decades, says Susan Martin, the elementary lead teacher at Coral Way Bilingual K-8 Center, a dual-language school in Miami. "Everywhere you go in Miami, you're confronted with someone who will speak to you in Spanish," says Martin. "Even in business, any office or bank you go, you will find someone who speaks Spanish and you may need to communicate with that person in Spanish. It's important to have a workforce that can accommodate and work with the Spanish-speaking community."
So, to say nothing of the value of preserving a vibrant and historic culture, it is in most Miamians' economic interest to secure a bilingual future. The best way to do that is to focus on dual-language programs throughout the public school system, says Carter. In those programs, students learn in both Spanish and English. Miami-Dade County already has a strong foundation of such programs.
In 1963, shortly after Cuban exiles started arriving, Miami-Dade County Public Schools launched the first bilingual school in the United States at Coral Way Elementary School, which serves students in an area that extends from Little Havana to Brickell Avenue. In the decades since its launch, Coral Way, which now instructs 1,500 students from kindergarten through eighth grade in both English and Spanish, has become a national model for dual-language education. This isn't a private school. When I visit her classroom, Maida Yanes asks her third-grade class in Spanish if anyone wants to recite a poem about Frida Kahlo. The entire class raises its hand in unbridled excitement. She picks one student, Nadia. Though her parents do not speak Spanish, she glides through the poem like a native speaker. On the wall, along with quotes and posters in Spanish, hangs a picture of Cuban national hero José Martí, who was the subject of several stories the class read last month. Today, the students are reading a Cuban folktale about a woman looking for a suitor. As they answer questions about what they're reading on handouts, students whisper to each other in Spanish asking for help.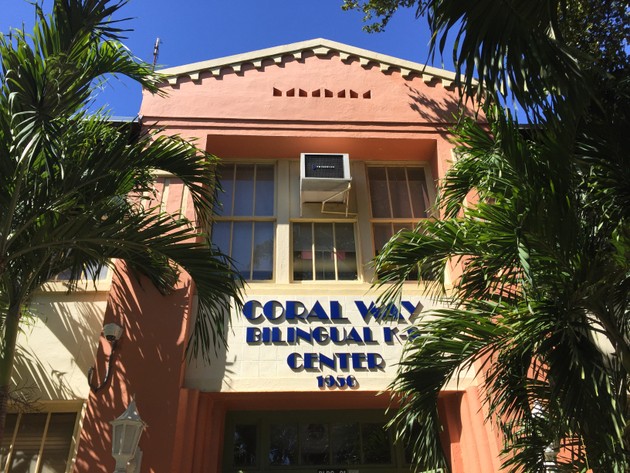 The Spanish-language curriculum is almost identical to the English one, in which students learn about grammar, literature, and writing in both languages. In the mornings, Yanes teaches language arts, math, and social studies in Spanish. Later in the day, another teacher instructs students in language arts, social studies, and science in English. "When you want a child to learn two languages at home, you want one parent to speak in English and the other parent to speak in Spanish so the child has a good distinction," says Mayte Dovale, Coral Way's principal. "We do the same thing here with teachers so they are departmentalizing throughout the entire school beginning in kindergarten."
When the students get to the sixth grade, they learn language arts, science, and social studies in English and language, literature, humanities, and math in Spanish. By the time students are in eighth grade, they're ready to take the Advanced Placement Spanish exam, which almost everyone passes, says Dovale. Even though 85 percent of the students who attend Coral Way are Hispanic, it doesn't guarantee they would have achieved this level of Spanish comprehension at home, says Martin. "We do see that some of those families do not have the foundation in writing," she says, "or in the proper, formal way of speaking that you would need for a work situation."
If they choose, students can move on to a bilingual high-school education, either through local college-preparatory or international-baccalaureate schools, which not only earns them a high-school diploma but also a diploma from the Spanish government. This is the first step for students who want to participate in the bilingual job market.
Miami-Dade County Public Schools have begun moving toward more Spanish literacy education, though the district has been criticized for not doing enough. Last year, the district proposed a $4 million curriculum overhaul, boosting its extended foreign-language program to 146 schools—where students can learn subjects in both Spanish and English every day—and offering more opportunities for teachers to boost their training in bilingual teaching. FIU has also begun offering a graduate certificate in bilingual education to address this Spanish-language shortage among teachers in Miami-Dade County.
The economy in Miami evolved naturally to thrive with a bilingual population. But to sustain that, interventions are required. If Spanish-language education isn't harnessed at the local level, says Carter, the linguist at FIU, then it puts Miami's place as a bilingual economic hub at risk. "It's just presumed that the high rates of bilingualism will continue into the future," he says. "Bilingualism in Miami is not inevitable."