One More Disadvantage of Buying a House: Longer Commutes
Prospective homeowners might want to consider the additional time they'd spend getting to and from work.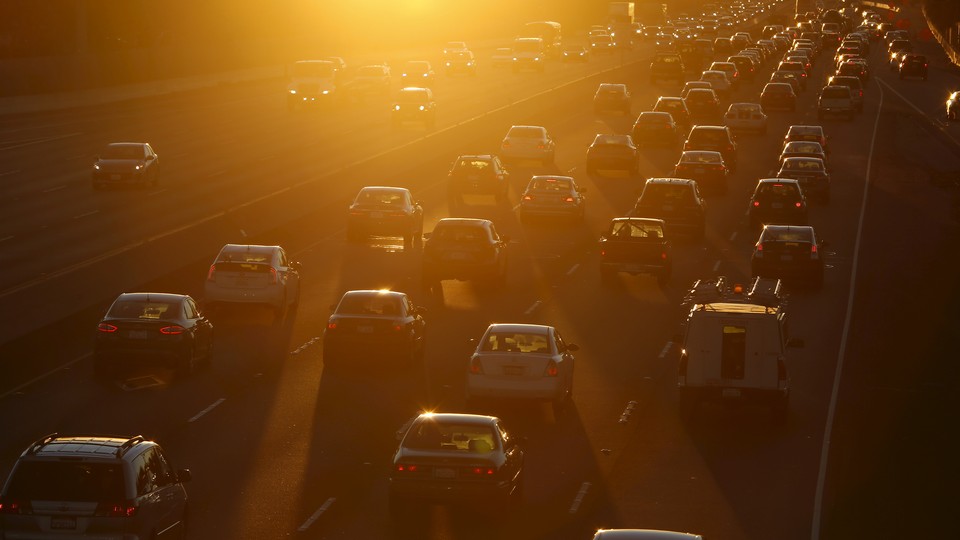 The time Americans spend commuting each day is getting longer, up from less than 44 minutes a day three decades ago to right around 52 minutes today. Add these numbers up and the average commuter spends nine days getting to and from work every year. Commuting alone by car not only sucks up time—it also takes a huge toll on Americans' health, is one of the most miserable things to do in life, and generates substantial costs, both social and economic.
Commutes are clearly a function of where people live: People who live in big, dense cities like New York are much more likely to walk, bike, or take mass transit to work than those who live in more sprawling metro areas and need to drive. But a new analysis from the real-estate site Trulia identifies another key factor that bears on commutes: whether people rent or own their homes. The analysis is based on a Harris Poll survey of over 2,000 Americans as well as data from the 2014 American Community Survey.
Renters experience shorter commutes than homeowners in 43 out of America's 50 largest metros, according to the analysis. On average, renters in large metros had daily commutes that were one-and-a-half minutes shorter than those of homeowners, as the chart below shows. Altogether, that means renters save more than a full workday (8.7 hours) on commuting each year.
---
The Average Length of Commute for Renters and Homeowners
---
Renters are also more likely to use public transportation and live closer to where they work. In fact, the report finds that shorter commute times or proximity to public transportation were the next most important criteria (behind crime rates) for Americans looking for a place to live. Among Millennial renters, commute times even topped crime rates.
While the average renter in 2014 benefited from a shorter commute, some metros did better than others. Renters had shorter commutes than homeowners in a majority of metros, including Washington, D.C., Dallas, Austin, Memphis, Newark, Cambridge, and Columbus. Renters with the shortest commute times compared to homeowners were located in Riverside-San Bernardino, Houston, and Long Island. Renters endured longer commutes than homeowners in San Francisco, Detroit, and Cleveland.
The difference in commute time between renters and homeowners also hinges on the types of people who tend to rent or buy. Renters tend to be younger and live in smaller homes, while homeowners tend to be older and live in bigger homes, since they are more likely to have families. To make an honest comparison between renting and owning homes, the report stresses the need to rule out factors like family size and housing size.
But even after controlling for family size or the number of bedrooms, renters still had shorter commutes than owners. Based on this, the report concludes that "large-household-renters may put a very high value on having a short commute, because after all, time spent in the car is time spent away from their family." This is in line with a recent study, which found that affluent, high-skilled families are heading back to city centers or locating near transit, trading longer commutes for higher housing prices and smaller spaces in order to save time for friends, family, or leisure.
---
Commute Times by Home Size
---
Indeed, more and more Americans appear to be trading in large houses and cars for urban living to save precious time on their commutes—even when it means they have to rent.
---
This article appears courtesy of CityLab.