Life in the Only Industrialized Country Without Paid Maternity Leave
A stressful, exhausting, and all-too-common tale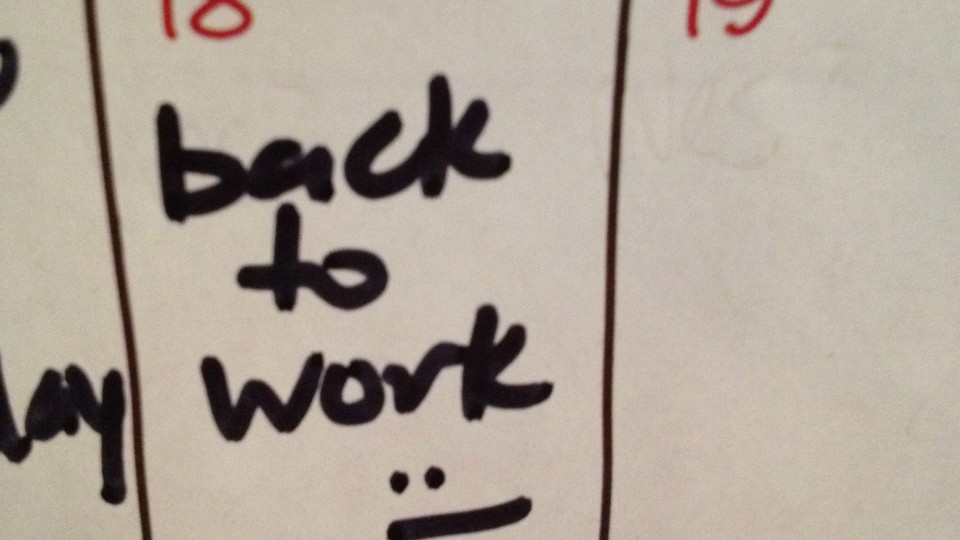 Many cultures have rules for new mothers and babies. The Latin American cuarentena and the Uzbek chilla represent 40 days of rest and social support. In China, women rest in bed for a month; in Korea, for 21 days.
In the United States, however, the time for rest, bonding, and recovery often is determined not by tradition, or even by a doctor's recommendations, but by the new mother's employment situation.
This is certainly true for Tara, who asked me not to use her last name to protect her privacy and her job. She contacted me in late January 2016 via Facebook after watching my recent TED talk on the case for paid parental leave in the United States. She wanted to tell me her story: She was nine months pregnant, working full time with a toddler at home. In the final days of her pregnancy, she was focused not just on her delivery day, but on another deadline: Tara would have to be back at work 20 days after giving birth.
Tara's situation is pretty typical in the U.S., where 70 percent of mothers work outside the home and 40 percent of households are led by a female breadwinner. When it comes to a new baby or a sick family member, 88 percent of the American workforce has no access to paid leave, and half of new, working mothers are ineligible even for the Family Medical Leave Act's unpaid leave.
Tara's husband suffers from a severe, painful autoimmune disorder and is unable to work. Tara is the family's sole earner. Her company offers no paid leave and she is ineligible for unpaid leave because her employer falls below FMLA's 50-employee threshold. Even if she were eligible for unpaid leave time, she wouldn't take it, saying, "My family can't afford the loss of even one paycheck."
So Tara's "maternity leave" was to consist of her 13 vacation days; these were mostly rolled over from 2015, with her boss' permission. Weekends and President's Day brought her total days off to 20.
Tara agreed to keep me updated by text throughout the end of her pregnancy, her time at home, and her return to work. This, the first of a two-part series, follows Tara from when she gives birth up until the day she goes back to work.
---
Wednesday, January 27, 2016
2 days before the birth
22 days until return to work
Tara's husband's medical condition means money is tight. The family spends everything Tara makes; sometimes they sell off household items to make ends meet. Tara's husband cares for their toddler and will do so for their second baby, too. There is no extra income for childcare.
Tara and her husband accept the sacrifices they have to make in order to have children, telling me, "family is more important." But Tara will get her tubes tied after this delivery. "We cannot financially support more children," she says. "I cried as I signed the consent-for-sterilization form."
---
Thursday, January 28, 2016
1 day before the birth
21 days until return to work
Tara was having contractions all week, and she prayed for the baby to stay put. She knew that if she could make it until at least Wednesday of this week, she would get President's Day as part of her time at home, adding an extra day to her leave. She's now made it to Thursday, and plans to go into the hospital in the morning to deliver (by planned C-section, for medical reasons). As she finishes up her last day at work, her mental countdown has already begun.
---
Friday, January 29, 2016
The day of the birth
20 days until return to work
Tara goes into the hospital early in the morning. She texts me a few hours later:
And then the baby arrives: a healthy girl. Tara now has 19-and-a-half days to heal from surgery and to bond with her daughter before she goes back to work.
Tara's labor and delivery team is astonished by her situation. "The nurses and docs … are shocked," Tara texts. "They … say things like 'there has to be a way to get more (time off).' It's a topic that makes people kind of nervous, actually."
---
Sunday, January 31, 2016
2 days postpartum
18 days until return to work
After two days in the hospital, Tara goes home. She is feeling the sleep deprivation and the pain that comes with a C-section. She's also like many new mothers: in love with her baby and feeling blessed. She texts me about the homecoming meal her husband cooked, "big brother" helping with diapers, and a healthy little girl. "Life is great," she writes.
---
Tuesday, February 2, 2016
4 days postpartum
16 days until return to work
Tara is struggling with breastfeeding. Her milk has not yet come in and she's been pumping to provide her baby with colostrum, the nutrient-rich first food that precedes mature milk. She's given her baby some formula; she's anxious because she has a small window of time in which to get her milk supply established. With her first child, she had difficulty finding time to pump milk at work, and she had to introduce formula far earlier than she'd hoped.
She's also just starting to get into the realities of parenting a newborn and a toddler.
---
Friday, February 5, 2016
7 days postpartum
13 days until return to work
Tara's milk has finally come in. Her return to work is never far from her mind.
Tara is still in a lot of pain, and getting residual "electric shock" sensations down her legs from the spinal block before the surgery. Her C-section incision is raw, painful, and itchy.
I spoke about C-section recovery with Manny Alvarez, an obstetrician and the chairman of the OB/GYN department at Hackensack University Medical Center. He calls a C-section "a major operation" and recommends two to three weeks of complete rest following the surgery. His overall recommendation is that "irrespective of the type of delivery, women should be allowed to rest at home and bond with their children for… 3 to 6 months."
---
Saturday, February 7, 2016
8 days postpartum
12 days until return to work
Tara asks me if it's okay to send me a picture of her postpartum belly.
---
Monday, February 8, 2016
10 days postpartum
10 days until return to work
Halfway through her time at home, Tara wakes up and texts me with a sobering thought.
She's trying not to think about how soon she will be back at work, but it's a truth that's hard to ignore.
I asked Alvarez to weigh in on a 20-day back-to-work timeline from a mental health perspective. He told me that neonatal bonding and sufficient time at home has benefits for the mother, including a decrease in the risk of postpartum mood disorders such as depression and anxiety.
---
Wednesday, February 10, 2016
12 days postpartum
8 days until return to work
Tara tells me that she's feeling "pretty depressed" about her leave drawing to a close. I ask her when she'll see her doctor to get cleared for her return to work. I'm assuming that her OB/GYN will want to make sure she's healing and avoiding infection before she returns to nine-hour work days, sitting at a desk. And on the mental-health front, I assume that her doctor will also ask her questions about her emotional state, especially given that the U.S Preventive Task Force recently recommended that all new mothers be screened for postpartum mood disorders.
I asked Alvarez about this, and he told me that it's "very important" to have a post C-section visit before returning to work. He typically advises two appointments. The first takes place about a week after birth to check on the incision and "to assess emotional status and look for signs of postpartum depression." He recommends a second visit about four weeks after a C-section "to address …  breastfeeding, work, exercise, nutrition, and certainly, mental health."
Tara texts me that her first follow-up appointment is six weeks postpartum; this will be three weeks after she has to be back at work. But, she says, it doesn't really matter:
---
Sunday, February 14, 2016
16 days postpartum
4 days until return to work
Tara is doing her taxes while she's at home. She texts me this screenshot from her tax-preparation software:

She muses to me that paid leave is so unusual in the U.S. that it falls in the "uncommon situation" category on TurboTax.*
---
Wednesday, February 17, 2016
19 days postpartum
Return to work: tomorrow
Yesterday, Tara's baby rolled over, back to belly, and officially outgrew her "newborn" size diapers. Tara texts: "I think my girl is letting me experience milestones because I'm going back to work this week … but emotionally everything is still so raw and fresh."
Tara's employer has agreed to allow her to work from home for the next few weeks. It's a blessing because she'll be able to see her daughter and nurse her most of the time, but she's worried about juggling a backlog of work and client phone calls. She remembers having to let her newborn son cry with hunger down the hall, when she was on the phone, and she knows she'll have to do that again with her daughter.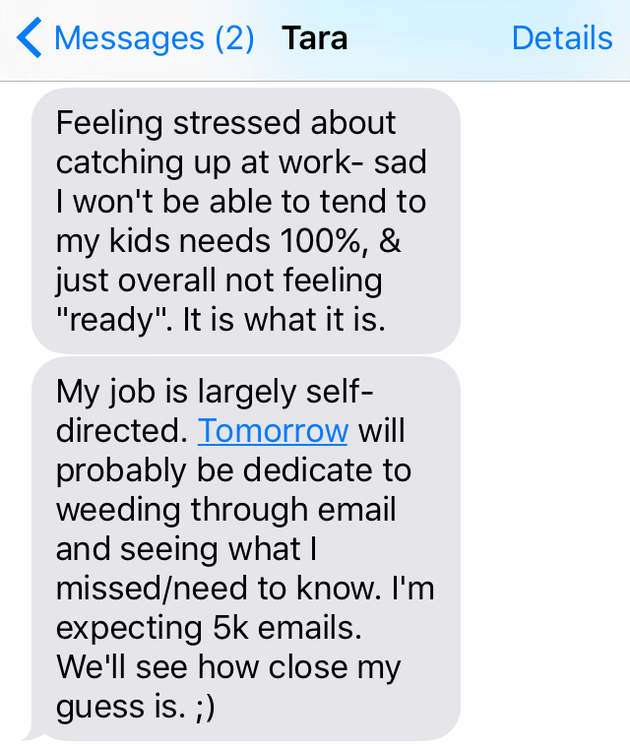 At bedtime, Tara texts one last time:
---
Thursday, February 18, 2016
20 days postpartum
first day back at work
Today's the day. Tara's daughter is 20 days old, and Tara's maternity leave is over.
I get a text at 4:49 a.m.
At 7:00 a.m., Tara texts again.
She's sitting at her desk by 7:53 a.m. Her laptop is open, her phone is charged, her breastmilk-boosting "mother's milk" tea and lactation cookie wait on the side. Her inbox has 3,818 messages in it.
There's no drama in Tara's texts this morning, just exhaustion, and resignation to the situation at hand. This is what it is, as she puts it, and it's time to get started.
And with that, Tara—mother, wife, worker, breadwinner—is back at work. Her second, and final, maternity leave lasted 20 days.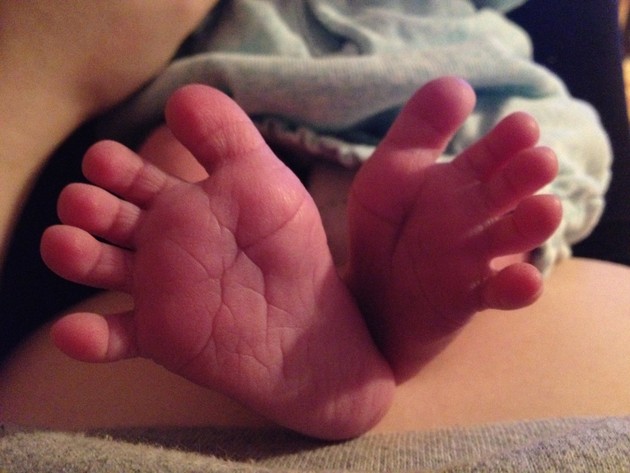 ---
This piece is the first in a two-part series about one woman's maternity leave and her return to work. The second part is here.
Related Video