What Do Americans Believe Will Help Them Get Ahead?
Despite there not being very many well-paid jobs available, many people think they'd be doing better if they had more training.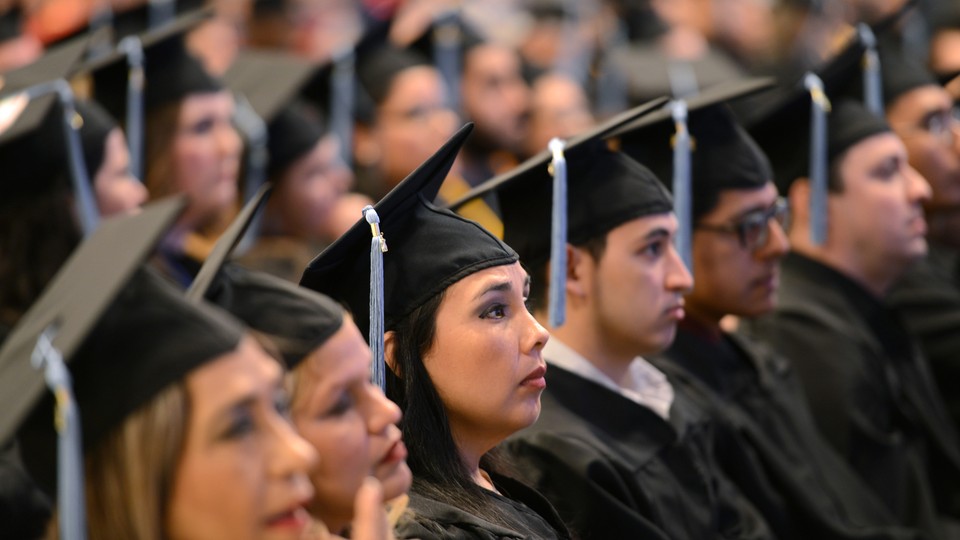 Like many Americans, Monica Hathcoat is convinced she could find a better paying and more stable job if she completed her college degree. With about one year of classes behind her, Hathcoat, who lives in Coweta, Oklahoma, works part-time as a distributor for a company that sells nutritional and weight-loss supplements.
"Whenever you go and apply for a job, for me, I can't say I graduated with any kind of degree through a college, not even a community college, so … most companies would not hire me at this moment," says Hathcoat, 26. "If I had that higher education, just the name itself, that I have an associate's degree or master's degree or any kind of degree, I think someone would be more likely to hire me, and I think I could get a more stable paying job." Beyond the economic opportunity, she says, she's convinced completing her degree would help her develop personally because "I didn't get…the quality of education from my high school that I should have."
But for Hathcoat, returning to school on a more regular basis to finish her degree involves difficult trade-offs of time and money. Besides working, she's also raising a daughter. Covering the cost of childcare would greatly multiply the expense of returning to college. "It's really, really a high cost," she says. "Having an eight-hour job, I would have to put my daughter in daycare, and that's something I'm not wanting to do." Though she believes completing a degree would improve her long-run prospects, "personal and … financial" considerations have convinced her she needs to wait.
A new Atlantic Media/Pearson Opportunity Poll suggests that many Americans recognize Hathcoat's dilemma. Americans appear to have internalized the conclusion that in the information age, they will earn more if they learn more. Across racial lines, a significant majority of American adults said in the poll that they believe they could obtain a better and higher-paying job if they acquired more education or training.
But respondents also identified a thicket of obstacles centered on money and time that prevents them from obtaining more credentials. "There's lots of different certifications, or courses or classes I'd like to take," says Ryan McGraw, a software consultant in Nashville who responded to the poll. "And it's just difficult to create the time and money to do so."
The poll explored Americans' attitudes about the personal and public policy choices that they believe will give them, and the next generation, the best chance to achieve their goals. It includes oversamples of African Americans, Hispanics, and Asian Americans to allow for more detailed comparisons of attitudes among racial and ethnic groups than most public surveys provide. On many issues, the poll finds, attitudes converge across the different groups about both the challenges facing workers today, and the individual and collective choices that they believe offer the best prospect of helping more Americans get ahead. But the poll also found persistent racial, and often generational, differences.
---
---
African American and Hispanic adults, especially those without college degrees, expressed more concern than whites about the trajectory of their wages, the quality of their skills, and the availability and affordability of opportunities to upgrade them. (Asian Americans fall somewhere in between.) The poll also documented their concern with equal access to employment opportunities. Taken together, those findings suggest the intertwined skills and wage gaps could become a growing point of tension as Hispanics, in particular, constitute an increasing share of the future workforce.
Worries about skills and wages topped the list when the survey asked respondents to identify factors that were barriers to "achieving your personal goals in life so far." Slow wage growth was identified as the top obstacle overall, trailed by a lack of good jobs, insufficient education, inadequate technical skills, or a dearth of opportunities for promotion. Whites were less likely than African Americans or Hispanics to see any of these as major obstacles. Asian Americans split from the overall trend, placing a lack of technical skills at the top of their list of concerns.
In follow up interviews, many poll respondents stressed the link they see between bolstering their skills and boosting their earnings. Jerome Link, a white 56-year-old factory worker in Petersburg, Michigan, who responded to the poll, is squeezing in classes around a full-time work schedule because he's convinced it will lead to better opportunities at work. The best jobs, he says, "all require higher math and higher-problem solving skills. And I've done well in the past, but [more education] gives you a little edge over other people because it teaches you the skills you need to compete."
McGraw, 40, a software consultant, says his undergraduate degree in management from Georgia Tech has already opened "a lot of doors…just from its pedigree." But he also believes he could be further along if he had devoted the time and money to obtaining more education, particularly an advanced degree. "An MBA would have allowed me to have a promotion," he says. "At the last company, I was kind of overlooked despite the experience I had—I didn't want to say it was an arbitrary prerequisite, but it was one of those things where if I had had that and had taken the time in the past on focusing on that" promotion would have been easier.
The survey found much higher levels of unease across these measures among African Americans and Hispanics. Like white respondents, African Americans ranked a lack of wage growth first—but it was a much more pervasive concern in the black community than elsewhere, voiced by almost two-thirds. For Hispanics, strikingly, the top concern was not having enough education, followed closely by slowly growing wages. Lack of technical skills topped the list for Asian Americans, narrowly outpacing wages.
Education levels marked a sharp divide on these questions, too, but didn't eliminate the racial divide. Both among those with and without college degrees, workers of color were more notably likely than their white counterparts to describe slowly-growing wages as a major barrier to achieving their goals.
---
---
Hispanics also displayed elevated levels of concern in a series of questions that asked adults to rate their skills, and their fear that those skills will grow obsolete in coming years. Just 33 percent of Hispanics surveyed rated their skills in "the field you currently work in" as "above average" compared to 48 percent who assessed their skills as only average. Asian Americans also displayed considerable anxiety (43 percent above average, 44 percent average) as did African Americans (49 percent above, 44 percent average). Whites were more confident (56 percent above average, 41 percent average). Among both whites and non-whites, those with college degrees expressed considerably more confidence in their skills than those without. Whites with degrees were exactly half again as likely as those without them (69 percent vs. 46 percent) to rate their skills as above average; college-educated workers of color were nearly twice as likely as their non-college counterparts to express such confidence.
Hispanic workers were again the most likely, even at the same education level, to express concern that "advances in technology and other changes will make the skills you have for your current job obsolete" particularly over an extended period. While only about one-in-seven whites and just over one-in-five African Americans or Asian Americans said they were concerned about their skills growing obsolete in the next five years, that number swelled to nearly two-in-five among Hispanics. Looking over a 10-year horizon, those fearing their skills could grow obsolete rose to nearly one-in-four among whites, about one-in-three among blacks and Asians, and fully half among Hispanics. Among Hispanics without a college degree, 42 percent said they fear their skills could grow obsolete within five years and a resounding 56 percent within 10. Among non-college whites the numbers were much smaller: Only 15 percent were worried about the next five years, and 28 percent about the next 10.
Asians (at 79 percent) and whites (at 59 percent) were much more likely than Hispanics (48 percent) or African Americans (just 41 percent) to say their current job requires them to use "the skills and knowledge I gained through my education." But the education gap among whites on this question was huge: Almost exactly half of those without degrees said their job doesn't require them to use their educational skills, double the share of those with degrees. This issue generated a big generational split too. Nearly half of Millennials said they could perform their current responsibilities at work "just as well had I not obtained as much education." By contrast, only about one-third of members of Generation X or the Baby Boom said they could do their current jobs as well without the education they obtained.
Whatever their views about the relevance of their current education to their job, 86 percent of African Americans, 81 percent of Hispanics, and 67 percent of both Asian Americans and whites agreed that "If I obtained more training or education I would be able to get a better or higher paying job." Whites with a college degree (at 59 percent) were somewhat less likely to say they would benefit from more training, but this consensus extended broadly not only across racial lines, but throughout workers at all stages of their career. Over four-in-five Millennials, nearly seven-in-ten members of Generation X and almost six-in-ten baby boomers said they believed more skills and training would pay off in a better and higher-paying job. Women (at 76 percent) were even more likely than men (at 68 percent) to agree.
Chris Hill, a 30-year-old African American systems administrator for the Defense Department in Marietta, Georgia, was one of many respondents who emphasized the need for ongoing education. "Being in the information technology world, we already know if we take a breather for more than a month our knowledge is already ancient," he said, "so I was taught you always have to continue learning or continue researching to stay relevant within this field. If I were to stop learning today and going to school, then yes, I wouldn't be completely [confident] but I know not to do that thanks to my mentors and teachers and such."
To upgrade their skills, most workers look first to their workplace. Asked to rate how likely they are to use a series of options for improving their skills, on-the-job training (at 56 percent) ranked well ahead of any other option, including completing a skills certificate or certification (33 percent); taking online courses (27 percent); returning to a community or four year-college (23 percent); utilizing a government training program (18 percent) or enrolling in an intensive short-term skills program, like a computer coding academy (12 percent). Compared to whites, African Americans and Hispanics were much more likely to say they might either return to college or enroll in a government program.
Likewise, when asked what institution is most likely to develop good new ideas for helping workers improve their skills, far more of those polled picked employers than any other choice, though African Americans and Hispanics were much less likely than whites or Asian Americans believe so. Instead Hispanics and African Americans put relatively more emphasis on options outside of work: state and local government, the federal government and non-profits.
Still, workers generally expressed satisfaction with their opportunities to improve their skills at work: Nearly three-fourths said they have access to meaningful job training opportunities from their employers (Hispanics, especially those without college degrees, were the least likely to agree).
If most workers believe they would benefit from more training, what keeps them from obtaining it? Asked to identify "the biggest barrier to your obtaining more training or education," those surveyed pointed most to the cost (29 percent), followed closely by lack of time due to family obligations (23 percent), and lack of time because of work obligations (23 percent). Notably, only 11 percent said they wouldn't obtain more education because they didn't think it would help them earn more; only 3 percent said they didn't know where to obtain it.
Cost loomed especially large as the principal barrier for African Americans (39 percent) and Hispanics (34 percent), particularly those without college degrees. Antonio Flores, a custodian in Tucson, is among the non-college Hispanic workers who would like more education, but worries he can't pay for it. Because his current job offers low pay and minimal job security, Flores says, "There are a couple skills and fields that I'd like to get into…I'm willing to go back to school to learn something other than what I already know." The catch is that he doesn't feel he earns enough in his current job to afford more education. "Finances and pay rate" are the biggest obstacle, he said. "My minimum wage is not the best."
Flores' dilemma reinforces the central conundrum in the poll results: those who might benefit the most from more education and training often feel least equipped, for cost and other reasons, to obtain it.
---
Leah Askarinam contributed.
The Atlantic Media/Pearson Opportunity poll, conducted by Princeton Survey Research Associates International surveyed 1,276 adults living in the United States by landline and cell phone from February 10 through 25. The survey included oversamples of African-Americans, Asian-Americans and Hispanics. Interviews were conducted in English and Spanish. The margin of sampling error for the complete sample is plus or minus 4.3 percentage points; the margins of error are larger for subgroups.