The Unfortunate Consequences for Men Who Work Part-Time
When men haven't worked many full-time jobs, they have "a lower level of commitment." When women haven't, it's just what's expected.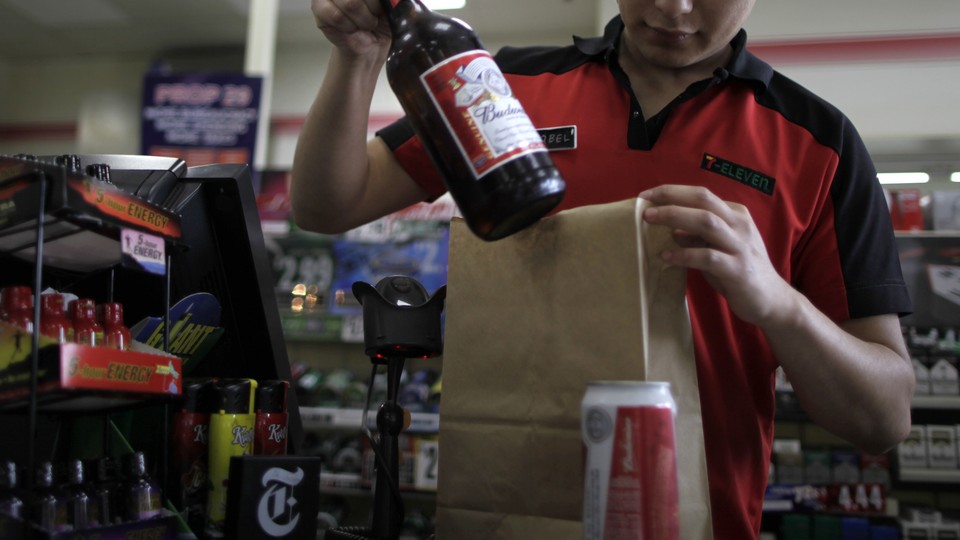 A 2013 survey found that 28 percent of women in the U.S. have experienced discrimination in the workplace at one point or another. But naturally, the data varies by industry and the nature of work involved.
A new study by the sociologist David Pedulla, at the University of Texas at Austin, hones in on the effect that working part-time can have on women looking to secure future employment. What Pedulla found is that potential employers may penalize men for having previously worked part-time, without ascribing any of the same penalties to women.
The explanation for this disparity is not a simple matter of companies' favoring one gender over another. In fact, the study suggests that a distinctly sexist attitude toward women may be at the heart of the effect.
Pedulla began his experiment by submitting 2,420 fake job applications for 1,210 real job openings in five cities: New York, Atlanta, Chicago, Boston, and L.A. In addition to the fact that they are all major U.S. labor markets, Pedulla says he chose these cities based on their varying geographies and levels of unemployment.
His applications, on the other hand, varied very little from one another. Each fictitious applicant was said to have graduated from one of two comparatively ranked public universities in the Midwest, and to have six years of professional experience. The main differences came down to the applicants' most recent jobs, which Pedulla diversified to reflect either a year of unemployment, temp positions, full-time or part-time work, or jobs below the applicant's skill level.
After submitting the applications, Pedulla tracked the number of callbacks he received via phone or email. When it came to employees who were previously employed full-time, the same percentage (10.4 percent) of male and female applicants received callbacks. But in every other category of employment, from unemployment to part-time work, women received more callbacks than men. The most marked disparity overall was for applicants whose last job was part-time. In this scenario, women received a 10.9 percent callback rate, compared to 4.8 percent for men.
---
Callback Rates for Male and Female Applicants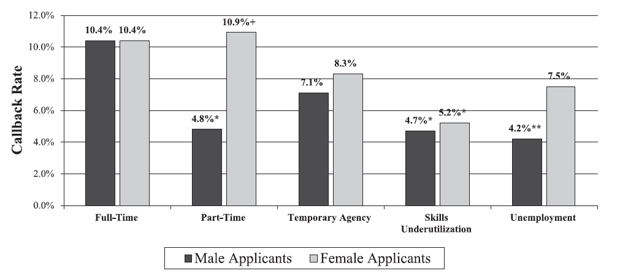 Part-time work and temporary agency employment arose in the U.S. economy as heavily feminized types of work … Employers might perceive nonstandard employment histories as a common experience for women. … For men, by contrast, employers may take such a history as a signal that the male worker was unable to find a full-time, standard job.
In other words, it may not be the case that women with part-time positions are perceived as more committed than men. On the contrary, it is quite likely that they are not penalized for part-time work because they are expected to be part-time employees. Pedulla notes that he is not able to support this theory empirically. Nevertheless, it offers an interesting possible explanation as to why men might be penalized in all categories except full-time employment.
The nature of a job itself, of course, might influence these results. To test for this, Pedulla filtered the data across multiple part-time occupations typically associated with male or female work. While his results were not statistically significant, they again revealed that women received more callbacks than men—regardless of the gendered nature of a given profession. In fact, women received the highest callback rate (18.6 percent) for sales jobs, which are now fairly evenly divided between men and women.
---
Callback Rates for Male and Female Applicants in "Gendered" Lines of Work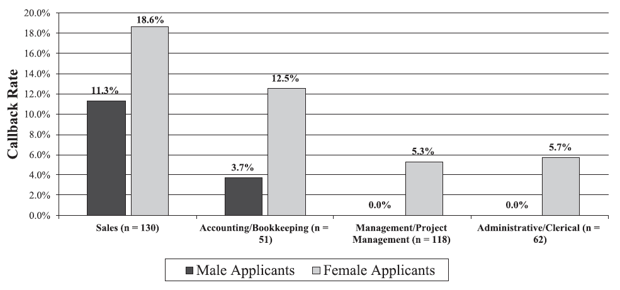 ---
While it's certainly refreshing to see an area of the workforce where women are not penalized by their potential employers, this study is not cause for celebration. Further research is necessary to determine if hidden biases or an inherent association of women with less favorable, part-time work are actually driving these effects.
Pedulla also stresses the need to address factors such as race, age, and geography in future studies of part-time employment. Nevertheless, his findings reveal a stark inconsistency in the way that women are perceived by potential employers compared to men.
---
c