What the Clinton Library Says About Welfare Reform
"The welfare system no longer held people back, it helped them to move ahead."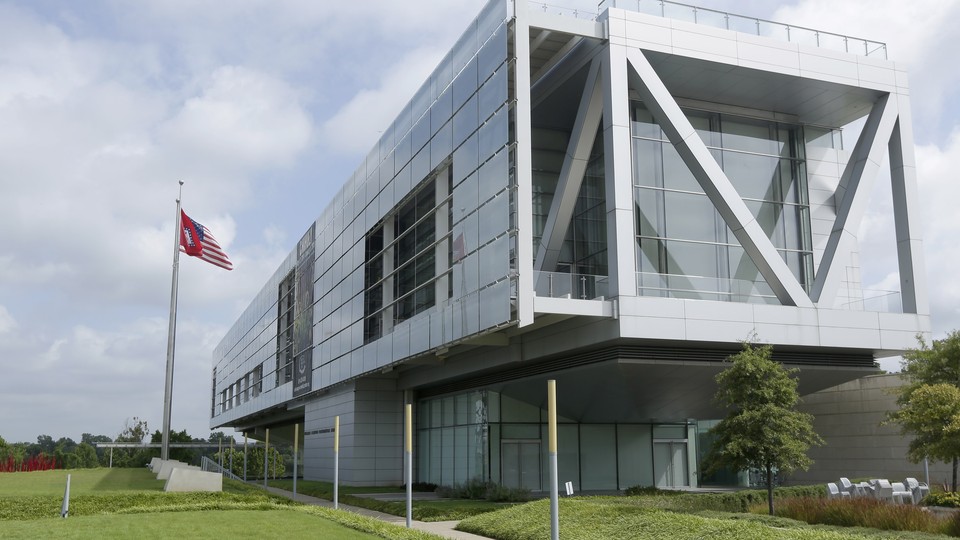 A letter came to First Lady Hillary Rodham Clinton in December of 1994. It was about welfare reform, an issue that President Bill Clinton had campaigned on. He had promised to "end welfare as we know it," and the letter-writer wanted Hillary to intervene.
"Why are the women in government allowing the men in government (including the Democrats) to define the welfare debate when it's women's lives that are at stake?" the author, Beverly Voran, wrote. "I'm completely disgusted to think that these guys are going to decide the fate of women and children on welfare when most of them have no idea what they're talking about."
Another letter, from a one-time welfare recipient to Hillary, tells the First Lady that his mother was only able to survive because of welfare. It helped buy flour, milk, and oatmeal, and helped them pay the rent after his father left. It helped make his childhood stable, he said.
"Please, Mrs. Clinton, your husband must not eliminate welfare aid to truly needy people," the man, John M. Ferenc, wrote. "That would be a disaster to the very family that Mr. Clinton wants to support."
The letters and other documents in the archives of the William J. Clinton Presidential Library and Museum speak to the controversy that surrounded the welfare-reform plan at the time, a controversy that has been in the background of Hillary Clinton's presidential bid today. Her husband's 1996 bill replaced Aid to Families With Dependent Children, commonly known as welfare, with Temporary Aid for Needy Families, which put time limits on benefits and required that recipients begin working after two years of receiving benefits. Then, and now, critics say that it failed the country's poorest citizens by kicking them off government support without helping them to find jobs, or when sometimes jobs just weren't available.
"It does not promote work effectively, and it will hurt millions of poor children by the time it is fully implemented," Peter Edelman, whom Clinton had appointed as an assistant secretary in the Department of Health and Human Services and tasked him with reforming welfare, wrote in objection to the bill in 1997 in The Atlantic, soon after he'd resigned his post.
The number of people on the welfare rolls fell significantly after the program was instituted. Many recipients did find jobs—something that may have been unusually possible during the booming economy of the '90s. But hundreds of thousands, often African American or Hispanic single mothers, became what sociologists call "disconnected," and today receive neither government support or jobs. Today, they live on almost no money and have to resort to help from family, friends, or strangers, to survive.
Does that matter now? Some critics think so, especially because Clinton is so popular among the very minority voters who were most affected by welfare reform. These critics wonder how a President Hillary Clinton would treat low-income minorities today, if she supported policies that hurt them two decades ago. As she writes in her memoir, she herself helped to round up votes for the bill's passage.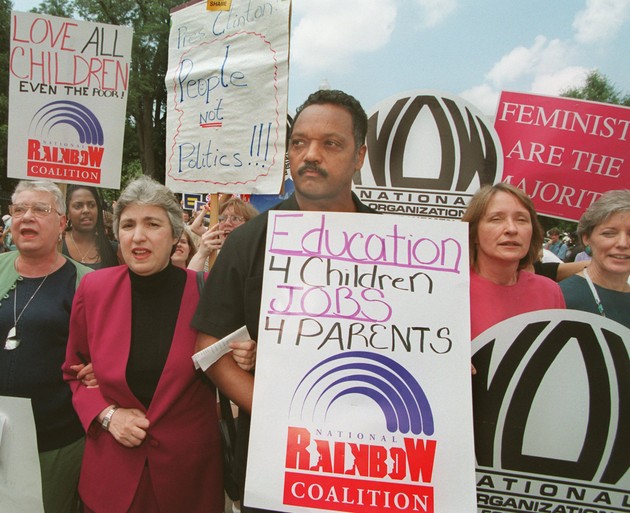 Some current-day Clinton supporters spoke out against the bill at the time.
The American Federation of State, County and Municipal Employees, or AFSCME, endorsed Hillary last year, but in the archives, there is a statement from the union's then-president coming out against the reform plan that the Clintons supported from the National Governors Association.
"This proposal would thrust millions more children into poverty and impose great stress on low-income families and their communities," the statement reads.
The head of the Urban League, Hugh B. Price, wrote to Bill Clinton in March of 1996, reminding him that David Ellwood, the Harvard professor who had proposed the policy prescription that eventually became welfare reform, had suggested that time limits on benefits be coupled with "guaranteed public jobs," and urged Clinton to add that to the bill. "Accepting the former without the latter would place poor people and the cities they inhabit at an unconscionable risk," he wrote. (Price is now at the Brookings Institution.)
On its surface, though, the Clinton library seems to have much the same position that the Clintons have today on welfare reform: That it was a success. It's perhaps not surprising that the Clinton library tries to tell a happy story of the bill—the library is, after all, an institution that seeks to celebrate the legacy of the one-time governor and president.
The museum, which is made of laminated glass tiles, sits on a bluff on the Arkansas River, and has the traditional trappings of presidential libraries: the Secret Service limo, the First Lady ball gowns, the gifts from foreign luminaries, and the Oval Office replica. There are sections devoted to each year Bill Clinton served as president, highlighting some of his major actions, including the NATO bombing campaign in Yugoslavia, passage of the State Children's Health Insurance Program, and the Whitewater and impeachment controversies.
In that timeline section, the Clinton Museum also has a section dedicated to welfare reform. It says this:
In 1992, Bill Clinton promised to 'end welfare as we know it.' As President, he made good on that pledge. The landmark welfare reform law required recipients to work, and imposed time limits on their benefits. But it also gave them the tools they would need to find and hold a job—from child support to health care, food stamps, housing, skills training and transportation. ... The welfare system no longer held people back, it helped them to move ahead.