How Cities Can Use Local Colleges to Revive Themselves
The University of Akron's leftover expertise in manufacturing tires is now changing the way the world makes everything from lipstick to medical devices.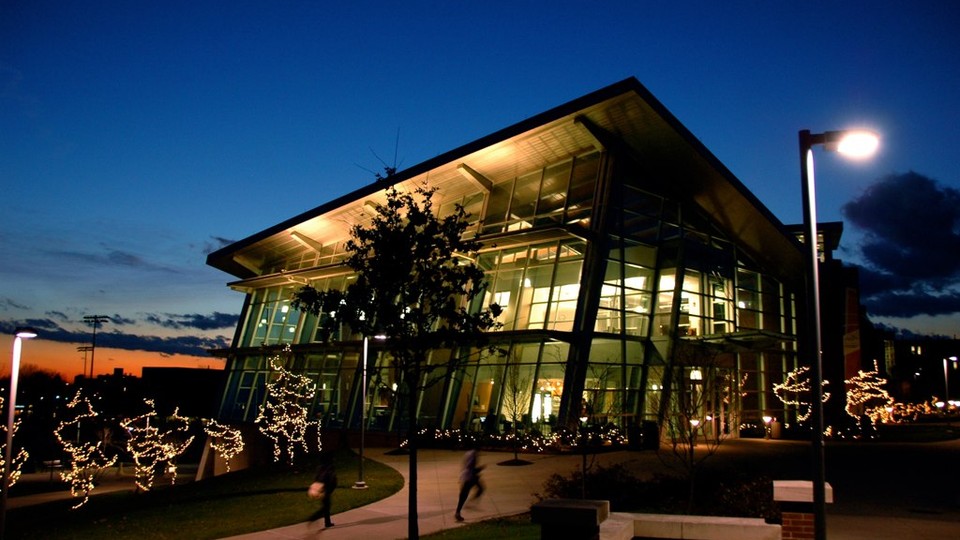 Northeast Ohio is a quintessential example of an area that has gone from rustbelt to "brainbelt," and one of the most telling symbols of its story is the Quaker Oats building in downtown Akron. For years, the thriving company stored oats, ready for shipment by rail throughout the country, in the huge silo complex there. After the industry left the region and the facility fell into disrepair in the 1970s, real-estate developers turned it into a hotel. Now, it is a residence hall for students at the University of Akron and stands not only as a visible reminder of the past, but also as a marker of the future: The Quaker Square complex today houses shops, restaurants, of­fices, and apartments, and bustles with street life.
When Luis Proenza came in as the president of the University of Akron in 1999, he vowed the institution would be a major force in reshaping the region. Wasting little time, he wrote up a plan titled the "Akron Model: The University as an Engine for Economic Growth." In it, he argued that a university should not be an ivory tower but rather an open source of knowledge and a connector among the public and private entities and that it should, and could, drive growth for the region it served.
The university was well positioned to play this role, and materials research was a natural fit: The university had been a leader in polymer research for years and trained thousands of scientists and engineers. Many of them had gone on to staff the research labs of large tire companies. Because the labs were so deep in talent and so rich in expertise, the companies had not shut them down when they relocated their manufacturing operations. So the Akron area, Proenza knew, had a tremendous knowledge base, and much of that knowledge pertained to the materials involved in making tires: rubber, synthetics, steel. All that was needed was to reawaken and repurpose that knowledge, by applying it to marketable products that were urgently needed in the 21st century.
Today, the College of Engineering and the separate College of Polymer Science and Engineering at the University of Akron, with a combined 120 faculty members and over 700 graduate and postdoctoral students, has grown into the nation's largest academic program devoted to the study of polymers—and is acknowledged as one of the world's most important concentrations of polymer expertise. Researchers at the two colleges are working on advanced materials that include high-temperature ceramics, composites, and novel metal alloys. These are transforming the auto industry, and the aerospace and defense industries as well.
When Proenza described the Akron Model as being university-centric, he did not mean that the university must control or lead all initiatives—only that activity and initiatives would radiate out from and around the university, and that a quest for knowledge would always be involved.
One of those initiatives was the Austen BioInnovation Insti­tute, founded in 2008—a collaboration of the University of Akron, Akron Children's Hospital, First Energy, the Knight Foundation, and Summa Health System. The institute's mission is to "bring together the best minds and the most creative thinkers" to tackle health-care issues, by combining "entrepreneurial spirit with scientific innovation to achieve powerful results." An important part of the research conducted at Austen BioInnovation centers is on the advanced polymers that will be essential in medical devices and biomedical applications. And the research there can get pretty wild, with explorations into paints that emit light, coatings that are self-healing, and contact-lens materials that change color based on the wear­er's insulin levels.
Proenza also did not suggest that university-centric activities always center on the University of Akron itself. Kent State University, also based near Akron, has its own programs for polymer research. Its Glenn H. Brown Liquid Crystal Institute is named after the inventor of the liquid-crystal display (LCD) and is the birthplace of this now-ubiquitous material. At Ohio State University (OSU), based 150 miles to the west of Akron in Columbus, scientists are also deeply involved in polymer research, focusing on the link between polymers and nanotechnology. The Wright Center at OSU has brought together six educational institutions and over 60 corporate partners (including Goodyear, GE, Boeing, DuPont, Battelle, and Honda) and played a key role in creating several new companies.
As the research in these initiatives began to bear fruit in the form of new knowledge, Proenza saw that another element was needed in the university-centric model: a bridge between academia and business. Researchers could not be expected to create breakthroughs in materials, openly share the knowledge with their corporate partners, and then stand by as the advances were turned into lucrative products in which they shared no gain. That smacked of the old days, when academics were forbidden from sullying their hands with commerce. So Proenza created an independent research foundation, which provided a mechanism for professors at the state university to financially benefit from their inventions.
The state government, too, played a role in making the Akron Model a success. In 2002, Governor Bob Taft launched a project called Ohio's Third Frontier, a $2.1 billion initiative to "create new technology-based products, companies, industries and jobs," then the largest state effort of its kind in the U.S. Third Frontier, which was renewed in 2010, provides funding to Ohio's technology-based companies and helps connect them to universities and nonprofit research institutions.
With grants from Third Frontier, two professors at the University of Akron, Frank Harris and Stephen Cheng, founded Akron Polymer Systems. They hired 12 Ph.D.s and many other scientists from Akron's enormous pool of talent. Their mission was to develop special films for flexible LCD screens for use in solar cells and medical and aerospace applications—research that was licensed and has generated $1 billion in sales over the years.
Akron Polymer Systems is just one of a whole new generation of materials-focused start-ups that have risen from the ashes of the tire-manufacturing industry, thanks to the combination of Proenza's visionary work, revitalized research initiatives, opportunities for commercial gain, and government support. Akron Surface Technologies, for example, is a start-up formed through a collaboration between the manufacturer Timken and the University of Akron. Timken moved some of its research labs onto the university's campus to facilitate collaborative research focused on corrosion, sensors, and coatings. The arrangement combines knowledge-sharing with proprietary research, so Timken retains certain commercial rights for the use of its knowledge in specific applications, such as bearings, while allowing others to apply the knowledge to realms such as biomedicine and aerospace.
But not all the commercial action is in start-ups and in the labs of large tire companies. Other large and long-established companies with a presence in the area, such as Akron-based A. Schulman, which manufactures high-quality specialty plastics, saw that it, too, could benefit from the Akron Model. Although A. Schulman operates plants around the world—including in Mexico, Asia, and Europe—the company chose to build a new plastic-fabrication facility in Akron, precisely because of its university-centric environment. Joseph M. Gingo, A. Schulman's chairman and CEO, said the company sees great value in "having one of the leading polymer-research institutions in our own backyard." The company engages interns from the University of Akron and hires many graduates to staff its facilities in Akron and around the world.
According to George Haritos and Ajay Mahajan of the University of Akron's College of Engineering, companies in Ohio have learned so much that they now share their knowledge widely. They teach other companies how to measure and minimize pollution, use sensors to develop clean energy sources, and produce fuel-cell components from polymers.
One major beneficiary of this knowledge network is the steel industry. Akron has applied its expertise in polymers to create corrosion-resistant coatings for the region's steel producers, so they can produce next-generation steel that has superior performance characteristics and that better resists rust, as well as minimizes wear and tear in bearings, a little-known problem that some analysts esti­mate costs the U.S. economy 1 percent of GDP each year.
Tom Stimson, the vice president of technology and operations at Timken when we spoke with him, and who remains a passionate believer in collaborative innovation, told us about his company's work with researchers at the University of Akron. The goal is to develop special polymer-based coatings for bearings that are 40 percent more resistant to wear and corrosion. The company invested $5 million to build the Timken Engineered Surfaces Laboratories, a joint venture with the University of Akron. The arrangement required 18 months of sometimes-difficult negotiations to address intellectual-property issues, but the resulting solution is becoming a national model for sharing knowledge.
Akron's breakthroughs in this little-heralded field of an­ticorrosion coatings is important for a wide variety of industries, not just the automotive sector. Polymer-based coatings are used in everything from personal-care products such as hairspray and lipstick to antimicrobial surfaces for surgical devices. The University of Akron's independent research foundation is starting to un­lock the huge commercial value of these advances. The artificial-stent producer Boston Scientific paid $5 million for access to the university's work on coatings, and the U.S. Depart­ment of Defense is also keenly interested in this area and has sponsored a program at the university to further develop anticorrosion coatings.
The result of this extraordinary 15-year period of ac­tivity in Akron, which began with Proenza's articulation of the vision of the Akron Model, is that Ohio is today the acknowledged polymer capital of the United States. Ohio is the largest producer of polymer and rubber products of any state in the country as well as the second-largest producer of plastics, and polymer manufacturing is the state's leading industry. Ohio is recognized as the global leader in the polymer and specialty-chemical industry, with about 1,300 companies that together employ over 88,000 people.
"Ohio is still making things," said Barbara Ewing, the COO of the Youngstown Business Incubator. The companies that couldn't make the transition from the old model to the new have been left behind, but the ones that could manage the change have grown smarter and found new paths to suc­cess. "People are more optimistic again," Ewing said. "The sense that we can't compete with the Chinese is gone."
One of Akron's greatest strengths is that it is keenly aware of how quickly a once-proud industrial area can find itself facing an existential crisis. Equally important, university and city administrators have learned that, through knowledge-sharing, such threats can be overcome and whole regions can be successfully transformed. Akron will likely never feel the sense of invulnerability and superiority it had when it was the world's tire capital (and that is certainly a good thing in today's ultra-competitive world). But people in Akron have also rid themselves of the self-doubt and risk aversion that became so prevalent after the automotive bubble burst. According to Proenza, Akron's many small polymer companies now employ more people than the big tire companies did at the height of their dominance.
---
This article has been adapted from The Smartest Places on Earth: Why Rustbelts Are the Emerging Hotspots of Global Innovation.