Calculating the True Cost of Affordable Housing
What good is cheap rent if the cost of commuting consumes a huge chunk of the tenant's income?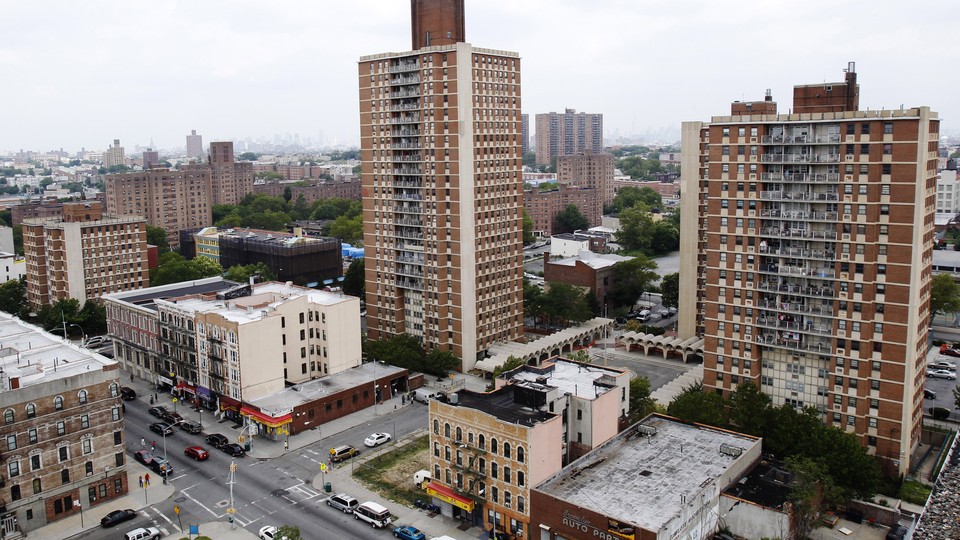 In 2006, the Brookings Institution worked with the Center for Transit Oriented Development and the Center for Neighborhood Technology to study the transportation patterns of the U.S.'s low-income population. Until then, many researchers and policymakers had assumed that larger and wealthier households owned more vehicles—and more expensive ones—and drove more miles overall. But the 2006 study found that transportation methods had less to do with household income and more to do the neighborhoods in which those households were. The researchers concluded:
Even among wealthy households, neighborhood characteristics influence how much is spent on transportation and how many vehicles are owned, given that the characteristics of place also shape transportation demand. Neighborhood characteristics such as density; walkability; the availability and quality of transit service; convenient access to amenities such as grocery stores, dry cleaners, day care, and movie theaters; and the number of accessible jobs shape how residents get around, where they go, and how much they ultimately spend on transportation.
That may not be hugely surprising. Of course transportation costs are highly dependent on where one lives. But transportation costs are not always considered in discussions of affordable housing. As defined by the Department of Housing and Urban Development, affordable housing costs less than 30 percent of a household's income. But when necessary transportation costs—gas prices, car maintenance, monthly transit passes, etc.—are added into the mix, those percentages go way, way up.
Which parts of the country host the most actually affordable housing? That's the question behind new work from Shima Hamidi, an assistant professor of urban planning at the University of Texas at Arlington, and Reid Ewing, a professor at and the director of the Metropolitan Research Center at the University of Utah's College of Architecture and Planning. Unlike the transportation-affordability tool developed in that 2006 study, or a similar tool offered by HUD, Hamidi and Ewing's new index uses disaggregate, household-by-household data, rather than aggregate data based on census tracts or blocks.
Using information on 18,300 HUD properties across 15 metropolitan areas, the researchers mapped the nationwide picture of affordable housing. In the map below, the more expensive affordable housing is in red. In these places, transportation costs are more than 15 percent of what the typical local low-income household makes in a year. That means housing plus transportation costs are upwards of 45 percent the household's annual income. The most affordable housing is in orange, where transportation costs are under that 15 percent threshold.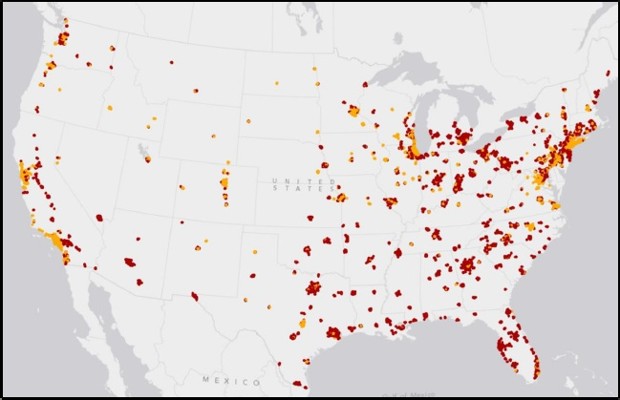 In all, households in 8,857 HUD properties, or 48 percent of all the properties studied, spend more than 15 percent of their incomes on transportation. The most expensive city is not notoriously overpriced New York, or even San Francisco—it's the metro area composed of Warren, Troy, and Farmington Hills, Michigan, where 99.3 percent of households in public-housing properties spend more than 15 percent of their incomes on transportation. Other crazy-expensive transportation cities include Phoenix (where 97.4 percent of households in affordable housing spend more than 15 percent of their income), Buffalo (83.5 percent), Pittsburgh (82.2 percent), and Dallas (71.7 percent). No surprise here: These are places mostly characterized by sprawl, where it's virtually impossible to get around without a car.
In these places, low-income households just get around differently, says Hamidi. She and Ewing looked at a sample of low-income households drawn from the National Household Travel Database to find the vehicles most used by these families. "We found that they are not very fuel efficient," Hamidi says, "that they are usually older models and makes that require more maintenance and services." That can make transportation costs higher for low-income households than they are for even high-income ones in areas without robust and regularly scheduled public transit.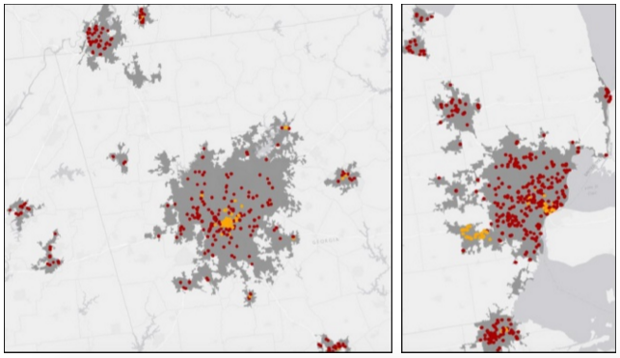 In the San Francisco area, by contrast, no households that live in HUD housing spend more than 15 percent of their annual income on transportation (though note that there are just 156 San Francisco HUD properties in the study, compared to Chicago's 596, New York's 686, and Minneapolis's 376). In the Los Angeles metro area, just 3.1 percent of HUD households pay more than is recommended, as do 10.5 percent in Portland and 21.5 percent in Philadelphia.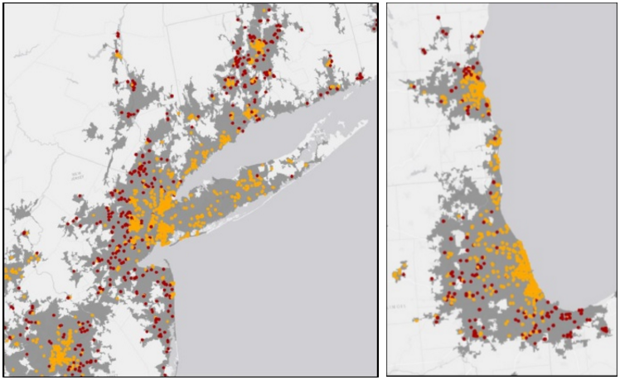 The conclusion is pretty simple, says Hamidi: HUD needs "a policy that supports housing subsidies that are higher in inaccessible areas to account for higher transportation costs." And as she and her colleague Ewing write in their paper, HUD is better off providing affordable housing in "more compact, walkable and transit-served" places than "auto-dependent areas" characterized by sprawl.
---
This article appears courtesy of CityLab.