The Unfortunate Consequences of Reno's Tech Boom
Partly in response to the presence of Tesla and Apple, the city is building lots of high-end apartments, but little in the way of affordable housing.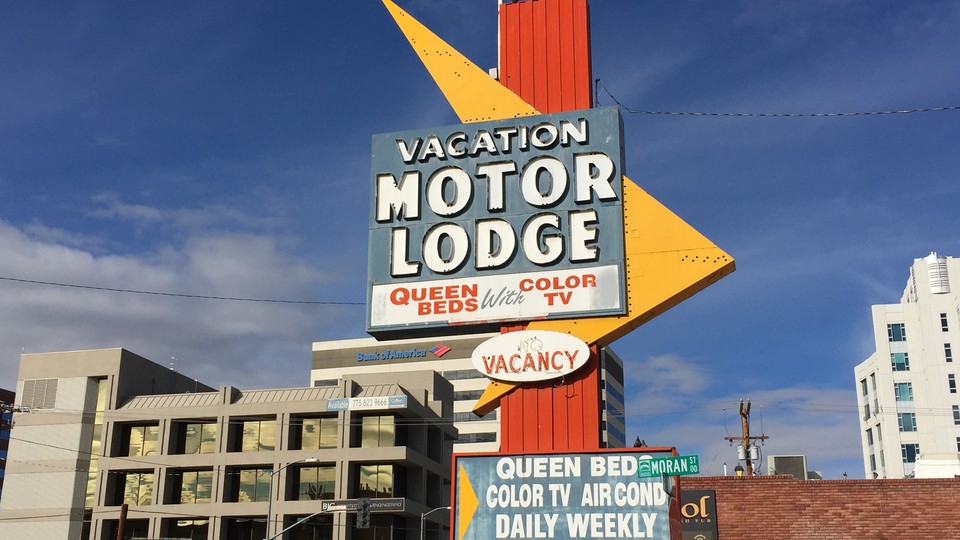 RENO, Nev.—As this city basks in the glow of being Tesla's location for a new factory, it is grappling with an issue that has long plagued more established tech hubs such as San Francisco: a dearth of affordable housing.
Northern Nevada is expected to add around 50,000 jobs between 2014 and 2019, according to a report by the Economic Planning Indicator Committee. And all those workers are going to need a place to live: The head of the Economic Development Authority of Western Nevada has said he thinks the region will require an additional 5,000 homes per year. But Reno isn't on track to meet that demand, and, as a result, home prices are rising. Average rent in Reno is up to almost $1,000 from around $800 three years ago. And while such prices are unlikely to faze the tech workers the city hopes to attract, they do pose a problem for many long-time residents who aren't positioned to take advantage of the economic growth happening around them.
While the influx of Tesla and other companies will mean higher wages for some, most residents aren't likely to see a significant spike in pay. Fewer than a third of adults have a bachelor's degree, and the public-school system is among the worst in the country. The unemployment rate is 5.5 percent in the Reno-Sparks area, more than half a point higher than the national average. Median household income in Reno is less than $47,000, and the poverty rate is 18.6 percent, three-and-a-half points higher than the national average. A recent survey of homes for sale in the area by the Reno Gazette-Journal found just 200 affordable homes (defined as priced at or below $225,000) on the market, compared to 2,600 in 2011.
Charity Rambel, 39, looked at an apartment listed for $800 in nearby Sparks in August for herself and her two children. When she went back in December, the price had gone up to $1,400. Even at $800, scraping together enough for the security deposit was impossible for Rambel. So she did what hundreds of other Reno residents have done and moved into a pay-by-the-week motel. At $200 per week, the cost was about what she'd be paying for rent, but utilities were included and she didn't have to put down a deposit.
"It was a glorified shelter with no supervision, no rules, and no security," Rambel says, adding that she saw used needles on the ground and sex workers coming and going at all hours. "I wouldn't let the kids out of the room."
Next to a barbecue joint called BJ's, the hotel overlooks a busy freeway. The inside is depressingly brown. Brown walls, brown front desk, brownish carpet. It reeks of smoke. A pink picture of Marilyn Monroe surveys the lobby from above the desk. There is nothing remotely welcoming or kid-friendly about the place.
"We've cleaned up a lot," says a front-desk clerk, Nonie Galloway, in response to questions about the living conditions. But several minutes later, a man is pacing the hotel parking lot screaming unintelligibly, and it's easy to see why Rambel felt unsafe.
Yet across the Reno-Sparks area, many families have no choice. Dozens of motels are home to hundreds of families and veterans, many of whom would otherwise be homeless. While the city would like to level many of the old structures and build modern apartments and stores that appeal to recent college graduates, advocates for the city's homeless and at-risk populations say not enough has been done to address the lack of affordable housing for long-time residents.
The city is in a tough position. As the gambling industry has slowed, Reno has looked for other ways to draw in residents and visitors, and building up the tech sector is a way to do that. And it's not that the city or companies such as Tesla want to make life tougher for residents. The tax base they will bring in stands to help the city offer more services. But their arrival also means rising housing costs, which stands to make life harder for Reno's poorest residents.
At the Vacation Motor Lodge in the gentrifying midtown district, the manager, Delia Alvarez, says some of her customers have been residents for years. She refuses to reveal what long timers are paying, but says the going rate is about $500 a month. That covers basic cable, a mini fridge, a microwave, and air conditioning. While Alvarez isn't worried about the hotel's immediate future, she says the construction nearby of hipster bars and high-end apartments have made it difficult for residents who want to get out of her hotel into something more permanent to find affordable options. Many of her clients are veterans who live on a fixed income that stays the same whether Tesla comes to town or not.
Monica DuPea, the director of a nonprofit in the city that helps young adults find housing, worries that any boom will push poor people to the fringes and exacerbate inequality as has happened in San Francisco. "The tech thing is exciting because we can't count on casinos for long-term sustainability," she says. "But I think we need to be more creative. I think businesses need to help with housing." The number of homeless young people has risen in the last several years. A recent count found 112 young people, most between the ages of 18 and 24, who were either literally homeless or at imminent risk of becoming homeless. Last year, that figure was 72. In 2014, it was just 44.
Pat Cashell, the head of Reno's homeless shelter and the son of Bob Cashell, the former mayor, says during an interview at his office in the shelter that he doesn't think the city will shutter motels without a plan for their residents. But Mike Kazmierski, the head of the Economic Development Authority of Western Nevada, isn't making any promises. He'd like to see a stretch of downtown casinos here turned into offices, and housing and buildings for the Reno arm of the University of Nevada. More than 100 businesses have moved into Reno in the past four years, he said, and they need space to grow. "You don't not tear down a substandard hotel because of the homeless," he says during an interview at his office near a shopping mall south of town with just a few cars out front.
The city, he says, is making a push to build more affordable housing, but in a recent presentation, he acknowledged that it remains the city's chief challenge. Home prices have doubled in the past four years to nearly $300,000, beyond what the average family here can afford, and rents are continuing to climb. He'd like many of the old hotels to come down, and housing and retail that will appeal to what he hopes is "the coming wave of millennials"—that sought-after demographic—to take their place.
That leaves people like Cashell and his colleague, Sandy Isham, nervous. The shelter, which opened in 2008 and has a $1.7 million operating budget, has space for about 150 men, 50 women, and 27 families, but there is frequently a waiting list. While a recent tally of homeless residents identified just 91 people as homeless, that does not include the hundreds of people living in motels around town, many of whom cycle in and out of homelessness depending on their luck any given week.
Earlier this month, the Reno-Gazette Journal reported that six people were forced out of a downtown hotel after officials condemned several units as part of a push to revitalize downtown. The recent closure of a homeless encampment near a local bridge left its residents searching for new places to sleep. While advocates don't want people living in unsafe conditions, right now, they say, there are few alternatives, and the city is unwilling to spend significant resources on housing people.
Finances aren't the only hurdle. Many of Reno's homeless residents suffer from mental illness and addiction and are unable to hold down jobs, meaning they are not positioned to take advantage of rising job opportunities, many of which require post-secondary education. Both Cashell, who for years battled a drug addiction before getting clean, and Isham say there is not enough mental-health counseling for those who need it. Each case worker is handling more than 30 cases. So far, getting the city to commit more funding has been a challenge. Another challenge: The casinos have done little to discourage many of the city's poorest from gambling away what little income they have. "Doing nothing is very expensive in the long run," Isham warns.  "We are their family and friends. We're it. We're all they have."
Few other cities that have experienced rapid growth in recent years have successfully curbed homelessness. In many cases, the problem has gotten worse as the wealth gap between the very poor, many of them long-time residents, and the very rich, often transplants brought in by job opportunities, has widened, which does not bode well for Reno. In San Francisco, as tech companies and their workers have driven home prices to record levels, the number of people without homes has increased in the last several years, and the number of people panhandling appears to have grown as well.  One factor contributing to this dynamic:  America spends a lower share of its money on cash-transfer programs for the poor than more than 20 other developed countries.
DuPea, a native Nevadan who remembers visiting Reno as a child, says she's hopeful that cleaning up the city's core will boost the city's long-suffering image, but that the city needs more than 1,000 permanent housing units to help people transition out of shelters and temporary housing. Even where developers are interested in building housing for low-income residents, few want to price their offerings for the region's poorest residents, preferring to market to the moderately low-income instead.
Rambel feels caught in the middle, she says during an interview at the family shelter where she moved with her two children after leaving the hotel. The California native says she landed a job for $13.40 an hour working to construct the new Tesla factory (Tesla has not responded to multiple requests for comment), but lost it after her car broke down and she couldn't afford to fix it. Now, she's trying to decide whether to go back to school so she can secure a better job. "The problem is so big and so complicated," she says. And while city officials see Reno's transformation as an opportunity to become a tech hub, residents like Rambel see a city that is quickly leaving them behind.