The Persistence of America's 'Easy White Enclaves'
As long as many white people choose to move out of suburbs as they diversify, one law professor argues, residential segregation will remain common.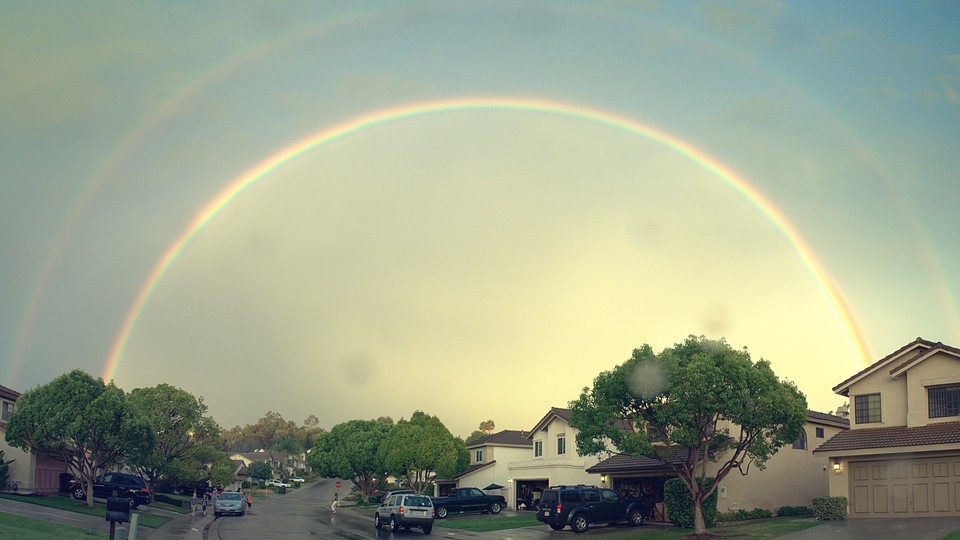 Myron Orfield, who directs the Institute for Metropolitan Opportunity at the University of Minnesota, has had a multifaceted career, having been a civil-rights lawyer, a state legislator, a professor, and the author of books on regional governance and suburban development. (He's also the brother of the social scientist Gary Orfield, an expert on school segregation.)
In a paper he co-authored in 2012, Orfield described the state of integration in U.S. suburbs as fragile, and called for stepped-up enforcement of the Fair Housing Act to stop illegal practices such as mortgage discrimination and racial steering. Two years later, Orfield published a paper assessing the reasons for segregation in Minneapolis, St. Paul, and their suburbs. The prosperous region that is home to many Fortune 500 companies is deeply segregated.
Orfield helped a group of Minneapolis inner-ring suburbs file a complaint with HUD over the state's allocation of affordable housing in their jurisdictions (they allege they have more than their fair share of it, while whiter, wealthier suburbs are allocated less). Meanwhile, Orfield's prescriptions for integration and views on affordable housing are divisive locally. This interview has been edited and condensed for length and clarity.
---
Amanda Kolson Hurley: How did you become so interested in the issue of spatial segregation?
Myron Orfield: There were a lot of, I think, pretty formative experiences. One was running for the legislature. I was running in a district where part of it was resegregating and part of it was gentrified. The schools were changing really dramatically. I had a very strong sense, having grown up in this place, of what it was like when it had integrated schools and neighborhoods.
After I finished law school I taught in the University of Chicago for a couple years. I spent two years [studying] the Chicago court system. That's quite an experience, to see a totally, completely, wickedly segregated system.
Hurley​: You've written that diverse suburbs are more common than a lot of people realize, but you also characterize them as quite fragile.
Orfield: One of the things that was interesting: About 44 percent of the people who lived in the suburbs in the United States lived in racially integrated suburbs. The suburbs of the United States were much more integrated than the cities of the United States. You had these places that are suddenly integrated, and they're very big, and they're very important.
This is where race relations in the United States are the best. These are governments that tend to be bipartisan and do a pretty good job, provide pretty high-level services or pretty affordable taxes. They are maybe the closest thing that there is to the "beloved community" that Martin Luther King was talking about.
That's the good news. The bad news is that we don't really deal with housing discrimination as much as we should.
There are all sorts of things that changed with the Fair Housing Act, but we still don't do anything about steering. Steering is rampant. There are all sorts of studies that show that black middle-class families are steered to parts of the suburbs where the schools are racially integrated, and white families are told that those same schools are no good.
Mortgage-lending discrimination is terrible. A black family that earns $157,000 a year is less likely to qualify for a prime loan than a white family that earns $40,000. White families borrow a super amount of money to move into these white enclaves. Black people, even if they saw these places and were shown them by realtors, they can't get the jumbo loans.
Hurley​: ​What is the threshold where integration becomes resegregation?
Orfield: Our research finds that neighborhoods that are more than about 30 percent nonwhite, within a couple of decades, two-thirds of them will become predominantly nonwhite. Neighborhoods that are less than one-third nonwhite in more than a decade will remain integrated.
The 30 percent is when you're thinking about trying to place housing, when you look at court decisions or school decisions—if anybody is interested in creating a long-term integration plan, they try to locate as much affordable housing in areas that are 70-percent white or more that aren't in the pattern of transition.
Hurley: Can we change people's preferences about where to live?
Orfield: We have to. The experience shows that when people have a chance to live in stably integrated communities or they have a chance to send their kids to stably integrated schools, their preferences change, and they are much more comfortable.
I've studied 16 places that have metro-wide school desegregation, and white flight essentially stopped in these places. The Supreme Court overturned the metropolitan [school-desegregation] remedy in Detroit but allowed the Louisville one to stand. All the neighborhoods that were integrated in Louisville in 1970 are still integrated. None of the neighborhoods that were integrated in Detroit in 1970 are still integrated.
When people live together for a long period of time and nothing terrible happens, they stop being afraid of each other. You [now] have magnet schools that have been stably integrated for 50 years, and people fight to get into them.
Hurley: Are there other examples of places that have maintained or managed integration relatively well to this point?
Orfield: Portland and Seattle have done a pretty good job.
Hurley: They don't have that many minorities, though.
Orfield: They have the same percentage as Minneapolis. We wrote this article called "Why Are the Twin Cities So Segregated?" We used Portland and Seattle as examples. [Minneapolis has] 90 schools that are more than 90 percent nonwhite. Portland has 2, and Seattle has got 25, even though they've got a million more people than we have.
Hurley: The difference—
Orfield: It's the poverty-housing industry. Yeah, because we were all doing the same things. They never got the poverty-housing industry.
Hurley: You're very critical of affordable-housing developers [which Orfield refers to as the "poverty-housing industry"]. A lot of people would say those developers are just trying to build housing for people in their neighborhoods or close to where their connections are. What's wrong with that?
Orfield: In lots of places, there's no movement to build in white suburbs. There's no framework for integration. Where these [developers] become problematic is when they pull apart or resist movements toward integration. These big groups want to keep all those resources dedicated to poor neighborhoods.
Hurley: Why is that?
Orfield: My analysis is that they have got a very strong business model that really works for them in poor neighborhoods. Nobody fights them. There's multiple sources of funding that aren't available other places, because the cities usually chip in, the foundations chip in.
If you build in a white suburb, you've got to go to 20 or 30 or 50 meetings, and your profit margins are going to be smaller.
Hurley: It sounds like they're pretty efficient at delivering housing on the model they've developed.
Orfield: No—it's very expensive. If you're building a unit in North Minneapolis, it's going to cost $400,000. If you build it in Eagan [an affluent suburb], it's going to be $133,000.
[Critics] characterize my position as saying there should be no affordable housing built in central cities. I don't say that. I just say you have to build somewhat more of the affordable housing in a pro-integrative way … [to] be moving the ball forward on integration.
Hurley: Why not just launch an all-out assault on redlining and the lack of investment in majority-minority neighborhoods?
Orfield: I always figure this spatial inequality is based on six things, at least. You've got steering, you've got mortgage-lending discrimination, you've got discrimination by buyers and sellers. Then the government builds all the affordable housing in poor neighborhoods.
The school districts always gerrymander the poor kids into the poorer school district areas, and then [governments] switch their zoning. That's six things. Every time you sue one of these people, they always say it's the other person that's causing it or it's the combination of the other five people.
Hurley: What can a resegregating suburb do, realistically?
Orfield: It's hard. They're in the hardest place. A fundamental tenet of all the things that I believe is that [a solution] has to be metropolitan. Reynolds Farley [of the University of Michigan] and [Charles] Clotfelter [of Duke University] say this: If you create a world where it's very easy for whites to move a few blocks away and not be involved, there's almost no way you can keep a place integrated.
Stable integration is almost as much a function of covering a whole area as it is of any numbers. In a certain way, as long as you have an easy white enclave to move to, [nowhere] is stable.
---
c