Learning How to Teach in an Increasingly Diverse Classroom
A program in Des Moines, Iowa, aims to train a cohort of predominately white instructors to help students who come from very different backgrounds.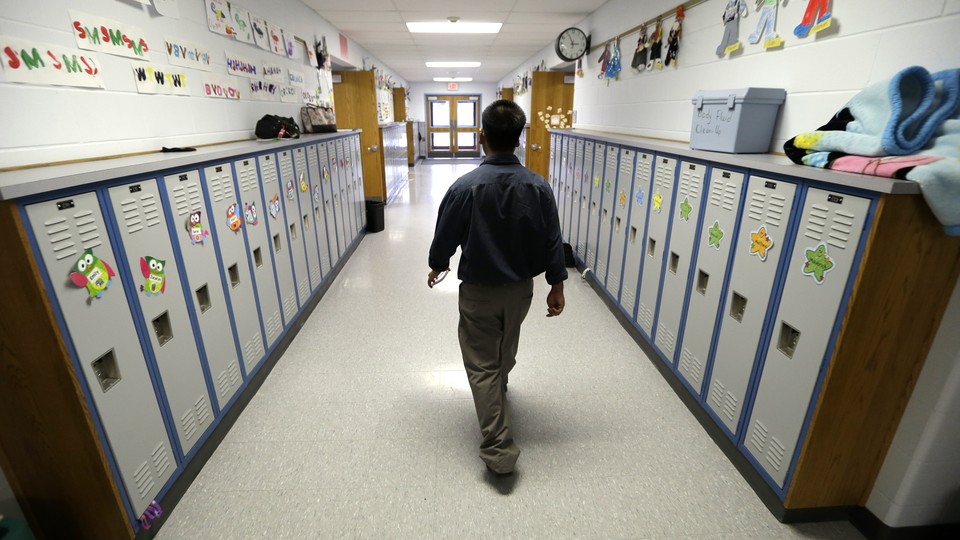 Some days, his students can't sit still. First, they get up for a tissue; then it's another trip to sharpen a pencil. Even when they're sitting in their chairs, they're fidgeting.
This is when Brandon Nattress, a sixth-grade global-studies teacher at Weeks Middle School in Des Moines, stops and remembers to keep perspective. As a kid growing up in northwestern Iowa, he wasn't allowed to mess around in class like that. But some of the children in his classroom didn't come from a sleepy heartland town—they grew up in refugee camps after fleeing strife-torn countries such as Myanmar, Nepal, and Sudan. After years living in camps, they weren't accustomed to the structure of the classroom, and a quick punishment wasn't going to change their mentality.
"I can't sit there and talk and expect students that haven't had any formal-education setting, where they have to be in a classroom, to just do what I tell them to do," he says. Instead, he tries a more active version of the lesson, pairing half of the students with cards bearing a vocabulary word and the other half with the definition. They can move around the room and match the cards, learning and burning off energy at the same time.
Nattress, now 37, has immersed himself in the shifting demographics of Des Moines since becoming a teacher there in 2012, signing an alternative contract the city's public schools had just started offering. It came with a higher starting salary and the promise of a no-cost master's degree. In exchange for the free degree, he had to commit to working for the school district for eight years or repay the cost of the classes. Last summer, Drake University in Des Moines announced a partnership with the city's public schools. The well-regarded liberal-arts school began offering the first classes this month toward a reshaped master's degree that will focus on "cultural competency" and on instruction for children new to English.
The experiment in Des Moines gives the 32,500-student school district a chance to train a nearly all-white group of instructors, many of them born and raised in Iowa, in how to effectively serve an increasingly diverse student population. The proportion of Hispanic residents in Des Moines doubled from 2000 to 2014—to 12 percent—and the number of African American residents has also grown, to 10 percent, according to federal census data. The city weathered the 2008 financial crisis relatively well, and immigrants—ranging from resettled refugees to Mexican agricultural workers and entrepreneurs—took notice. White students now make up less than half of the school population; Hispanics account for a quarter and African Americans for a fifth. A fifth of the students are enrolled in the English Language Learner program, having arrived from countries such as Bhutan, Bosnia, Burundi, Eritrea, Laos, Mexico, and Vietnam.
Teachers and administrators in Des Moines are still working to catch up to this new reality. Schools will always want innovative, caring, hard-working teachers—regardless of race—but research suggests it can also help students to work with teachers who look like themselves. In a 2001 working paper for the National Bureau of Economic Research, the Stanford Graduate School of Education professor Thomas S. Dee found that a one-year assignment of students to a teacher of their same race resulted in higher math and reading scores for both black and white students of 3 to 4 percent.
"It's nothing unique to Des Moines," says Isaiah McGee, the school district's equity coordinator, but the administration has realized it must diversify its teaching ranks. In Iowa, where 87 percent of the population is non-Hispanic white, when you look at the students graduating with teaching degrees, "it's not really people of color," he notes. To compensate, he is trying to recruit minority teachers in nearby states, hawking Iowa's quality of life.
The district is also trying to train its existing cadre of teachers in what it calls "cultural proficiency," one of three major themes in Drake's master's program. (The others: effective teaching methods; and in-school leadership, such as designing curricula.) The district started this effort during the 2011-2012 school year. "We really kept coming back to the rapidly changing demographics of our district," says the superintendent Thomas Ahart, "and the teachers not being prepared really to address what they were facing in the classroom, with poverty, with English-language learners, mental-health issues, et cetera."
School administrators realized they needed a way to attract and keep the best teachers, while paying salaries on a par with other districts nearby. They settled on an alternative contract, with the incentive of a master's degree that the school district will pay for, starting after three years of teaching and completed while the recipient continues to work. To make the contract more lucrative, the pay scale is front-loaded, with a higher salary in earlier years.
There was a problem, though: Ahart and other administrators doubted that a master's degree in itself would actually improve a teacher's performance. While teachers across the country typically receive a pay raise with an advanced degree, studies have shown a negligible impact on student achievement. For the district to foot the bill for the advanced degrees, it wanted to create a master's program with its specific needs in mind, featuring an à la carte selection of courses that would best serve its interests. The district solicited proposals from universities around the Midwest, and a committee of administrators and teachers narrowed the candidates to two, including Drake.
From there, price became the biggest factor. Drake agreed to a competitive tuition rate of $330 per credit hour, paid by the district for teachers who signed the alternative contract but also available to Des Moines teachers employed under the standard contract. Drake was a good match, considering its convenient location and its history of working with the public schools. Under the agreement, the school district and the private university collaborate on the curriculum, composed half of new, Des Moines-specific classes and half of handpicked electives useful for the city's teachers. "This is really a new program for Drake," Ahart says. "It's not just a reworking of something they already had in place."
Courtney Ihnen, a 27-year-old music teacher at Hanawalt Elementary School, is part of the first cohort of 50 teachers enrolling in Drake's master's program. She's excited. Having grown up in the suburb of West Des Moines, where most of the students in her school were (like herself) white and middle-class, she thinks she'll benefit from the cultural-proficiency training. During her three years in the classroom, she has already adapted her approach to students in certain respects. When students didn't make eye contact with her in class, she learned that, in some cultures, it's disrespectful to look an adult in the eye. In late October, she wasn't aware of the 15-day Nepalese festival of Dashain until an instructor in a professional development seminar for alternative-contract teachers mentioned that Nepali students might miss a few days of school and return to class tired or emotional. The training "helps you be more knowledgeable about what they're going through in their life," Ihnen says.
She has already developed a bond with the other teachers in the alternative-contract program, who have been meeting on a regular basis since they began in 2012-2013. In her eyes, these will be the next generation of leaders within schools across Des Moines, all equipped with a surer sense of how to work with students who don't always look like the Iowans of yore.
---
Related Video
With parents busy in the fields, a third-grader turns to his teacher for guidance.